Free Ways to Celebrate Christmas This Year

10 min Read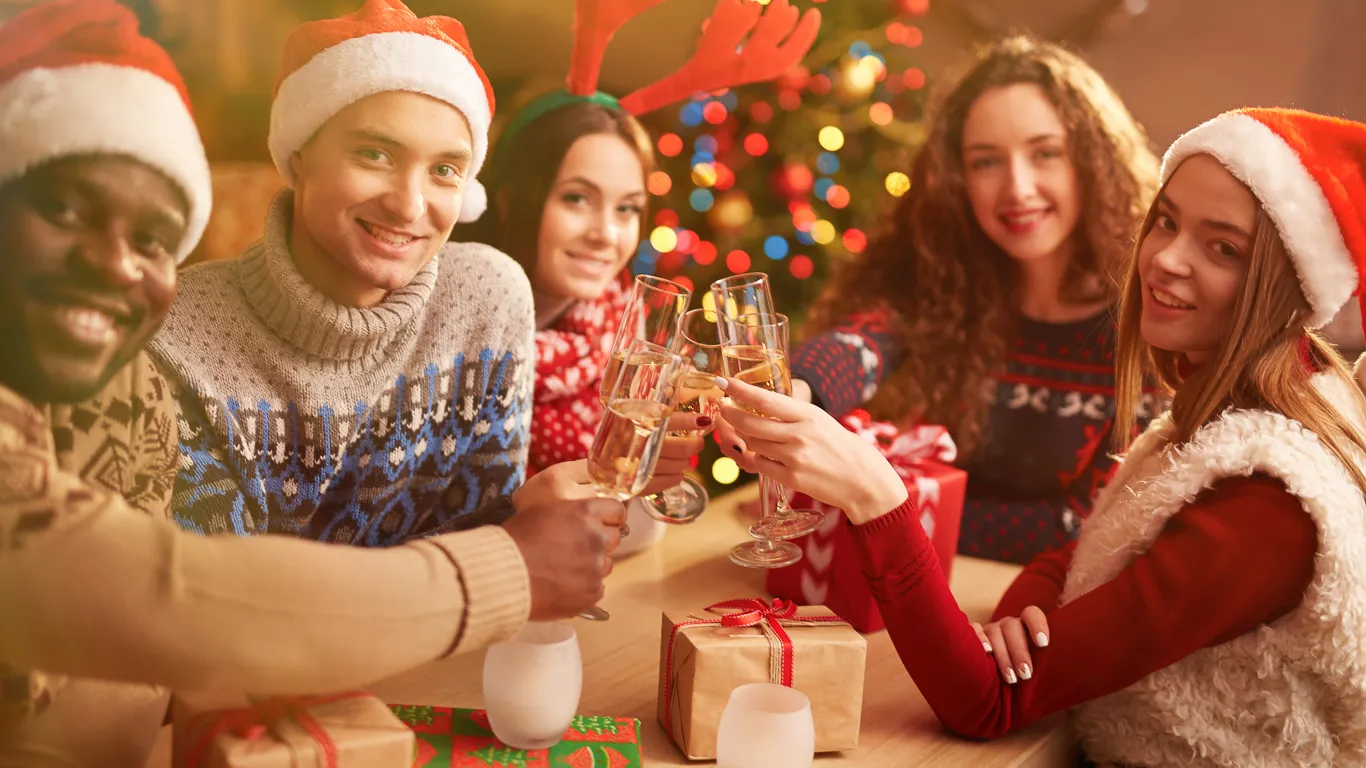 Celebrating Christmas doesn't have to mean emptying your bank account. In fact, it's possible to have a free Christmas this year.
Studies show that many people prefer enjoying experiences to giving or receiving gifts. Even millennials are bucking the gift-buying trend — in fact, 72 percent say they would rather enjoy experiences than "stuff" over the course of the next year, according to a study by Harris Poll on behalf of Eventbrite.com.
Check out the following free Christmas activities, especially if you're celebrating Christmas on a budget.
1. Visit a Free Museum
Some are free year-round, and other museums offer free admission on certain days of the week or during off-hours or seasons. Check with local art and history museums in your area to find one you and your family can visit for free over the holidays. This is a perfect stop while the kids are off from school.
2. Go on a Winter Hike
Christmas ideas like this one allow you to get in touch with Mother Nature without spending a dime. Bundle up, head to one of your local city or county parks and go for a winter hike. As you take in the scenery, do the breath test to see how cold it is and feel the winter chill run through your bones. Not only is this activity free, but it also lets you appreciate the season. Then head inside for a warm cup of cocoa and warm up by the fire.
Make Your Money Work for You
3. Do Charitable Work
Volunteering is important year-round, but Christmas is a time when giving back is especially crucial. From writing letters to soldiers to serving warm meals at a soup kitchen, you can find opportunities to do charitable work. It can be as simple as offering to wrap gifts for a charity or organize a donation drive.
'Tis the Season to Give Back: Warren Buffett and 14 Other Celebs Who Donate Millions to Charity
4. Go Christmas Caroling
Warm up your vocal chords and head out for Christmas caroling. This free Christmas activity can be done on your own or with a group. Visit the homes of people you know or, alternatively, join forces with a local nursing home or church that offers an organized caroling event each year.
As an added bonus, you can enjoy live versions of your favorite holiday hits without spending a dime. See which are the best-selling Christmas songs of all time.
5. Drive Around to Look at Holiday Lights
Even if you don't string outdoor lights yourself, many of the people in your town are likely eager to show off their displays. Some light shows are even set to music.
Pick an evening and load up the family in the car. A leisurely drive around your community to look at the displays is a great way to enjoy a free Christmas.
Check Out These Lights: Christmas Light Displays That Can't Be Missed
6. Go Sledding
If you live in a region that typically experiences snowfall around Christmas, go sledding. This activity is exciting for children, but adults can have fun, too. Visit a local park with a large hill and bring any sleds you already own. You can also use a piece of cardboard as a makeshift sled for this Christmas celebration.
7. Attend a Public Christmas Tree Lighting
Check with your local city hall for details on an annual tree lighting. These events are free to the public and help attendees get in the holiday spirit. Additionally, many outdoor shopping malls host public tree-lighting events, complete with hot cocoa and treats. There's typically live music or other entertainment features such as horse and carriage rides.
Make Your Money Work for You
8. Attend a Free Winter Event or Festival
Check a local events calendar online or read your local newspaper's events page to find out about regional winter festivals. These events are often free and feature fun holiday activities, such as the chance to view ice sculptures or meet Santa.
9. Host a White Elephant Gift Exchange
The rules for white elephant gift exchanges vary, but a cheap holiday party option allows givers to wrap up items they already own. Family members or friends then exchange gifts at a party. For bonus points, use some newspaper and pretty ribbon rather than spending money on gift wrap and bags.
10. Go to a Christmas Church Service
The holiday season is a great time to give thanks and reflect. Visit your local church for a Christmas service. Enjoy the music of the holidays and meet with local members.
11. Host a Potluck Dinner
You can still host a holiday feast at your house, even on a budget. The potluck option lets family and friends enjoy a holiday meal together without any one person having to take on the full expense. Each guest should bring a favorite dish or dessert to share. Don't forget to specify how many people each dish should serve to make sure there's enough for everyone.
12. Have a Christmas Movie Night
Cozy up next to the fireplace, wear some fuzzy socks and pajamas and have a Christmas movie night.
Request your favorite flicks for free from the local library and get in the holiday spirit one movie at a time. From classics such as "Miracle on 34th Street" to newer Christmas staples like "Elf," the options are virtually endless.
13. Play in the Snow
Get outside and play the next time there's a snowstorm. Make a snowman, build a fort or simply create snow angels with your loved ones. Use evergreen tree branches and pinecones to decorate your creations for an extra-festive Christmas touch.
14. Host a Cookie Exchange
Instead of asking guests to make dishes for a potluck, instruct each person to bring a batch of Christmas cookies and a container. Take turns selecting cookies to take home and don't forget to eat some, too.
15. Go Window Shopping
During the Christmas season, retailers are decked out with festive displays. Going shopping doesn't have to cost anything, though. Instead of getting caught up in the consumption race, go window shopping to check out the decorations and enjoy some quality people watching. There are lots of stores offering free stuff for Christmas and Christmas Eve, too.
Make Your Money Work for You
16. Donate to Others
Don't wait until spring to start cleaning house. Instead, make an effort to tidy up your home now and donate unwanted items to those in need. Perhaps you have old coats you can donate to your local Burlington Coat Factory or unopened toys that children in need can use. Many retailers and churches have giving trees set up where they collect items for just this purpose.
17. Invite Someone to a Dinner
Share the holiday spirit by opening your home. Perhaps you know someone who is single or doesn't have any family nearby. Invite him over for dinner and spend time together instead of spending money. If you don't know what to chat about, grab some board games and invite the guest to play. Dinner parties can still be affordable — stores have amazing deals this time of year.
18. Listen to Christmas Music
Many local radio stations will play Christmas music from Thanksgiving until Christmas. Find one in your area and listen — and dance — to Christmas hits on the radio. Rock out in your car as you are driving to work or listen on the stereo at home as a way of celebrating Christmas with the family. Music streaming services also create dozens of Christmas-themed playlists. You can even host a themed karaoke night with friends.
19. Host a Family Game Night
Another free activity you can do this Christmas is holding a family game night. Cozy up inside and play board games or cards. You probably already have some games at home, and scheduling a night to play them gives you an excuse to spend quality time with those who matter most around the holidays. So grab Jenga or Scrabble and have fun.
20. Visit Santa Claus
Don't forget to take part in the tradition of visiting Santa Claus — it's a lot cheaper than visiting the real North Pole. The jolly man will likely make an appearance in your area at a local retailer or winter festival. Children and even pets will enjoy this Christmas activity. And there's no need to purchase a photo — simply enjoy the visit and the wonder that comes with it. It doesn't hurt to ask the professional photographer if they're okay with you snapping a photo on your phone.
Make Your Money Work for You
21. Reminisce about Past Christmases
Retailers would like you to believe the Christmas holidays are just about giving gifts. But without the people in your life to spend the holidays with, it wouldn't feel like Christmas at all.
These are the people you build memories with — from childhood to your adult years. So go ahead and dig up the old picture albums and videos of Christmas mornings. Be ready to have a good laugh or cry with those you love most. This is a great way to remember loved ones who are no longer present and one of the best free ways to celebrate Christmas.
22. Write to Santa
If you're looking for things to do for Christmas with little kids, don't overlook the simple task of letter writing. Children will have fun writing a personal note to Santa and it will be a great keepsake down the road.
To make it a little more interesting, you could decorate some basic paper to turn it into fancy stationary. You can include a personal note with the list of presents to Santa. If you are short on time to decorate on your own, there are many online templates available at no charge.
23. Read Christmas Stories
Does your family have favorite Christmas books? Spend a December evening reading holiday-themed stories, everything from "The Polar Express" to "How the Grinch Stole Christmas!" You can even start Christmas Day 2017 with a story before gifts are opened. If you don't own any Christmas books, consider purchasing them as gifts. The family will get joy from them for years to come. Or, as an alternative, head to your local library and borrow books.
When you're at the library, check out the events calendar. If you've been searching for "Christmas activities near me," you might be pleasantly surprised by what your local library offers members. There's everything from festive crafts to story time events.
24. Deck the Halls
Get ready to have Christmas things everywhere. Spend an evening decorating the house, including the tree, mantle, staircase and anything imaginable. There's nothing that will get you and the family into the Christmas spirit more than seeing the house transform. Make it a family event. Best of all, you can create the ultimate Christmas display on a shoestring budget.
Make Your Money Work for You
25. Make Gingerbread Houses
Crafting gingerbread houses is a festive activity for the Christmas holidays. In fact, it can be one of the best things to do on Christmas. You can have a friendly contest with family members or build one collectively. There are no rules except to have fun.
Although it's tempting to purchase gingerbread kits at the store, you can save your money by putting together your own kit. There are many gingerbread recipes available online that simply uses typical ingredients already in your pantry. Double the Christmas fun by decorating while wearing your favorite ugly Christmas sweater.
26. Make Popcorn and Cranberry Garlands
If you served popcorn with your Christmas movie night, how about using the leftovers to make homemade garlands for your family's Christmas tree?
This is a budget-friendly way to get into the festive spirit and can include the entire family. All you need is fishing wire, thread or dental floss and a needle. Get creative and alternate cranberries with popcorn or use food color to dye the popcorn red and green. Don't forget to make extra for the popcorn-stringing team.
Holly Hammersmith contributed reporting to this article.
About the Author