5 Items You Can Find on Sale for Valentine's Day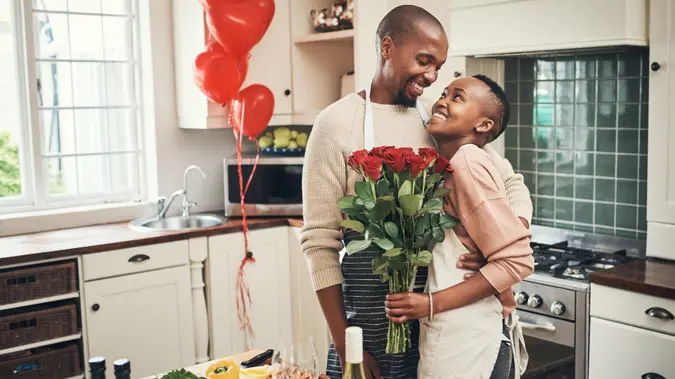 PeopleImages / Getty Images
Valentine's Day is coming up and Cupid's arrow has officially been drawn — and it's aimed not just at the hearts of many an ardent lover, but at their wallets. According to a new survey from the National Retail Federation, consumers are expected to spend $25.9 billion on Valentine's Day this year, up from $23.9 billion in 2022. More than half (52%) of Americans plan to celebrate the occasion and will spend an average of $192.80. The top gifts are candy (57%), greeting cards (40%), flowers (37%), an evening out (32%), jewelry (21%), gift cards (20%) and clothing (19%).
Costco's Best Deals? Employee Reveals 10 Standout Buys for Your Money
See: 3 Ways Smart People Save Money When Filing Their Taxes
Shoppers will find no shortage of hiked-up prices on these in-demand goods, as retailers know that they'll be in a rush to buy them (and willing to spend), but experts say that one can also find savings. 
Make Your Money Work for You
Here's a look at five items you can find on sale for Valentine's Day.   
Flowers 
What says love more than a bouquet? 
"1-800-Flowers is offering a new 'Deal of the Day' for Valentine's Day, where you can get up to 25% off flowers; as well as other offerings for up to 30% off," said Rebecca Gramuglia, consumer expert at TopCashback.com. "UrbanStems also offers 10% discounts on their larger bouquets."
Chocolates
Another Valentine's Day staple? Chocolates. 
"You can shop stores like Godiva and take advantage of offers like a box of 8 chocolates added on for just $15 with any order," said Julie Ramhold, consumer analyst with DealNews.com. "Or you can look to stores like Costco, where you can still buy Godiva chocolates (or other brands) but typically for a much better price. For instance, I saw a 36-piece box of Godiva chocolates at Costco for $44.99 – at Godiva itself, a 22-piece box of chocolates is around $43 right now. If your valentine really loves chocolate, you can get multiple gift sets from Costco to really treat them – think 3 boxes with each containing 15 milk and semi-sweet truffles in the shape of diamonds from Rocky Mountain Chocolate Factory for $43 — that's 45 truffles total and a great deal."
Take Our Poll: What Are Your Financial Priorities in 2023?
Cozy Items 
"A big theme of Valentine's Day tends to be gifting cozy items because it's pretty cold in a huge chunk of the U.S. in February," Ramhold said. "If your valentine suffers from anxiety, they may appreciate something like the Hug Sleep, which is currently up to 20% off or you may be able to snag a BOGO 50% off deal with them while supplies last. Hug Sleep is meant to swaddle you, so it's a good alternative to weighted blankets, especially if your recipient is a hot sleeper; however, other cozy items will be on sale as well; look for things like throw blankets to be around $20 or so at stores like Costco and Target, but if you want to splurge, UnHide blankets are amazingly cozy and live up to the hype. Shopping at Target with a RedCard will save you 5%, while shopping at Costco with a Costco Visa will earn you cash back. Currently UnHide is running promotions that offer up to 20% off too, so if you're interested in those blankets, it's a good time to check them out."
Make Your Money Work for You
Spa Gifts
"Think things like robes, bath bombs, skin treatments, and diffusers — all of which will likely be on gift lists for the holiday so you should have plenty to choose from," Ramhold said. "If you're putting together a spa gift basket, Amazon is a good one-stop shopping store to keep in mind, but if you're looking to branch out, I highly recommend sites like Olive Young and Masksheets for affordable Korean and Japanese beauty items. One of my favorite things to buy from Masksheets is the cult-favorite Laneige Lip Sleeping Mask, as it's $13 through them rather than the $24 I'd spend at stores like Sephora. The one thing to remember about these is that sometimes shipping can take a bit because it has to come from overseas, so be sure to order quickly or be prepared to tell your valentine the gifts are in the mail. The great thing about these sites is that they often have sales, too. Right now Masksheets has up to 80% off and Olive Young has a number of different deals going on, including up to 50% off."
Candles
"This is one of those gifts that may not fall on the traditional list of items people think of when they think of the holiday but as long as the recipient isn't scent-sensitive, then they can make really excellent gifts," Ramhold said. "Plus, plenty of stores will be offering them on sale for Valentine's Day, including retailers like Target which have a selection of scents from Homesick available including things like Date Night and Let's Toast. Look for candle containers to have cute sayings related to love scrawled on them or other Valentine's signals like hearts. Target has prices for $5 or less in some cases, but note that for Valentine's Day, many will start closer to $10; that said, if you're a RedCard holder you can save 5% on your purchase, which can make these already reasonable prices even better."
Make Your Money Work for You
More From GOBankingRates
Make Your Money Work for You