12 Presidents Day Car Sales and Deals From Cadillac, Nissan and More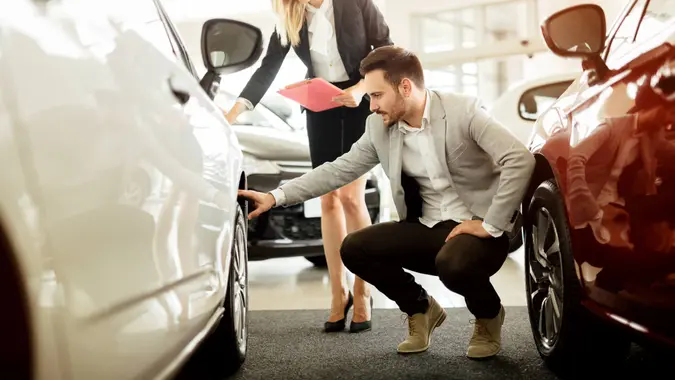 ©Shutterstock.com
With specials running throughout the month, Presidents Day is a great time to buy a car, truck or van. Whether you're looking to lease or buy, pay cash or secure financing, you can drive off in a set of wheels for less in February. Keep reading to learn the best deals you can find this Presidents Day weekend.
Presidents Day Weekend 2018 Car Sales and Deals
Note that deals are often hyperlocal, and regional dealers might be running offers that are different from the ones listed here. Offers also feature small-print disclaimers about credit history, income and other factors relating to your status as a "qualified buyer," so review the biggest car-buying "do's" and "don'ts" before you sign on the dotted line.
Here are the car sales and deals to look out for Presidents Day weekend 2018:
BMW: Right now, you can secure financing as low as 3.89 percent on dozens of models across several lines including the 2 Series, 3 Series, 4 Series, 5 Series, 6 Series, 7 Series, X Models, M Series and BMW i-class vehicles.
Buick: Current offers include a purchase allowance of $7,000 on most models in the Buick Lacrosse family. Buick is also offering 18 percent below MSRP on most Buick Envision models. In total, nine different classes of vehicles come with cash, APR or lease incentives, including the Regal, Verano, Enclave and Envision.
Cadillac: CT6 and ATS models are available with ultra-low mileage for well-qualified lessees. You can drive an XT5 for $359 a month. No matter what 2018 model you like, all qualified buyers can enjoy a low 1.9% APR. Special offers are also available on several other models, including the Escalade.
Chevrolet: Chevy is running plenty of deals this winter, including $500 bonus cash and 1.9% APR for 60 months for a 2018 Spark. Cash and interest incentives are also available for 2017 models. Chevy is running nearly a dozen offers for varied Sonic models, including $1,000 total cash allowances for buyers and ultra-low mileage offers for qualified lessees. Chevrolet is also offering incentives for Malibu, Volt, Cruz, Camaro, Impala, Corvette and more than a dozen other models of trucks, cars and vans.
Make Your Money Work for You
Related: 5 Crucial Things You Need to Apply for a Car Loan
Chrysler: Right now, Chrysler is offering deals on both 2017 and 2018 models of the Chrysler 300 sedan and the Chrysler Pacifica van. Offers for the 300 vary by location, but you can lease a Pacifica Touring for $329 a month for 42 months with $3,499 due at signing.
Dodge: From muscle cars to minivans, you've got options in February if you're in the market for a Dodge. Lease a 2018 Charger for $279 a month for 36 months with $2,999 down or a two-door Challenger for $209 a month. You can lease a 2018 Journey for $259 a month for 24 months, a Durango for $289 a month or a Journey for $259 a month.
Ford: Incentives are available across all vehicle types, including sedans, trucks, vans, electric vehicles, hybrids and even commercial trucks. The entry-level Fiesta comes with $2,000 customer cash for cash purchases across several sedan and hatch models. The popular Focus comes with "Red Carpet" lease options and 0% APR through Ford financing or $3,250 cash back. If you're seeking something with a little more muscle, Mustangs come with an offer of 2.9% APR for 60 months or $1,500 cash back.
GMC: SUVs, vans and trucks all come with special discounts thanks to financing, cash and lease specials from GMC. For example, the Canyon comes with $750 in customer cash and the Sierra 1500 comes with $3,250 in total cash allowances. Four offers are available for the Arcadia, including 2.9% APR for 60 months. The same deal also applies to the 2017 Yukon.
Know These: Top 8 Hidden Costs of Taking Out an Auto Loan
Kia: Kia promises to deliver "America's Best Value," which it works hard to provide just that, with an offer for $2,000 in cash savings or no payments for three months plus 0% APR for up to 75 months on a 2018 Optima. The offer is the same except that the cash incentive is $1,500 for the 2018 Forte and Sportage or $2,500 for the 2018 Sorento. Similar offers are available for 2017 models, with cash incentives jumping to $3,500 for the 2017 Sorento.
Mazda: Armed Services personnel can take advantage of the Mazda Military Appreciation $500 cash bonus. A $500 break is also associated with the Mazda Owner Loyalty Reward program. Returning lessees can score $750 as part of a lease loyalty program, and special offers are available on both 2017 and 2018 models of the four- and five-door Mazda 3. Both cash and financing incentives are available on the Mazda 6, CX-3, CX-5 and more, so do what you can to get the lowest auto loan rate.
Nissan: For drivers in the market for a sedan, Nissan is offering incentives for Sentra, Versa, Altima and Maxima models for both buyers and lessees, including hundreds of dollars in military cash, grad cash and bonus cash. You'll also find cash and interest incentives for the electric Leaf, sports cars like the 370Z Coupe, the Roadster and the GT-R. Cash back and package savings head into the four-digit range for SUVs and trucks.
Subaru: Subaru is offering 0 percent financing for select 2018 models, as well as 0 percent financing for 63 months for all 2017 and 2018 Outback, Legacy, Impreza and Forester models. Drivers looking to lease can score a 2018 outback for $259 a month with $1,759 due at signing. Subaru also wants drivers to know about its college graduate and military incentive programs, as well as its Lease Loyalty program.
Make Your Money Work for You
For drivers looking for the perfect ride to cruise into spring, Presidents Day — and the entire month of February — is filled with sales, discounts, deals, incentives and offers. Be on the lookout for promotions for cash back, low-interest financing or options for leasing. Finally, read all the fine print, understand the deal before you sign and drive safely.