Use Your Costco Membership To Save on Easter Gathering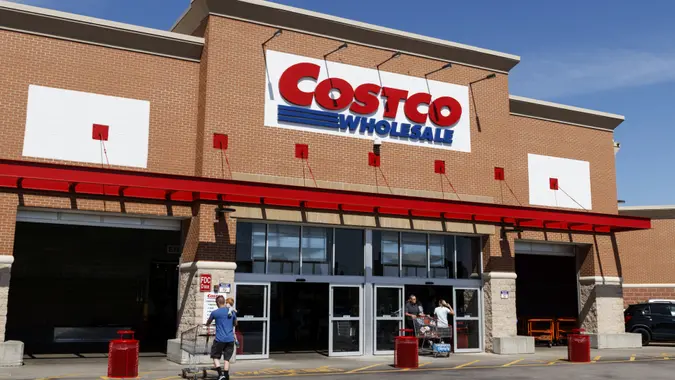 jetcityimage / Getty Images
Easter is Sunday, April 9. With so little time to prepare, it can feel overwhelming to try to go to several stores to find food, decorations and Easter basket goodies.
However, with a Costco membership, you can make your life a lot easier. A Gold Star Costco Membership costs $60 annually, and it can help you save hundreds every year. For Easter, Costco has some particularly good deals you should check out.
Cheryl's Assorted Easter Cookies
Price: $39.99
Keep it sweet and seasonal with this box of 24 individually wrapped frosted cookies. They come in a variety of Easter shapes like flowers and eggs, all in seasonal pastel colors. These are perfect to bring to an Easter Sunday party, or serve at your own.
Take Our Poll: Would You Move for a Job That Paid You a $10,000 Signing Bonus?
A'cappella Easter Egg BevBombs
Price: $29.99 for 12
Easter weather can be hard to predict. If it gets a little chilly, warm up with some hot chocolate that's perfect for the holiday. Each package in this assortment of hot chocolate is made with a mix of milk and dark chocolates, mini marshmallows and yellow pastel white chocolate stripes.
Make Your Money Work for You
Dixie Ultra Paper Plates
Price: $20.49 for 300
If you're hosting an Easter get-together, it can be stressful enough to prepare for it without having a ton of dishes to wash afterward as well. Save the trouble and pick up this pack of 300 paper plates for less than half the price of what you'd pay on Amazon.
Heavyweight Plastic Forks
Price: $15.99 for 500
Pick up 500 plastic forks for under $16 at Costco. It's enough to last for multiple Easter get-togethers, and this pack costs a whopping $12 less than it would if you picked up the same item at Walmart.
Bounty Advanced Paper Towels
Price: $29.99 for 12 two-ply rolls
Stock up on paper towels to quickly clean up any spills at your Easter gathering. Get 12 rolls for $18 less than what you would spend at Walmart.
Idahoan Real Premium Mashed Potatoes
Price: $10.99 for 3.25 pounds
Save big on this favorite side by shopping at Costco. This same amount of mashed potatoes is going for $25.11 at Walmart
50-Stem Easter Quad Roses
Price: $49.99
Costco's well-known floral arrangements can get pricey, especially when a holiday is making the prices skyrocket even higher. Walmart is selling a 50-stem arrangement of roses for $69.98, but you can save $20 when you opt to shop for flowers at Costco. You also have the option to send these along to someone with a personalized message to spread a little Easter joy.
Make Your Money Work for You
Jona Michelle Kids' Spring Dress
Price: $19.99
If you're looking for the perfect Easter dress for your child but don't want to spend a fortune, Costco has you covered. The best part: If you have to get a couple outfits for your kids, you're in luck. You get $25 off when you spend $100 on qualifying items like this dress, and $60 when you spend $200.
Godiva Happy Easter Gift Basket
Price: $39.99
Going to an Easter brunch? This set will make you a hit.
Chocolate lovers will feast their eyes and appetites on this basket of goodies that includes Godiva Masterpiece Dark Chocolate Ganache Heart Bar, Godiva Chocolate Truffle Coffee, Godiva Milk Chocolate Covered Graham, Godiva Masterpieces Milk Chocolate Caramels, Godiva Lava Cake Truffles, Godiva Milk Chocolate Truffles, Godiva Strawberry Cheesecake Truffles, and Godiva Signature Dark Chocolate Sea Salt Mini Bars.
More From GOBankingRates
Make Your Money Work for You
Make Your Money Work for You