8 Home Repairs To Take Care of Now Before They Become Disasters

9 min Read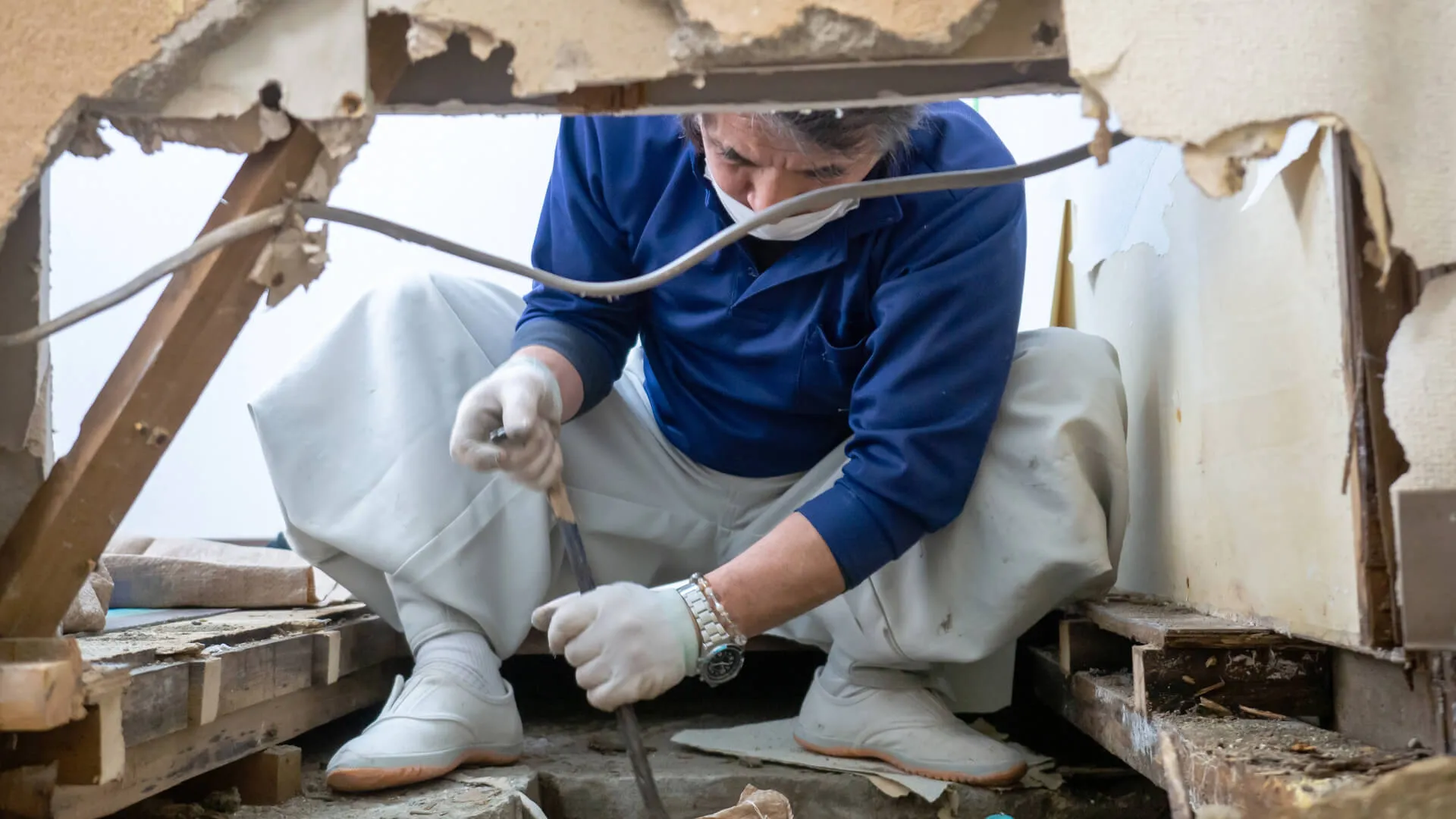 You might think you're sitting pretty after landing an exquisite house in a great school district at under market price and a mortgage that should mean you'll make a mint when you sell the place and retire, but if the roof collapses, well, none of the other stuff really matters.
Read: Homeowner Stimulus Checks Are Coming – How to Get Your Money From This $10B Fund
Related: Lumber Prices Have Surged – What Happened and When Will It End?
As any homeowner can attest, your house is an investment that continuously requires more capital with unexpected home repairs cropping up frequently. While the financial benefits of owning a home are considerable, they do come with the major obligation of maintenance that cannot be overlooked.
See: Two New Stimulus Checks May Be on the Way – Here's Everything You Need To Know
As such, it's essential to understand which of the most expensive home repairs you might be able to put off until you have a little more money saved and which ones you need to address ASAP. After all, the cost to repair a home might be high now, but in some cases the price goes up the longer you wait, potentially turning a simple weekend job and a few hundred dollars of supplies into a call to a contractor that will end up costing five figures. So, here's a look at the most important home repairs to make before the cost triples.
Last updated: June 22, 2021
Make Your Money Work for You
Holes in the Exterior
Every house needs some holes in its exterior, like, say, doors — maybe even windows if you're some sort of forward-thinking radical. But any unplanned holes are something you need to address almost as soon as you can find them. If you notice that there are cracks or other gaps in your exterior, don't wait on closing them up — the damage and cost might catch you by surprise.
Check Out: 20 Insider Tips To Save Money on Every Part of Your Home
What Could Happen
Cracks or holes can keep you from saving money on your utility bill by making it harder to heat or cool your home, but the major issue is the fact that critters from the outside can become critters on the inside. That can mean anything from mice to raccoons to bats. Yes, bats. And while the terror of trying to track down a scared bat flitting around your living room is one thing, the diseases these animals can carry and pass on to pets or family members is what should really scare you.
Overgrown Trees
Having a lot of trees in your yard can make for great landscaping, and planting one with your family can give you a wonderful heirloom that you can watch grow alongside your children. Just make sure it doesn't grow too close to your house. Keep an eye on the trees and any branches, and if one of them starts to get too close, be sure to take steps to trim back anything that's encroaching on the house.
DIY Don'ts: Home Improvements That Are Not Legal To Do Yourself
What Could Happen
Trees are very, very heavy. The wrong weather pattern can result in big branches coming off and falling on what's underneath them. Not taking care of your trees could very well end with a massive hole in your roof or a down power line, putting you and your family in danger. Be sure that any and all large branches are clear of your house and your power lines and get them trimmed prior to it becoming a major danger. And keep an eye on that ivy while you're at it, it can damage wood if it grows onto it.
Make Your Money Work for You
Any Living Things
Any living thing in your house that you didn't marry, give birth to or get from a pet or plant store is a pretty major issue. Check your basements and bathrooms for mold on the regular, and act quickly if you spot any ants or termites, not to mention roaches, mice or rats. Be sure to clean regularly and be sure there isn't food left around, and if you do spot the early signs of an infestation, act immediately.
What Could Happen
Anything that's alive is going to reproduce, and what starts as a mild or manageable infestation can quickly spiral out of control and potentially put your entire house at risk. Mold can grow quickly and do serious damage to your walls, and termites can turn your expensive house into a rickety death trap in a hurry. Don't let anything get a toehold and be sure to contact an exterminator or pursue other remedies as soon as you spot a problem creature be it flora or fauna.
More: 30 Ways To Upgrade Your Home Without Blowing Your Budget
Clogged Gutters
Nobody likes cleaning gutters. Climbing a ladder to scoop wet, smelly leaf gunk that's been rotting for a couple of weeks hardly makes anyone's Saturday. But that doesn't mean you should skip it. Be sure you're cleaning those gutters regularly or getting guards to prevent solid material from accumulating.
What Could Happen
Aside from things actually starting to grow out of your gutters in the long run, clogged gutters can't do the one thing they're there for: To ensure the water falling on your roof is directed to where it's not going to cause problems. Clogged gutters will mean water is spilling over the gutters and spilling out next to the house, potentially leaking into the basement and causing even more problems, up to and including damage to your foundation. Install guards or plan on emptying out your gutters routinely.
Make Your Money Work for You
Peeling Caulk
Caulk that's starting to crack, peel and otherwise show its age needs to be replaced as soon as possible, even though it's probably among the most frequent home repairs. Keep an eye on how the sealant in your bathroom and around sinks is looking and be sure to replace it right away if its a victim of wear and tear.
Discover: This Is the Salary You Need To Afford the Average Home in Your State
What Could Happen
Anywhere you're dealing with water, you could have a real issue if there are unsealed seams. Water splashes over the edges of your sink or bathtub and now it's seeping through the floor at the edges, created damp spaces under the floor and potentially leading to rot and mold. Be sure that anywhere in your house where there's going to be a lot of water flowing is completely air-tight or you could end up needing to replace whole sections of the floor.
All Leaks
If you always have to put down some pots when it rains hard or have a dripping faucet in your bathroom, don't put off that repair. Even if you think you can work around it, it's worth taking action early and being sure that you aren't leaking water anywhere.
What Could Happen
You might have noticed that a disproportionate number of these involve water. That's no accident — unwanted water will wreak havoc on the wood that makes up your house, leaving it rotting and growing mold and mildew. Not to mention, it can be a breeding ground for a variety of different types of bacteria and disease. As such, even a small leak that you've noticed is probably creating plenty of damage behind the walls or above the ceiling that you can't see. What's more, if it's your plumbing that's leaking, you're potentially going to spend a lot more on your water bill every month until you've taken action.
Etiquette: Is It OK To Ask Someone How Much They Paid for Their House?
Make Your Money Work for You
Rotting Deck
If your deck is starting to show signs of rot, don't let things go any further. Remove it, or at least the portions that are rotting, and start over with good wood that's well sealed to ensure its weather-proofed and won't start to rot again.
What Could Happen
You can't necessarily know for sure when your rotting deck will collapse, but it's probably a safe bet it would happen while someone is using it. Between the splintering wood and sharp nails, that can be especially dangerous and could result in some nasty cuts and a tetanus shot in the absolute best case scenario. Keep a close eye on your deck and move quickly if you start to notice rot, it's just not worth putting off only to have a child or neighbor end up getting sent to the emergency room.
Damaged Roofing
If your roof is missing a number of shingles or beginning to sag in places, don't delay, fix it today. Your roof is among the most important things to repair. It's probably not going to be cheap, but there are few places where it's worth spending money on more than ensuring that your roof isn't leaking or starting to come apart.
Find Out: What Homes Will Be Worth in Your State by the End of 2021
Urgency Is Everything
The phrase "a roof over your head" uses the word roof for a reason. That's because it's really, really important. Given that essentially all of the weather you're going to face in a year is going to fall directly on that roof, you need to be sure it is completely watertight and not starting to warp or rot. Even a small gap in your protection can mean tons of water leaking into your house and damaging the wood from the top down.
There are plenty of ways to save money around the house — but these repairs are not it. Trying to skip out on a costly repair now could very easily mean an even costlier one later when the roof collapses due to rotting wood or water pooling where it warped.
More From GOBankingRates
About the Author