Best Appliance Deals at Walmart in February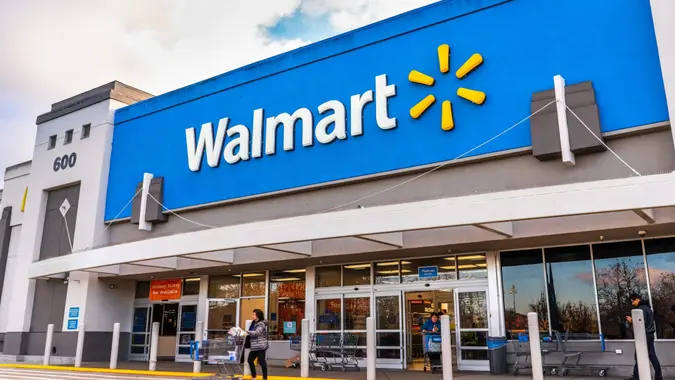 Sundry Photography / Getty Images
2023 is just zipping by — can you believe that it's already February? One thing you don't want to let pass you by this month are the incredible deals on select Walmart appliances.
See: 11 Grocery Items To Buy at Dollar Tree
Investing: 3 Things You Must Do When Your Savings Reach $50,000
As a smart shopper, you probably already know how to save at this huge retailer because Walmart has discounted items across the store all year long. However, in February, you'll want to keep an eagle eye out for price drops when it comes to household appliances. Walmart is offering up to 30% off top brands!
Ready to save some money? Here are the best appliance deals at Walmart in February.
Microwaves
Just because the weather has a chill to it doesn't mean your food should. Warm up an after-school snack for the kids or prepare some popcorn for family movie night in the Chefman MicroCrisp Microwave + Crisper. Best of all — leftovers heated up in this microwave never come out soggy.
Make Your Money Work for You
At Walmart this February, the price on this can-do-it-all microwave oven has dropped from $219 to $179, making it the perfect time to pick one up.
Take Our Poll: Do You Have a Second Job or Backup Plan in Case You Are Laid Off?
Refrigerators
While it might be cold and blustery outside, you still want to make sure you're keeping your food at the right temperature inside your house. Walmart is slashing prices when it comes to fridges, both regular-sized and mini. 
The Costway Refrigerator Small Freezer Cooler Fridge Compact, usually priced at $384, is now on sale for just $259.99. That's over $100 off! Need something a little smaller in your den when you are watching all the big games on TV with your friends and family? Pick up the Arctic King Mini Fridge, originally priced at $104, now just $88.
Indoor Grills
Who says you can't barbeque this time of year? Maybe those who don't know your secret: having an affordable indoor grill from Walmart.
Make Your Money Work for You
This February, cook all the hotdogs you want for game time with a VEVOR Electric 12 Hot Dog 5 Rollers Grill Cooker Machine, now going for $131.99 instead of $159.99 at Walmart. 
Need to have more than one cooking front covered? The Ninja® Foodi™ Smart XL 4-in-1 Indoor Grill with 4-qt Air Fryer, Roast and Bake has got your back, with Walmart passing you $50 in savings by dropping the price of this grill from $249.99 to $199.99 this February.
Ice Makers
The cold front continues because everyone still likes to have their beverages on the rocks all year long. This February, though, your house can get its very own ice maker from Walmart at a great discount.
Planning a big get-together? You might need a ton of ice from the GE Opal Nugget Ice Maker, now at $399.99 from its original $529.99 price tag. Not enough ice? Get the Frigidaire Crunchy Chewable Nugget Ice Maker that can make up to 44 pounds of ice and is down $100 from $399.99 to $299.99.
Laundry Machines
The year might be flying by, but each week there is another load of laundry to do. Transform this household cleaning chore with an RCA Portable Washer that makes your clothes the freshest they can be.
Make Your Money Work for You
This month, Walmart is dropping the price on the RCA Portable Washer from $296.07 to $250 in certain areas, so check online to see if the discount is applicable in a store near you.
Dishwashers
The other chore that never stops, no matter what time of year it might be, are dishes. Why not take a load off and have the KARLXTOM Portable Countertop Dishwasher (Compact Mini) do it for you? This February, Walmart is knocking the price down on this handy-dandy appliance by $100, from $379.99 to $279.99.
Other brands are discounted as well, including the Ethedeal Portable Countertop Dishwasher, which is usually on sale for $296.10, but now can be picked up at Walmart for $189.60. 
With deals this good, now you'll have more money and time on your hands to do what you want instead of scrubbing up last night's dinner.
Irons and Steamers
Don't let your clothes get wrinkled and bent out of shape! Instead, make sure you have the best irons and steamers on hand to tackle even the most stubborn fabrics.
Walmart is offering a bunch of discounts on irons and steamers from the brand Rowenta. This includes the Rowenta Performance Steam Iron on sale from $49 to $38.50, the Rowenta Ultimate+ Steam Iron down from $92 to $79.99 and the Rowenta Perfect Steam Pro, usually sold for $400 but now available for $283.36 at Walmart.
More From GOBankingRates
Make Your Money Work for You