5 Costly Home Renovations You'll Probably Regret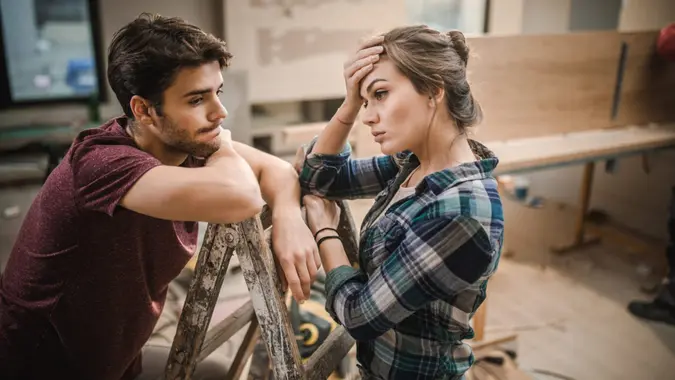 skynesher / Getty Images
Home renovations are getting more expensive due to a few factors, including ongoing supply chain issues, labor shortages and inflation. Many homeowners, however, still seem willing to cough up the cash.
When it comes to home renovations, there's so much you can do, and thanks in part to a plethora of reality TV shows focused on home design — and redesign — consumers are ever-inspired.
But major home renovations are not cheap. More importantly, perhaps, they are typically not easy to undo. So if you're going for a swimming pool or a full kitchen remodel, you'd better be fully committed to your choices, because they're going to stay with you, your home and your home's value for the long haul.
This is where regret can occur. Often, homeowners opt for a major, expensive renovation and then later wish they had done things differently. What are some top revamps and overhauls that homeowners frequently come to regret?
Creating a Game Room
A game room may sound like a great idea, but homeowners often regret building one, according to Tara Spaulding, an interior design coordinator and a consultant for Patio Productions.
"Having a purpose-built space, like a gaming room, is not always the best move," Spaulding told GOBankingRates. "A game room limits how the room can be used and does not also increase the value of your home should you decide to sell it." She estimated that a game room costs around $4,500 to build.
Make Your Money Work for You
"I would advise someone to consider a siding replacement [instead]," Spaulding said. "The siding of a home is among the most noticeable things, and it needs to remain sturdy and attractive. Replacing siding can cost $4,500 to $15,000, depending on the materials, and has a higher return on investment should you consider selling. Its ROI is at 60% or higher."
Converting a Garage Into a Living Space
Converting a garage into a living space can seem like a great idea — but it can often lead to big regrets. For one, it will cost you around $30,000 to execute, Bill Samuel, residential real estate developer, estimates.
"Most buyers don't value this type of renovation," Samuel said. "Even though this renovation will add more living space to your existing home at a lower cost than a new addition, the additional space is difficult to blend in with the existing floor plan of the home. So these conversions typically result in an awkward final floor plan for the home. Garage conversions also look very awkward from a curb appeal perspective, which further limits your pool of potential buyers."
Instead of throwing $30,000 at one huge endeavor, opt for smaller, more practical home improvements that will bring value and functionality to your abode.
"This could include updating paint, flooring or lighting or adding new landscaping or outdoor living spaces," said Ryan Zomorodi, COO and co-founder at Real Estate Skills. "The cost of these improvements can vary widely, but they are often more affordable than major renovations and can have a significant impact on the home's value and livability."
Adding a Spa Tub 
Installing a luxurious spa tub is a frequent expensive home renovation that homeowners usually regret later.
"These tubs have a starting price of only $200, but they go up to $15,000," said Matt Bigach, real estate expert and founder of We Buy Houses For Cash. "Homeowners usually regret getting a spa tub installed in their bathroom, because they take up a lot of space. Plus, they are also difficult to keep clean and are not a good option for water preservation."
Make Your Money Work for You
Instead of buying a spa tub, opt for a quality showerhead. "It will be a cheaper option, while also leaving ample space in the bathroom," Bigach said.
Replacing the Bathtub With a Shower
Since bathtubs tend to use a lot of water, homeowners often opt to replace them with a shower instead. This also helps cut down on space, making bathrooms larger. But these pricey renovations can lead to regret.
"Removing a bathtub can cost between $200 and $1,000, depending on the type of tub that needs to be removed," said Charlotte Granville, a home remodeling specialist at Fixr.com. "The cost to install a shower varies between $7,000 and $12,000. Replacing a bathtub with a shower will usually end up costing between $1,000 and $9,000 on average."
Regret manifests once homeowners realize they no longer have the luxury or convenience of their bathtub. Then they may find themselves in the bind of having to replace their shower with their bathtub, which Granville says costs between $4,300 and $11,800.
So instead, go for a combo.
"Homeowners who wish to have the option of taking a shower can simply turn their current bathtub into a bathtub/shower combo for an average of $300 to $2,000," Granville said. "Having the best of both worlds prevents any regret from opting for one or the other and allows you to choose between saving some water or having a relaxing moment in the comfort of your own bathroom."
Using Overly Elaborate Crown Molding
Decorative crown molding can be a lovely way to add value and elegance to your home, but installing too much can actually be an expensive mistake.
Make Your Money Work for You
"Overly elaborate crown molding can be difficult and expensive to install, often taking longer than anticipated due to its complexity," said Shaun Martin, the owner and CEO of We Buy Houses In Denver. "Additionally, depending on the style you choose, it may not work with the existing design of your home."
The cost of installing elaborate crown molding will vary.
"Generally speaking, it can range from a few hundred dollars to several thousand dollars, depending on the details," Martin said. "In some cases, if the project is especially complex, it may require hiring a professional carpenter or builder who will charge an additional fee for their services. Some people have reported spending upwards of $10,000 on intricate crown molding designs."
Martin recommends using these big bucks on smaller, more practical home renovation projects like "painting the walls or updating fixtures and appliances."
More From GOBankingRates