Electric Bills Are Most Expensive in These States — How Americans Are Conserving Energy and Saving Money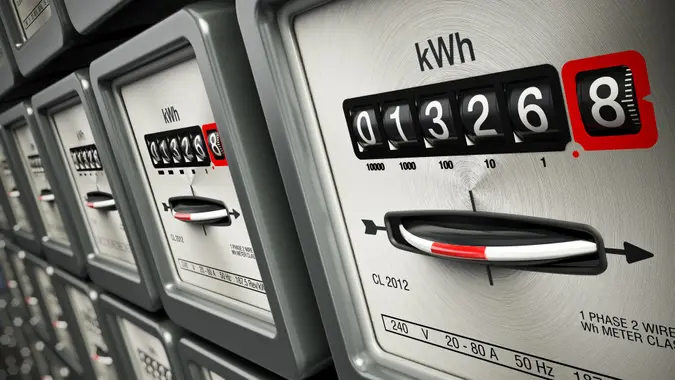 adventtr / Getty Images/iStockphoto
Despite the annual inflation rate in the U.S. slowing for the last five straight months, it hasn't "turned the corner yet" per IMF deputy managing director Gita Gopinath. Certain consumer prices are still skyrocketing every month, placing a heavy financial burden on many families. With many Americans seriously worried about grocery prices, soaring utility bills only add fuel to the fire.
Food Stamps: What Is the Maximum SNAP EBT Benefit for 2023?
Find: 3 Easy Tips To Turn Your Credit Woes Into Wows
Electricity bills aren't equal across all states, but costs and consumption are climbing higher all the time. Using data from the U.S. Energy Information Administration, Payless Power looked at how much residents and businesses pay in electricity each month by state, how much their bills have increased year-over-year, how the cost of electricity is affecting consumers and what budget changes they are making to afford it.
Make Your Money Work for You
The Cost of Electricity by State
Living in Hawaii is different than living in any other state in the country. Residents love the state's weather, landscape, culture and hospitality and these features attract new residents wanting a slice of paradise. However, Hawaii also boasts the highest monthly residential and commercial electricity costs, on average.
Hawaiians pay an estimated monthly electricity bill of $242.83, according to Payless. Between Aug. 2021 and Aug. 2022, the state experienced an increase of 38% in kilowatt-hour (kWh) costs. The estimated (average) commercial electricity bill costs businesses $1,654.89 a month ($0.43 cost per kWh).
After Hawaii, Connecticut has the second largest average monthly electricity bill of $189.94, followed by Alabama at $177.73, Georgia at $173.66 and New Hampshire at $173.34. Rounding out the top 10 are Tennessee, Louisiana, South Carolina, Massachusetts and Oklahoma.
Switching to the opposite end of the spectrum, Utah has the lowest average residential electric bill in the United States at $88.58/month. The estimated monthly bill average in New Mexico is $97.48, in Montana it's $100.72, in Washington $102.04 and residents in Wyoming pay around $103.00 per month.
To see if your state is among the 10 most expensive or 10 least expensive locations for monthly electricity, consult the listings at the bottom of this article. Commercial cost comparisons and year-over-year kWh changes can be accessed on the Payless Power study page.
Make Your Money Work for You
Americans' Top Financial Concerns
All monthly bills are concerns for Americans, but as Payless Power's research found, electricity is the most worrisome necessary expense — so much so that 83% of those polled said they would consider relocating to a state with cheaper electricity. Florida was the top destination among those asked, at 16%.
According to the study, 76% percent of those polled flagged electric and utility bills as the biggest spending concerns over the past six months — more pressing than rent and mortgage (70%), basic necessities (61%) and gasoline (53%).
Related: 5 Tricks That'll Cut Your Utility Bills by $100 Per Month
Budget Changes People Are Making To Afford Electricity
There are tons of ways to lower your electric bill and conserve energy, from dimming lights and running the dishwasher at night to turning off lights, heat and electronics when not in use.
However, now more than ever, people are making positive changes in their daily routines and shopping habits to afford the things they need. To pay for their monthly electricity bills, a little more than half of those surveyed (51%) stated that they are going shopping less. Other people are eating out less (49%), shopping at discount stores and in bulk (46%), cutting back on nonessential spending (46%), cancelling streaming subscriptions (45%) and buying at second-hand stores (43%).
Make Your Money Work for You
Some are taking more serious measures like cutting back on essentials (42%), saving on gas by walking or biking to work (40%), selling off personal items (31%) and taking on second jobs (26%).
10 States With the Most Expensive Estimated Monthly Residential Electric Bills
Hawaii ($242.83).
Connecticut ($189.94).
Alabama ($177.73).
Georgia ($173.66).
New Hampshire ($173.34).
Tennessee ($165.38).
Louisiana ($165.09).
South Carolina ($160.08).
Massachusetts ($158.89).
Oklahoma ($157.22).
Take Our Poll: Do You Think You Will Be Able To Retire at Age 65?
More: Utility Bills on the Rise — How To Budget for Increases
10 States With the Least Expensive Estimated Monthly Residential Electric Bills
Utah ($88.58).
New Mexico ($97.48).
Montana ($100.72).
Washington ($102.04).
Wyoming ($103.00).
Idaho ($103.40).
Colorado ($104.61).
Oregon ($108.48).
Wisconsin ($108.95).
Vermont ($114.53).
More From GOBankingRates
Make Your Money Work for You