This High Temp Will Save You The Most on Your Summer Electric Bill — Here's How to Stay Cool and Still Save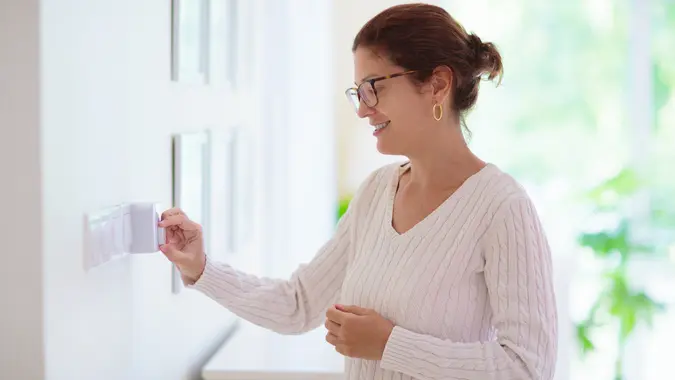 FamVeld / Getty Images/iStockphoto
Don't crank your air conditioning just yet. If you want to save on cooling costs this summer, experts recommend leaving the thermostat set to 78 degrees Fahrenheit during the day.
The U.S. Department of Energy says to keep your home a little warmer than usual when no one is home and as high as comfortably possible when home, CNET reports. Energy Star, a program run by the U.S. Environmental Protection Agency and the U.S. Department of Energy, suggests keeping your home set to 78 degrees Fahrenheit during the day when you're home when you "need cooling." To maximize your savings, set your thermostat to 82 degrees when sleeping and 85 degrees when you're out of the house.
A common misconception is that setting your AC to a lower temperature than normal will cool your home faster, but this wastes energy and leads to higher energy bills. According to CNET, an air conditioner will only cool your home 15 to 20 degrees cooler than the outdoors. Also, a higher indoor temperature will slow the flow of heat into your home, resulting in lower utility bills.
Take Our Poll: Do You Think AI Will Replace Your Job?

The U.S. Energy Information Administration (EIA) expects U.S. customers to pay 2% more on their monthly electricity bills in June, July and August this year. The average monthly summer electricity bill is forecasted to be $176 nationwide, up from $172 the year before. Customers in the West South Central census division will pay the most — approximately $210 per month — while the East and West North Central divisions will pay the least — $156 per month.
Make Your Money Work for You
More From GOBankingRates