Home Experts: Here Are 5 Home Renovations To Do Yourself To Save Money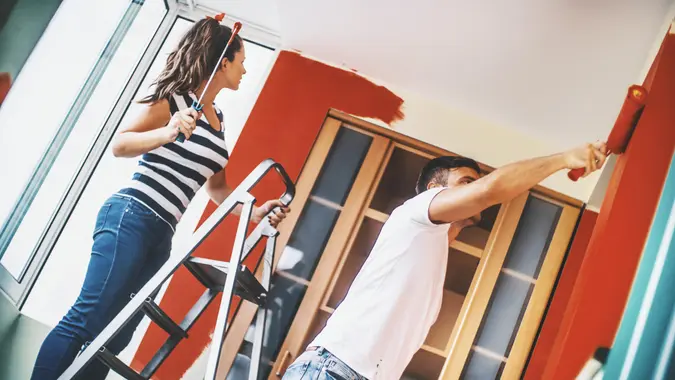 gilaxia / Getty Images
Many home renovations require the skill sets of professionals to get the job done. However, there are certain home projects you can successfully complete on your own. If you have the right tools and instructions to guide you, choosing to DIY these renovations can also save homeowners some extra cash in the process.
GOBankingRates spoke to a couple of home experts to find out which DIY projects almost anyone can tackle and complete. Here are five home renovations to do yourself and save money.
Paint Interior Walls
According to Evelina Juzenaite, principal interior designer at Planner 5D, one of the fastest, most cost-effective ways to transform your interior space is by painting the walls. 
Homeowners can give all the walls in their home a fresh coat of paint or create a striking accent wall, saving them a considerable amount of money spent on hiring professional painters.
Make Simple Exterior Upgrades
Chris and Calvin LaMont, hosts of HGTV's "Buy It or Build It" and instructors for American Standard's Homeowning 01, suggest starting with simple upgrades that keep your home in top shape.
The LaMont brothers recommend conducting maintenance tasks, like painting your home's exterior with a fresh coat of paint or cutting your lawn, as easy, inexpensive ways to upgrade the exterior of your home.
These same tasks, when consistently maintained, can also help boost your home's value.
Make Your Money Work for You
Update Paint and Hardware on Old Furniture
If you don't have the budget to buy new furniture, there are easy ways to update existing furniture without breaking the bank.
Juzenaite recommends giving existing pieces of furniture, such as like nightstands, dressers and kitchen cabinets, a fresh look using a coat of paint. 
Replacing hardware on furniture, like changing out old knobs and handles, adds an extra touch and is fairly easy to do on your own. It's also appealing if you plan to sell your home.
"In our experience, the first thing we see clients notice in different areas of the home is the hardware — especially the kitchen," said the LaMont brothers.
"Potential homebuyers want to see new, polished and aesthetically pleasing hardware on cabinets, drawers and countertops. We believe it adds great value and can quickly update the look of an entire space at a low cost!"
Replace Outdated Faucets and Showerheads
If you want to quickly update the design of your faucets and showerheads, Juzenaite said to consider replacing them with new styles. (If you have a more complex plumbing task, reach out to a plumbing specialist for help rather than DIY.)
Transform Blank Walls or Corners
Does your home have a lot of blank walls or corners in it? Juzenaite said a simple way to update these spaces is by hanging pictures or putting up small shelves.
Make Your Money Work for You
"This not only provides extra storage but also adds a touch of coziness to the room."
More From GOBankingRates