5 Home Services That Are Not Worth the Money (and 5 That Are)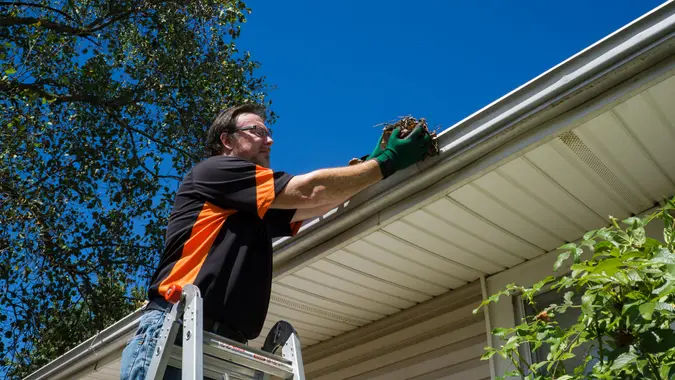 IndyEdge / Getty Images/iStockphoto
Uh-oh. There's something wrong with your home and not only does it need to be fixed, but it's going to cost you a lot of money to get everything back in tip-top shape. Can you really afford to hire a maintenance or handy person to come out and take care of the job? Or could you do it on your own for cheap — maybe even free?
When it comes to home repairs, you want to make sure you are carefully analyzing the problem and assessing the right dollar value to the situation. Some homeowners have even paid for expensive renovations that they later regretted, and in a few cases, even depreciated the overall value of their home.
GOBankingRates asked experts in home repair about services that are not worth the money, along with a few that are. Here's what they had to say.
Home Services To Do Yourself
DIYing these five projects may save you hundreds — or thousands — of dollars.
Make Your Money Work for You
1. Pest Removal
Potential Annual Savings: $150-$300
Bugs! Creepy crawlies! Homeowners often spend a lot of money on getting these critters and creatures out of their house, but you can do by yourself.
Courtney Klosterman is a home insights expert at Hippo Insurance and her company's summer home survey revealed that most homeowners (74%) are opting to self-perform home maintenance projects this summer over using a local professional (26%), including pest removal.
"Check for signs of pests and spray to keep them away," advised Klosterman, citing that Hippo's survey shows 57% of homeowners say they do this. "Regularly spraying around the exterior of your home helps prevent infestations and protects your property from potential damage caused by insects or rodents."
2. Replace Weather Strips 
Potential Annual Savings: $100-$200
This applies to windows and doors, and Hippo found that only 23% of homeowners take care of this themselves regularly.
"Removing and replacing worn out weather strips each season helps improve insulation and may even help better manage your utility bills by keeping the cold air in and the hot air out during the summer," said Klosterman, adding that this process helps with "keeping the cold air out and warm air in during the winter."
Make Your Money Work for You
3. Chimney Cleaning
Potential Annual Savings: $100-$300
It's not like that scene in "Mary Poppins" where all the chimney sweeps sing and dance and at the end, you have a sparkling chimney. In fact, it's a bit of a dirty job, but definitely one you don't need to hire a professional for.
"Depending on how often you use your fireplace or wood stove, you may need chimney sweeping services 3 times a year," explained Dan Morris, a wood stove and fireplace expert from Fire and Saw, describing how it can cost upwards of $100 per cleaning.
"However, for those who are comfortable climbing on the roof, it's usually a very straightforward task," Morris said. "Brushes are generally very cheap to buy, and some fireplaces can even be swept from inside the home without needing to go on the roof."
4. Roof and Gutter Cleaning
Potential Annual Savings: $600-$1,000
Fall is just around the corner, with winter not far behind. When was the last time you checked to make sure your roof and gutters could handle the weather and what it will leave behind in the coming seasons?
Make Your Money Work for You
"If you feel confident in using a ladder, inspect and remove debris from the roof and gutters," Klosterman said. The Hippo survey she conducted found that only 38% of homeowners reported handling this job themselves. "A quick walk-around every 3 months to remove debris from the roof and gutters helps reduce the risk of water damage, leaks, and structural issues."
5. Lawn and Garden Care
Potential Annual Savings: $1,560-$2,340
It takes a lot of work to cut the grass, pull the weeds, and generally make your landscaping around the house bloom. But it can also cost you a lot more green in your bank account. Why not get the tools out and take care of it yourself?
"You can easily mow your lawn once a week/every other week depending on grass growth rate," said Wendy Wang, a home design and renovation expert, as well as the owner of F&J Outdoor. For basic gardening, Wang said you can save between $30-$50 per hour it would take to hire someone. "Routine tasks like weeding, planting, trimming, etc. can be done on your own."
Home Services Better Left To the Pros
On the other hand, some projects are just too big to DIY. Here are five that homeowners should consider hiring a pro to handle.
Make Your Money Work for You
1. HVAC System Maintenance
Estimated Cost to Hire: $100-$300
Klosterman recommends annual servicing of your HVAC unit to help keep filters clear from debris and improve the appliance's durability.
"When your HVAC works efficiently, heat and cool air are distributed throughout the home with good circulation," Klosterman explained. "Common system breakdowns are a result of dirty HVAC filters, thermostat settings, a pilot light being out, or faulty thermocouple. You can help improve the air quality inside of your home and use less energy by changing the HVAC filter every 30 to 90 days depending on your unit. But also be sure to schedule a bi-annual tune-up to help ensure you are not stuck without heat or cool air."
"A faulty system can lead to more energy loss than anticipated, or worse, cause serious damage to both the HVAC unit and the building itself due to improper installation," said Michael Branson, CEO of All Reverse Mortgage. "In terms of costs, you can expect to pay $75 to $100 in hourly rates for a HVAC technician to install, repair, or maintain your furnace and air conditioner. Emergency services can cost more and go up to $250 per hour due to the off-hour scheduling, per HomeGuide."
Make Your Money Work for You
2. Plumbing Maintenance/Installation
Estimated Cost to Hire: $125-$2,500 
Check for signs of water damage on walls and ceilings. If you find any, it's vital to call a plumber as soon as possible to identify and fix any possible leaks. 
"Rate estimations range from $125 to $800 depending on the size of the project and the work involved, usually with a minimum service call-out fee worth around $50," Branson said. "Fixing and replacing leaky faucets will typically cost around $125 to $350, while repairing a major water line leak could set you back at least $450 up to $2,500. And the more time the issue sits without being resolved, the more expensive it will be to repair."
"Water damage is one of the most common and costly disasters your home can experience," added Klosterman, stating that the average home insurance claim costs upwards of $12,000.
3. Electrical Updates/Outages
Estimated Cost to Hire: $140-$420  
Flickering lights could indicate an electrical problem requiring professional help to protect your home from overheating in the event of a power surge, according to Klosterman, who explains that more than 2/3 of homeowners don't even know the location of their fuse box or circuit breaker.
Make Your Money Work for You
"Among the common risks associated with electrical work are potential electric shock, property damage and fire hazards," said Branson. "An unlicensed contractor may charge a lower rate, but the risk of improper installation or resulting injury is far too great to consider. Issues with the circuit breaker, outlets, or wiring, installations of GFCI outlets and light fixtures, or upgrading of an outdated electric panel should only be handled by a licensed electrician, as these require specialized tools and knowledge to be done correctly."
"It's estimated that hiring an electrician may cost around $40 to $100 per hour," Branson added. "Of course, the more complex the work is, the higher the cost will be. For larger projects, a master electrician may be necessary and can cost around $100 to $150 per hour."
4. Window Glazing
Estimated Cost to Hire: $200-$1,000
If you've never heard of "glazing" in regard to a window, don't worry: it just means the glass inside the window. It can be single, double or triple glazed or paned. There is also a putty that holds the glass in place, all of which is part of the installation and repair process that you should have an expert handle.
"These tasks often require more training and skill," explained Niki O'Brien, operations manager for Custom Exteriors. "Additionally, they could involve heights and large tools, limiting some homeowners' abilities to complete these maintenance items." 
"Unfortunately, these repairs are typically more costly due to time, the skill and knowledge level required, and possible danger to the homeowner," said O'Brien. "The average window glazing and siding repairs depend largely on the size of the repair but can be anywhere from under $200 up into the thousands."
5. Foundational Work
Estimated Cost to Hire: $500-$5,000
Your home might have good bones, but you probably shouldn't be the one to start tinkering with them. If you notice your foundation is having cracks or other problems, it's best to let the professional handle the job.
"Depending on the problem's extent, this can go from $500 to $5,000," said Ben Esman, a general contractor, landscaper and gardening expert who founded My Backyard Life. "It's essential for your home's structural integrity, and mistakes can be disastrous. Plus, it requires specialized knowledge and tools."
This extends out past the walls of your house, too. If you have trees that need trimming or removal because they are or could potentially wreak havoc on your home, don't try it yourself. Esman says the costs range between $150 to $1,500 to have someone come do the job for you, but it is well worth the money.
"It's hazardous [and] requires special equipment," Esman explained. "One wrong move can result in property damage or injuries."
More From GOBankingRates