How To Convert a Basement to a Bedroom on a Budget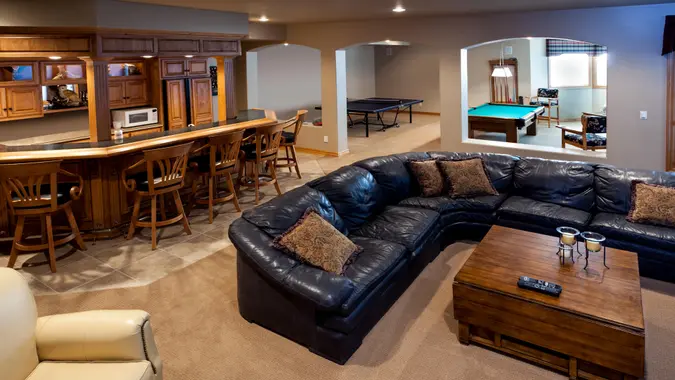 JamesBrey / iStock.com
You want to convert your basement from a storage space to a beautiful bedroom. This is a great idea for increasing the value of your home. A finished basement yields a 70% return on investment on average.
An even better way to make sure you make money on this renovation is to not spend too much in the first place. Here are some tips to turn your basement into a finished bedroom on a budget.
Check Local Building Laws
This isn't so much a tip as it is a caution, but it's still extremely important. Before doing any sort of drastic change to your home, you'll want to check with building officials on what's allowed in regards to zoning and building codes. Otherwise, you'll waste money on something that's against the law and have to remove it if you're cited. 
Get Your Basement Waterproofed
Another safety precaution you'll want to take is to get your basement professionally checked out for waterproofing. Any gaps where water can get in will ruin the hard work you put into the basement. Hire a professional to check for any openings that water might be getting in and seal them up. 
Have a Plan in Mind
Just knowing you want a bedroom is not enough. Measure your basement and create a floor plan so you know exactly what you need to create the type of bedroom you're envisioning. This helps keep you focused on what you need, rather than buying things simply because they look good to you or they might find a place in the new bedroom later. Make a list of the things you absolutely need, and go from there. 
Make Your Money Work for You
Keep the Original Flooring
Unless you can see dirt when you walk, try to maintain the basement's flooring. Replacing the floors in a basement remodel can cost anywhere from $1,500 to $4,500. Most basements have a standard concrete flooring. Though having an industrial theme is chic, if you aren't picturing your basement with gray concrete flooring, you can easily paint it to make it less conspicuous. Painting the floors will cost much less than completely redoing them. If you need to replace the floors, go for carpet over tile or hardwood for the most affordable option. 
Look for Creative Lighting Options
One thing your new basement bedroom will need is lighting. This doesn't mean you have to pay for elaborate lighting to be installed. Consider something like string lights or lighting fixtures that are easy to install yourself. One tip is to make sure you light upward, rather than hanging something from the basement ceiling, so you don't make the already low ceiling seem lower. 
Choose Drywall or Paint Over Paneling
When it comes to your basement walls, there are a couple of ways to change them that are cheaper than others. Paint is going to be your cheapest option; but, if your walls need a little bit more work to convert them from a more dungeon look, opt for drywall. Drywall is cheaper than paneling and actually will offer you more soundproofing than panels as well. 
Don't Customize Your Cabinets
It might be tempting to make the cabinets yourself, but the cheaper option is to go for stock cabinets. Customized cabinets will have to be made-to-order, whereas stock cabinets are made in bulk. If you can, forgo cabinets altogether. The cheapest option for cabinets is to use stacked crates or wooden boxes.
Make Your Money Work for You
Skip Finishing the Ceiling
Similar to the floors, if you aren't completely grossed out by your basement ceiling, keep it as is. The problem with redoing the basement ceiling is that you're likely going to cover pipes in the process. If you were to have any sort of plumbing issue, the basement floor would need to come up, rendering all the money you spent on finishing the ceiling useless.
If you don't like the look of your basement ceiling, consider covering it with a neutral-colored fabric so it's not distracting. You also can remove the insulation and spray-paint the ceiling to blend in with the rest of your remodel. 
Visit a Thrift Store for Decorating Help
Have a specific theme in mind for your basement? Start looking around your local thrift stores to see what you can find there first before immediately doing all of your shopping online. You would be surprised at what affordable vintage pieces you can find that will fit your vision perfectly. 
More From GOBankingRates