How To Set Up a Treehouse on a Budget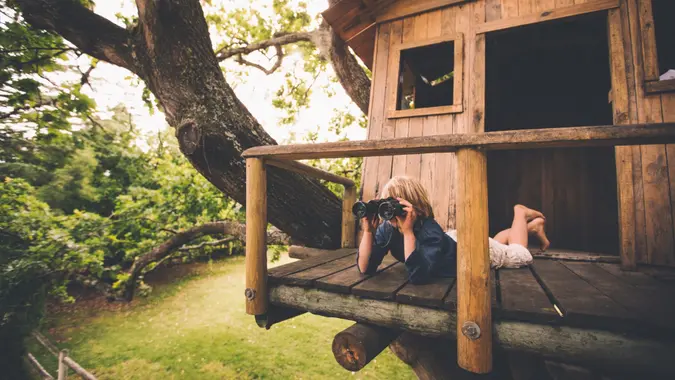 wundervisuals / Getty Images
A treehouse can be the perfect addition to your backyard that also provides your kids with a fun place to play. The idyllic ones you see in the movies might be a little out of your price range, but there are plenty more affordable alternatives that will look just as great.
Read: 6 Household Staples That Are a Waste of Money
Learn: Here's How Much Cash You Need Stashed if a National Emergency Happens
The good news is there's no one way to make a treehouse. Treehouses can take different forms and shapes. Choose one that suits your children and your budget best by following these tips.
Don't Hire Workers
It's probably obvious, but if you're looking to save money when building a treehouse, the best person to hire is yourself. To pay for your labor, you're looking at owing workers an hourly wage, and that can add up even if they work quickly. You can eliminate this cost by doing it yourself or with friends.
Pick a Strong Tree
You don't want your hard work to go to waste simply because you didn't pick the right tree. When selecting a tree to hold your house, look for strong branches and deep roots. Oak, maple, apple, beech, cedar, hickory and hemlock trees are all great choices.
Make Your Money Work for You
The tree also shouldn't be damaged from termites and other insects; it should be able to withstand pests and weather so your house holds up.
Take the GOBankingRates Poll: Do You Think Student Loans Should Be Forgiven?
Go With a Simpler Design
When you're looking for treehouse inspiration online, look for one that you could conceivably make, and really plan it out. When you're looking at a design, make sure it's constructed of easy shapes that you can make without spending a lot of extra money to make it happen.
Think about the tools you'll need to make the treehouse: do you have a lot of them on hand already, or will you be spending hundreds to purchase them? At minimum you'll need a hammer, saw, level, square, tape measure, adjustable wrench, a cordless drill, and a jigsaw. Go for designs that you could make with the tools you already have so you're not spending a lot before the building even begins.
Also, be aware of what your yard can allow. Check building codes before you start construction to save you money in any fines for building violations. 
Make Your Money Work for You
Use Inexpensive Materials
What you make the treehouse out of will greatly determine how much you spend on the house itself. Some of the cheapest recommendations for your structure are ground contact pressure-treated lumber for the platform joists, furring strip board for framing, and oriented strand board for the flooring and roof.
Choose softwood over hardwood. Though hardwood is sturdier, experts say it's not worth the extra cost, and could potentially weigh down the tree you're building on.
Your best bet is to look for free supplies if you can find them. Look in lumber yards and discarded wood from construction sites. Recycled fence posts are also great to make the sides of the house. You might be able to find a good amount of the material needed without paying a penny.
Choose an Easy Type of Entrance
There needs to be some way to get into your treehouse, but it does not have to be ornate. A simple ladder will do. Even attaching a rope or rope ladder will do the trick, and are both very cost-effective. 
Make Your Money Work for You
Build Around a Tree 
Instead of building into a tree, you can still get the same effect if you construct your house around a tree. Plus you'll spend a lot less. You can build a platform around a tree and not have to worry about using as much material to make a level space within a tree.
Depending on how high you make the platform, this can also make it easier for younger kids to get into the treehouse without having to scale a ladder or a rope. You can also build the house to be freestanding next to a tree, so you still get the tree shade and effect, without having to incorporate the tree into the build itself.
Use a Tarp for the Roof
If you live somewhere where it rarely rains, your roof doesn't have to be as resistant to weather. Rather than building the roof out of wood, you can save money by using a tarp instead.
More From GOBankingRates
Make Your Money Work for You