Run Your AC/Heating at These Indoor Temperatures, and Other Tips To Cut Down Costs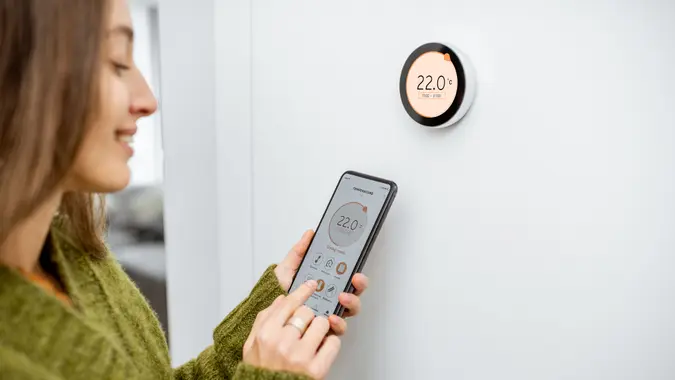 RossHelen / Getty Images/iStockphoto
Some parts of the United States are starting to enter into the cool, crisp fall months while other parts are still feeling the residual heat of summer. Depending on where you live, it's time to run the air conditioning or heating in your home and help cool down or heat up the space. 
Discover: 9 Bills You Should Never Put on Autopay
Advice: If Your Credit Score is Under 740, Make These 4 Moves Now
But how do you know when it's the right time to turn these systems on? You might be surprised to learn the best times of day to run your air conditioning or heating depend on indoor temperatures.
When To Run the AC
It can be tricky to figure out the best time of day to run your AC. This is especially true during summers with seemingly endless heat waves that keep AC temps running around the clock.
The best time for homeowners to run their AC, according to a blog post from Grove Heating & Cooling, is the moment when the temperature reaches 75 degrees Fahrenheit indoors. Additional factors, like the home's insulation, also play a significant role in deciding when it's time to turn on the cooling system. Well-insulated homes may be able to wait until the outdoor climate gets a little hotter before turning on the AC.
Make Your Money Work for You
Take Our Poll: Are You Struggling To Keep Up With Your Utility Bills?
When To Turn the Heat On
Everyone's personal preference varies when it comes to figuring out when to turn on the heat. Some people get cold easily while others don't mind bundling up in another layer. 
A blog post from Tragar Home Services recommends turning on the heat when the indoor temperature is below 64 degrees Fahrenheit. Households with children, seniors or individuals who are not feeling well are recommended to turn on the heat a few degrees higher than 64 degrees. Before you go to bed, make sure to lower the thermostat.
Save Money While Running AC or Heating
Air conditioning and heating bills add up quickly, especially if you keep the systems on throughout the entire day. Save extra money on heating and cooling costs with these tips.
Saving Money on AC Costs
Turn on the ceiling fan. If you live in a home or apartment with a ceiling fan, turn it on to help reduce the temperature. According to the NRDC, ceiling fans can help make rooms feel up to 10 degrees cooler. They also use only 10% of the energy of a central air conditioner.
Invest in a personal fan. Most personal fans can be bought at retailers for a little under $20 each. Keep it handy as you work from home to keep cool and lower utility bill costs.
Keep big (and small) appliances turned off. Keep from using stoves, dishwashers and washers and dryers during the heat of the day. It's also a good idea to turn off small appliances that can generate heat, like phone chargers, blow dryers and curling irons.
Close the curtains or blinds. The radiant heat one craves during the winter months is not welcome in summer. Keep windows covered to reduce the amount of sunlight, and heat, coming into your home.
Make Your Money Work for You
Saving Money on Heating Costs
Seal any gaps around doors and windows. Do this prior to turning on the heat, as it helps minimize the amount of cold air coming into your home and keeps the heat from leaking out.
Identify southern facing rooms in your home. You can open the blinds or drapes during the day to allow radiant heat in. Close them at night to keep drafts out.
Keep room temperatures a few degrees cooler at night. According to the Cleveland Clinic, the ideal temperature for a room at night is between 60 to 67 degrees. While it may not sound ideal to sleep in a cooler room when the weather outside is chilly, keeping the temperature turned down a few degrees can help make a dent in your monthly heating costs.
Bundle up. Stock up on thermal drapes, draft stoppers and blankets that can help everyone under your roof stay warm.
Invest In Smart Thermostats
One of the best ways to save money, whether it's on AC or heating bills, is to invest in a smart thermostat. This allows you to set the thermostat to the best temperature while you're at home or away and better manage the right settings for your comfort level.
Make Your Money Work for You
More From GOBankingRates
Make Your Money Work for You