Higher Utility Bills Bring Hidden Costs of Owning a Home To $1,180 Per Month, New Zillow Report Shows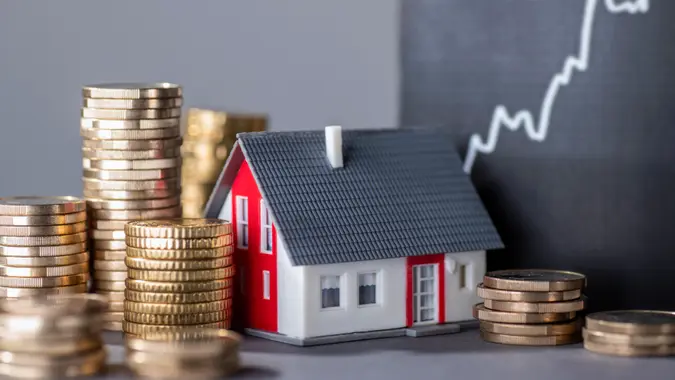 gopixa / Getty Images/iStockphoto
No one said homeownership was cheap, but a new analysis from Zillow and Thumbtack suggests that expenses that come with owning a home are higher than ever. According to the report, utility bills, property taxes, insurance and home maintenance can add up to $14,144 a year for the average U.S. homeowner — an extra $1,180 per month on top of the mortgage payment.
Zillow says these costs can be higher in some metro areas than others. San Francisco, New York and Los Angeles were the priciest, going as high as $22,000 annually or $1,833 per month. Hidden homeownership costs were the lowest in Las Vegas ($9,886), Asheville, North Carolina ($11,318) and St. Louis ($11,824).
Property taxes, homeowners insurance and utility payments (energy, water, natural gas and internet) averaged $7,742 nationally. New Yorkers paid the highest property taxes — about $9,000 per year — and residents in Hartford, Connecticut paid $4,443 per year on utilities, the highest in the analysis. Affordable metro areas like Pittsburgh and Cleveland had the lowest homeowners insurance costs.
The analysis also looked at Thumbtack's 17 essential home maintenance projects. These projects averaged $6,413 annually. Maintenance costs were the most expensive in Los Angeles and Chicago, $8,639 and $7,722, respectively, while homeowners in Las Vegas only paid $3,467.
Take Our Poll: Are You Planning To Buy or Sell a House This Year?

Homeowners are feeling the pain. Nine out of 10 homeowners who bought a home in the last three years say the true cost of owning a home is higher than expected, according to a February survey of 1,000 U.S. homeowners by Real Estate Witch. The survey found that 65% of homeowners have some form of buyer's remorse and 57% said they would have approached buying a house differently had they realized the true cost of homeownership.
Make Your Money Work for You
More From GOBankingRates