What It'll Cost You to Spend a Night in These Trump Hotels

10 min Read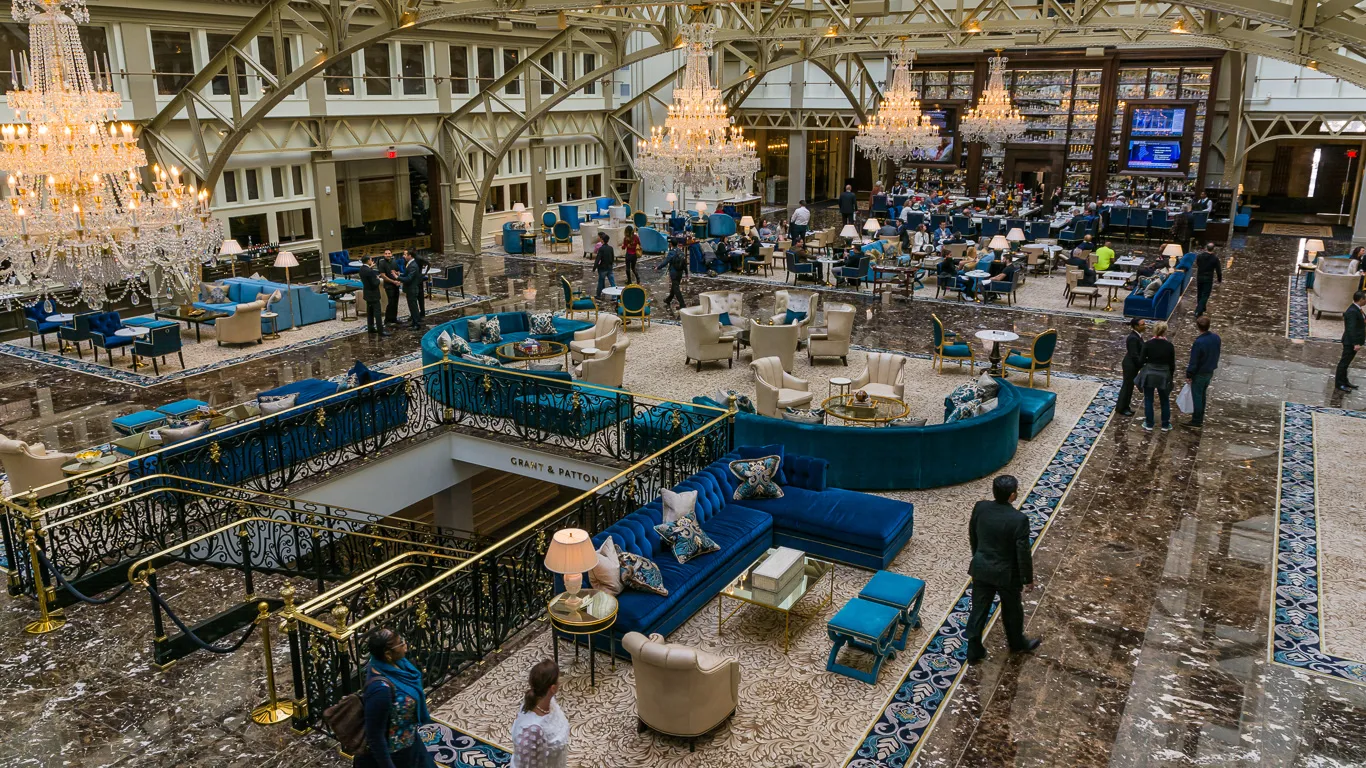 Politics aside, who doesn't fantasize about reclining in the lap of luxury like Donald Trump? The truth is, it's not that difficult to spend a night in one of the real estate mogul's famous Trump towers — if you're willing to pay for it.
Prices for these 14 Trump hotels range from doable to bank-breaking for the average visitor. We wrangled the best unrestricted rates for a weekend trip, but keep in mind, they're not carved in stone. Prices can change at any time.
If you want to stay in one of the most luxurious hotels in the world, take a look at what these Trump Hotels have to offer.
Make Your Money Work for You
Trump International Hotel & Tower Panama
Cost to Stay: $169 a Night
Panama is a bit of a plane ride for a weekend getaway, but if you're willing to travel to Punta Pacifica, you can enjoy a cocktail from your balcony 70 stories above Panama Bay. The hotel is the tallest building in all of Central America. You can't miss it as you fly in — it's shaped like a giant sail.
Rooms range from deluxe to a series of suites and, yes, one is "presidential." There are also some suites "on the curve" of the sail.
Find Out: 50 Hotel Secrets Only Insiders Know
Trump National Doral Miami
Cost to Stay: $199 a Night
It might not be a weekend in Mar-a-Lago, but it's close. Play nine holes of golf elbow-to-elbow with the rich and famous on this renowned course, or just hit the driving range if you prefer. President Trump purchased this famous 800-acre property in 2012 and reportedly put $250 million into renovating it.
If your traveling companions aren't into golf, the Trump National Doral also offers a pool and spa, some top-notch dining or a combination of both. The Palm Grill offers casual dining poolside.
Trump International Hotel Las Vegas
Cost to Stay: $199 a Night
Trump offers another option for under $200 a night in Las Vegas. No, you can't gamble here — it's a non-casino hotel — but you can certainly take a deep breath and unwind. The property offers a health club with an 11,000-square foot spa and a heated pool with private cabanas, plasma TVs and wet bars.
Available rooms range from corner suites to 50 penthouses with kitchens that will be custom-stocked for you if you ask. You can take Fido along — the hotel is pet-friendly. Located on Fashion Show Drive, you'll have world-class shopping at your fingertips.
Make Your Money Work for You
MacLeod House & Lodge at Trump International Golf Links, Scotland
Cost to Stay: $265 a Night
Take a step back in time for less than $300 a night. The five-star accommodations of MacLeod House are tucked into a historic mansion in the woods of Aberdeenshire and boast secret stairways and — at one time — the Green Lady ghost.
Not to fear. POTUS ordered the Green Lady to move on when he bought the property in 2006, and by all reports, she obliged. Sarah Malone, executive vice president of Trump International, said that after renovations, the building was "no longer a suitable abode for a ghost." You can now enjoy golf, horseback riding, fishing, beaches and upscale dining without worrying about things that go bump in the night.
Trump International Golf Links & Hotel Doonbeg
Cost to Stay: $300 a Night
The Hotel Doonbeg and its golf links are located a relative stone's throw away from MacLeod House in County Clare, Ireland. Take a cottage on the green or a courtyard suite and enjoy the White Horses Spa or a spot of afternoon tea beside the Atlantic Ocean. The cottages are actually a bit less expensive.
If you prefer more active pursuits, there's golf, of course, but you can also take a horseback ride on the beach, go sailing or explore nearby caves. The area also has plenty of old castles and other historic buildings that are open to the public.
Don't Miss: Get the Royal Treatment at These Castle Hotels
Trump SoHo New York
Cost to Stay: $425 a Night
Returning stateside, Trump SoHo reigns over Spring Street in New York, offering a wide range of suites in the $400-plus range. Choose from one-bedroom to penthouse suites. The location is family-friendly, with the Children's Museum of the Arts nearby.
The hotel is known for its spa, as are many Trump properties, but it also offers some pretty elite bars, including Bar d'Eau where you can sip a cocktail poolside in the summer. The views over Manhattan are to die for, and you can catch them from some select rooms.
Make Your Money Work for You
Trump International Hotel Washington, D.C.
Cost to Stay: $428 a Night
In the nation's capital on Pennsylvania Avenue, this property is a testament to the redevelopment savvy of the Trump Hotels enterprise. The U.S. General Services Administration chose Trump Hotels to redevelop the area in 2013, and redevelop it did. Trump dropped more than $200 million to transform Washington's Old Post Office — named to the National Register of Historic Places in 1973 — into a hotel.
It's worth a stay just to take a walk across the lobby — a nine-story atrium. The spa at this property bears Ivanka Trump's name, but if reading is more your thing, you can enjoy digital access to more than 5,000 magazines and newspapers. Or tour the old clock tower above the building, recently reopened to the public by the National Park Service. The hotel is pet- and kid-friendly, and if you book 30 days or more in advance, you can shave 25 percent off your room rate.
Trump International Hotel & Tower Toronto
Cost to Stay: $499 a Night
Trump accommodations become a little pricier north of the border. The Trump International Hotel and Tower, located in the heart of Toronto's financial and entertainment district, offers the Trump facilities' signature spa and an indoor, heated salt water pool.
But is all that worth a whopping $500 a night? You might think so if you find yourself in sudden need of personalized business cards at 5 a.m. The hotel's 24-hour concierge service — called Trump Attaché — will take care of that (and more) for you.
Trump International Hotel Waikiki
Cost to Stay: $509 a Night
Visiting Hawaii can be pricey no matter where you stay, so $509 a night might seem pretty reasonable for accommodations at Trump International Hotel Waikiki, especially considering what you get for your money. TripAdvisor has named it Waikiki's No. 1 hotel for 76 straight months. Forbes Travel Guide likes it, too, awarding it five stars in 2015, 2016 and 2017.
The Hotel Waikiki earns these accolades in part by providing guests with a pillow menu. And no, this doesn't mean food. You can choose your own luxury pillow for a solid night's sleep and have it delivered to your room. You can also have your own personal in-room chef for a few extra bucks. Then again, given that Trump lured famous Hawaii chef Fred DeAngelo to the hotel's BLT Steak restaurant in early 2017, you might prefer to dine there.
Make Your Money Work for You
Trump International Hotel & Tower Chicago
Cost to Stay: $525 a Night
Located in downtown Chicago, this Trump property has also been five-star rated by Forbes. If you're visiting for the hotel's luxury spa, you can whittle away at the cost by booking a spa guest room with direct access to the facilities. There are also deluxe and executive guest rooms and suites.
If you like the hotel so much that you want to come back again and again, there's no need to bother yourself with toting around all that inconvenient luggage. You can leave your clothing and personal items behind — hotel staff will keep them safe and clean for you until you return.
Trump International Hotel & Tower New York
Cost to Stay: $525 a Night
This is the Trump hotel on the corner of Central Park, and it's worth a visit for its restaurants alone. Jean-Georges offers 3 Michelin Star dining, and you don't even have to go to the restaurant — it's available through room service, too. Rooms and suites offers 10-foot floor-to-ceiling windows, so you won't be able to beat the view if you decide to eat in.
Doormen stand ready to greet you when you arrive, which is only fitting because this is the Trump family home when they're in New York. Don't be surprised to catch a glimpse of first lady Melania and her son Barron, who are frequently in residence.
Related: Protecting Trump Tower NYC Costs Millions of Dollars
Albemarle Estate at Trump Winery
Cost to Stay: $549 a Night
Albemarle is a wine country estate, but you don't have to travel to California for a stay here. It's located in Charlottesville, Va., and it's a veritable mansion with 45 rooms covering 26,000 square feet. You can even take a hands-on cooking class with the chef and learn a thing or two about the hotel's top-notch cuisine.
Not surprisingly, the Albemarle offers wine tasting, but there are many other things to do here as well, including hiking, bird-watching, horseback riding, bocce ball and croquet. Or visit the poker room if you're not the outdoorsy type. The Estate even has its own movie theater, complete with popcorn and soft drinks.
Make Your Money Work for You
Trump Turnberry, A Luxury Collection Resort
Cost to Stay: $614 a Night
Perched on Scotland's west coast, the Trump Turnberry is family-style luxury at its finest. The crags and the rocks are breathtaking, but you can leave them at the window and enjoy accommodations ranging from suites to whole villas, some with ocean views.
The Turnberry is known for its championship golf course, the first golf resort in the world when the building opened in 1906. It also offers The Wee Links for kids. If your group isn't into golf, they can visit the Wee Explorers playroom or take pony rides on the beach. Older kids can try their hands at air rifle shooting or archery. This should tire them out so Mom and Dad can enjoy the fine restaurants and lounges in the evening hours.
Trump International Hotel & Tower Vancouver
Cost to Stay: $950 a Night
The Hotel and Tower in Vancouver is the jewel in the Trump International crown, and it will set you back almost $1,000 a night. So what do you get for that kind of money?
For starters, you get a chauffeur-driven Rolls-Royce Ghost II to take you anywhere you want to go. You get a poolside lounge with real palm trees and an LED-colored lighting system. If you want to throw a party, you'll have access to a ballroom.
As for accommodations, no two rooms have exactly the same view — all 147 of them are situated around the tower in such a way as to make them each unique. Discover your favorite and request it time and again. The blinds, lighting and temperature are all controlled by touchpads. The towels are draped over warming racks and the in-room bars offer premium liquors. So go ahead — whip out your credit card and enjoy the finest Trump has to offer.
Up Next: The Most Expensive Presidential Suites in America
All rates are from TrumpHotels.com and current as of April 13, 2017. They reflect the best unrestricted prices for a weekend trip from 4/4/17 to 4/6/17.
About the Author