How To Handle Pet Emergencies When You're Living Paycheck to Paycheck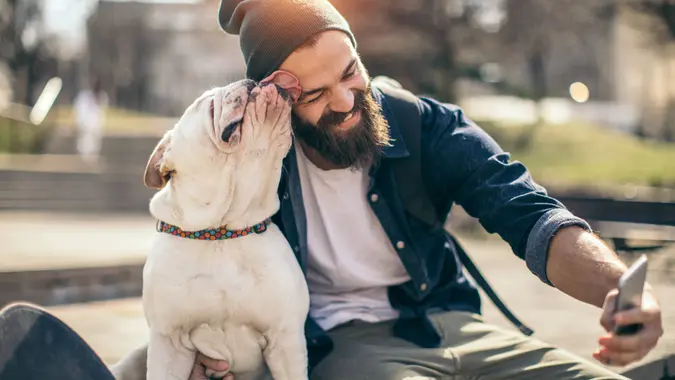 supersizer / Getty Images
Having a dog, cat or any other pet can bring a lot of happiness into your life, but it can also make things stressful from a financial standpoint. From food and grooming to vet fees, the costs of being a pet parent can be high.
A recent GOBankingRates survey found that 28% of pet owners spent over $1,200 on their pet in the last year. Within that group, 8% spent over $2,000. If you're living paycheck to paycheck, these costs can be difficult to manage, especially if you face unforeseen pet expenses like emergency medical care.
"Owning a pet is a lot of responsibility, financially and emotionally. Please consider the costs of owning a pet and the impact on your overall financial well-being," said Shavon Roman, personal finance expert at Heal Plan Invest.
However, if you already have a pet and are living paycheck to paycheck, that doesn't mean you're guaranteed to be in for a rough time. You just need to take this issue seriously and plan ahead. "If you live paycheck to paycheck, a pet emergency can create financial chaos," said Roman. Here are some ways to be proactive about the possibility.
Consider Pet Insurance
One way to mitigate the financial risk of pet emergencies is to get pet insurance. That can add an extra cost to your monthly budget, but it can help you limit the overall costs you might pay in an emergency.
Make Your Money Work for You
"It is worth the money it will save you. The cost of a pet emergency could be thousands of dollars," said Roman. "Pet insurance is as essential for pets as health insurance is for people. It reduces the risk of having a financial disaster that could take years to recover from."
Last year, the average pet insurance monthly premium in the U.S. for accident & illness policies for dogs was $53.34, and for cats it was $32.54, according to the North American Pet Health Insurance Association. Accident-only pet insurance came in at an average of $16.70 for dogs and $10.18 for cats. The more comprehensive the policy, the more you can protect yourself from the financial risk of emergencies, but you'll have to weigh the cost vs. the risk. Costs also differ significantly based on factors like your pet's age and breed.
Though it doesn't sound like much, pet insurance still might be financially difficult for those lacking savings. So, if needed, "consider a temporary side gig to cover the cost of pet insurance," suggested Roman.
Build an Emergency Fund
Emergencies are unpredictable, but there's a good chance you'll face one at some point, whether that's for your pet, your own health, your car, etc. If you're living paycheck to paycheck, you need to find a way to cut an expense or add extra income, such as from a side gig, to build up emergency savings. Otherwise, you could end up spending more in the long run if you have to take on debt.
Make Your Money Work for You
You don't have to build a separate emergency fund for your pet, though. "One emergency fund is sufficient. It keeps things simple and easier to manage. Use your general emergency account for all household emergencies, including pet emergencies," said Roman.
A common guideline is to save 3-6 months' worth of living expenses in an emergency fund, though this can vary depending on factors like your job stability and risk tolerance. One way to find more savings is to look into preventative care pet plans, said Roman.
You might be spending money each year on annual wellness exams or vaccinations at the vet, for example. So, paying for a preventative or wellness care plan that covers these types of costs might be more affordable overall, while potentially reducing the risk of an emergency illness occurring later on.
You can also ask for discounts, which you might be surprised to find can work, said Roman. It doesn't hurt to try at least. For example, maybe you have a pet sitter or daycare you use for days when you need to go into the office. Perhaps they offer a discount where if you buy a bulk package of services you can save money overall.
If you're in a bind, Roman said you can look into pet charities as well. For example, your local area might have a pet food pantry if you're struggling with affording pet necessities.
Overall, having a pet when you're living paycheck to paycheck can be difficult, especially if an emergency comes up. But if you're mindful of the financial risk of emergencies and plan accordingly, such as by budgeting for pet insurance, you can reduce your risk of going into debt while still getting your furry friend the care they need.
Make Your Money Work for You
More From GOBankingRates