I'm a Veterinarian: Here Are 5 Pet Care Tips To Help You Avoid Costly Vet Bills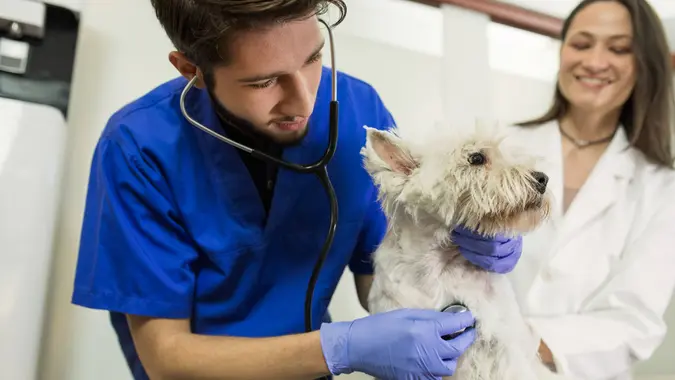 Sladic / Getty Images/iStockphoto
Most pet parents would do almost anything for their furry friends, but that doesn't mean you have to drain your bank account to pay for their care. As it stands, however, many pet parents can afford another car payment for what they pay for their four-legged friends. 
According to a USA Today survey, the average dog owner in the U.S. spends $376 per month on average for their pooch, which adds up to $4,512 annually. Young dog owners spend even more: The survey finds Gen Z spends an average of $590 per month/$7,080 per year on their dogs.
Fortunately, there are many ways to manage what could potentially be high pet care costs. With proper planning and knowledge, you can save hundreds or even thousands of dollars per year on veterinary care, "depending on the age and health of your pets," says Dr. Danny Cox, chief veterinary medical officer at Petzey.
Some of his top pet care tips to help you avoid costly vet bills include the following:
1. Be Proactive
Being proactive about your pet's health, even if there are some initial fees, can reduce the risk of expensive vet bills down the road. For example, "if you're ensuring your pet does their annual wellness exams, your vet will be able to anticipate and identify potential health concerns early," says Cox. "This allows pet parents and vets to work together on deciding a timeline for when an issue should be addressed, taking into consideration medical necessity and finances."
But you don't even need to spend money on staying ahead of potential problems.
"Emergency vet visits are expensive, especially if your pet needs x-rays or surgery. Proactive, preventative care — e.g., a healthy diet, regular exercise, etc. — will save pet parents so much money in the long run," he adds. 
Make Your Money Work for You
2. Use Telehealth
Another good way to save money on vet bills is to remember that you only sometimes need an in-person visit. 
"Try vet telehealth services for regular wellness exams," suggests Cox.
Some telehealth services operate on a standalone basis. Others are part of pet insurance plans. Compare the costs and see if you could save money while still getting the care you're comfortable with via Telehealth. 
3. Get Vaxxed and Sterilized
Another part of being proactive with your pet is ensuring they get vaccinated and booster shots as needed. Getting your pet spayed or neutered can also save money.
"Keep in mind getting your pet vaccinated and spayed or neutered is necessary to prevent higher, unnecessary vet bills down the road," says Cox. And to save money on vaccines, "seek out low-cost vaccination clinics," he says. 
You may not want a low-cost option when it comes to spaying or neutering your pet.
"I suggest you discuss sterilization with your regular vet to know exactly what you are getting if you choose low-cost surgical procedures. All spay and neuter procedures are not the same, and cutting costs will not always allow the best care for your pet," says Cox.
4. Look for Adoption Assistance
Adoption fees for a pet can be less expensive than buying one from a breeder, but that's not the only way to save money through adoption.
"If you adopted your pet, the center you got them from may have a veterinary assistance program that offers discounted vet care," says Cox.
Make Your Money Work for You
5. Get an Emergency Fund
Lastly, you can save money on vet bills by getting a pet emergency fund, says Cox.
Some services provide backup insurance for emergency costs for pre-existing conditions. 
Some people also set money aside regularly to build up a pet emergency fund, as you might do for your personal emergency fund. Pet insurance, while not necessarily a catch-all for emergency coverage, can limit the amount you would pay out of pocket in an emergency.
Find More Ways to Save
Overall, taking these types of steps can help your wallet while still getting your pet the care they need for a happy, healthy life. You don't have to cut corners, but you can strategically find ways to save money, especially if you plan ahead. 
And don't limit yourself to saving money at the vet. Spending money on toys now and then might be a fun splurge, but if you're regularly buying expensive gifts for your dog, you don't necessarily need to do that, especially if money is tight. Going on a walk, for example, is both free and fun. That ties back to keeping your pet healthy, which can save you money on medical care.
More From GOBankingRates