4 Dating Apps That Are Worth the Money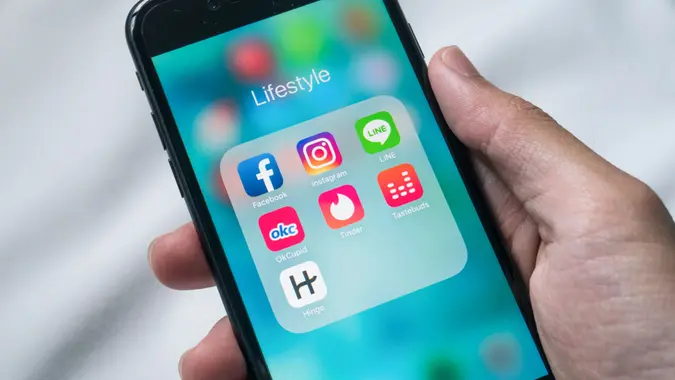 Wachiwit / iStock.com
If you're looking for love on a free dating app but struggling to find the right person, it might be time to switch over to a paid app. Premium dating apps offer additional advantages and a higher success rate to users seeking their match. GOBankingRates chatted with relationship and matchmaking experts to determine which paid dating apps are worth the investment for your love life.
Match
Scott Valdez, founder and president of VIDA Select, said the popular paid dating site (and app) Match is generally a good investment for daters over 35. 
"Match has a big advantage over other dating sites in that you can search for matches on your own," said Valdez. 
Match, a pioneer in online dating that launched in 1995, offers a fun yet serious approach for those looking for a long-term relationship. Use keywords in your profile to match with users that have similar interests. 
If you're having a great conversation and want to see a user live, Match encourages users to try out the Vibe Check feature. This video chat feature allows you to see any eligible Match member in the app and on desktop as long as each member has sent each other a message or a like. Plus, it's free to use Vibe Check on Match. All you have to do is be in a conversation with someone.
Make Your Money Work for You
The League 
Emyli Lovz, co-founder at emlovz, said The League is where super ambitious singles go to meet people equally as successful. 
Launched in 2015, The League is a community designed for the overly ambitious. Users are able to date like-minded individuals with passion and drive by using the app. CEO and founder Amanda Bradford wrote in The League's mission statement that the community was built to celebrate smart, outspoken and high-achieving women that prioritize their education and career trajectory. 
Users interested in joining The League can sign up to become a member and pay for a membership. A paid membership allows users to increase speed, quantity and quality of matches. It also supports The League's mission to continue acting as a selective, high-quality dating community. The common thread is ambition and a drive to succeed.
Hinge
Hinge, billed as the dating app designed to be deleted, is built on the belief that anyone looking for love should be able to find it. The app is geared toward a slightly younger demographic than Match and is available in free and paid formats. If you're not finding any luck using the free version, you might want to switch over to premium.
Susan Trombetti, matchmaker and CEO of Exclusive Matchmaking, said that she sees a lot of success rates with Hinge as the app focuses on quality interactions. The extra money spent on the app could lead to you finding the right match.
"When deciding which paid dating apps are a worthy investment, I recommend following the same logic — how many potential matches will I have?" said Valdez. "Hinge has a big user pool, and the premium features can save you a lot of time."
Make Your Money Work for You
One of these features is unlimited likes. Lovz said Hinge already sets itself apart by only offering 10 likes a day for free users. With an ever-increasing body of users, that just isn't enough likes. It's a feature that makes paying for Hinge worth it.
Raya
Not everyone will be able to get into Raya, a private community and one of the most exclusive dating apps. (Many celebrities and social media influencers are members of the Raya community.) Users can apply for a membership and see if they are accepted to connect and collaborate with people from around the world.
Trombetti recommends applying for membership and seeing what happens after approval. "If you are approved for the app, I would suggest giving it a try and paying for the service since everyone on the app needs to be vetted and pay as well."
More From GOBankingRates