8 Best Anniversary Ideas on a Budget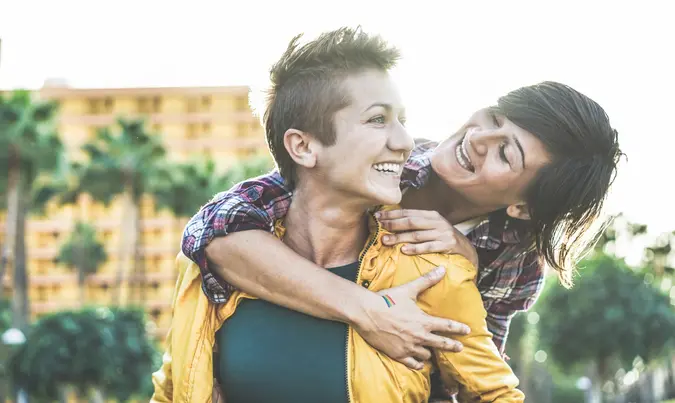 DisobeyArt / Getty Images/iStockphoto
Are you approaching your anniversary but struggling to come up with ideas that won't stretch your already thin budget? Don't worry, you're not alone.
Celebrating your love and commitment to one another doesn't have to involve expensive gifts or fancy dinners. In fact, some of the most memorable anniversary celebrations are the ones that are simple, creative and budget friendly.
We've compiled a list of the best anniversary ideas on a budget to help you celebrate your special day without going into the red. From romantic at-home date nights to sentimental DIY gifts, we've got you covered. So, let's get started and make this anniversary one to remember.
Revisit a Place That Was Important Early in Your Relationship
Cost: Free to $100, depending
"Whether it's the college you both went to, the office building you both used to work at, the bar you had your first drinks in, or the park where you first met, visiting a place that played a significant role in your relationship is an excellent way to celebrate your anniversary," said Imani Ifedi, a relationship and dating coach at Same New Love.
Make Your Money Work for You
Ifedi said you don't even have to go into the building. Just making a trip to the spot can help reignite those early feelings of excitement and passion around your partner.
Go Stargazing
Indulge in a celestial experience and spend the evening together gazing at constellations. You could drive to a nearby location away from the city lights for a more secluded experience or take your stargazing to the next level by visiting a local observatory. Regardless of what you choose, this is the perfect opportunity to connect and marvel at the vastness of the universe.
"Bring along some binoculars for better viewing or a telescope if you have one," said Jessica Alderson, co-founder and relationship expert at So Syncd. 
In addition to binoculars or a telescope, bring snacks and cozy blankets to complete the perfect evening.
Picnic in a Park
Create an intimate picnic for your anniversary celebration for a song. Pack your favorite snacks, drinks and meals — and head to the nearest park for a cozy outing. Enjoy the beautiful scenery and each other's company while indulging in your favorite treats.
Make Your Money Work for You
"Make sure to bring a blanket, some comfy seating options and some romantic tunes playing in the background," Alderson recommended.
This simple yet thoughtful gesture is a perfect way to spend quality time together and create unforgettable memories.
Create an At-Home Movie Theater
Transform your home into a cozy movie theater by dimming the lights and preparing some popcorn. Get ready for a movie marathon by selecting your favorite films in advance, providing even more excitement and anticipation for your evening together. This is an ideal opportunity to snuggle up on the couch and savor some quality time with each other, all without spending a cent.
Go Bowling
Celebrate your anniversary with an entertaining and budget-friendly date at a bowling alley. Whether you're in the mood for some friendly competition or a more laid-back evening, bowling is sure to offer a good time. Additionally, most bowling alleys provide inexpensive food and beverages for you to enjoy throughout your game, making it a convenient and hassle-free option for your date night.
A Night at Home With Snacks and Conversation Starters
"There are so many conversation starters online and ones you can purchase too," said Melissa Burris, a relationship expert with Connect Again. "They help you talk about more than just work and the kids."
Make Your Money Work for You
Light a candle, mix your favorite cocktails or mocktails, and settle onto the couch for a cozy evening of engaging conversation to remind you why you fell in love in the first place.
Start an Anniversary Love Note Journal
Cost: $10 to $20 for a nice journal
Burris has another stellar recommendation: A love journal. It's simple: You buy a journal and then write a love note to your significant other.
"Every year, read through the notes and add a new one," she said. "It'll be amazing to see how your love grows over the years."
Visit a Museum
Visiting a museum or art gallery is a classic date idea for a reason, and many of them offer free admission on certain days. Take the opportunity to explore a nearby museum or gallery at your leisure and enjoy the exhibits together. It's a budget-friendly anniversary date option that is both educational and entertaining — standing side by side with your partner and taking in art is a special experience and one worthy of an anniversary.
Make Your Money Work for You
More From GOBankingRates
Make Your Money Work for You