Getting a Divorce Is Cheaper in These 5 States, Study Finds
Getting a divorce isn't cheap, no matter where you live.
When you're going through a divorce, the last thing you want to think about is money. But the reality is that divorce is painful, complicated and, yes, costly.
And depending on which state you call home, a divorce might be significantly more expensive for you than other Americans, according to a new GOBankingRates study.
The study ranked each state based on its divorce filing fees and the average divorce attorney's fees, factoring in both the average hourly rate for divorce attorneys and how many hours are typically billed for a divorce in the area. GOBankingRates then weighted the results based on those rankings to come up with a final list of the most and least expensive states to get a divorce.
The results showed that, while divorce is most likely going to be an expensive proposition wherever you live, it can be considerably more expensive for certain regions.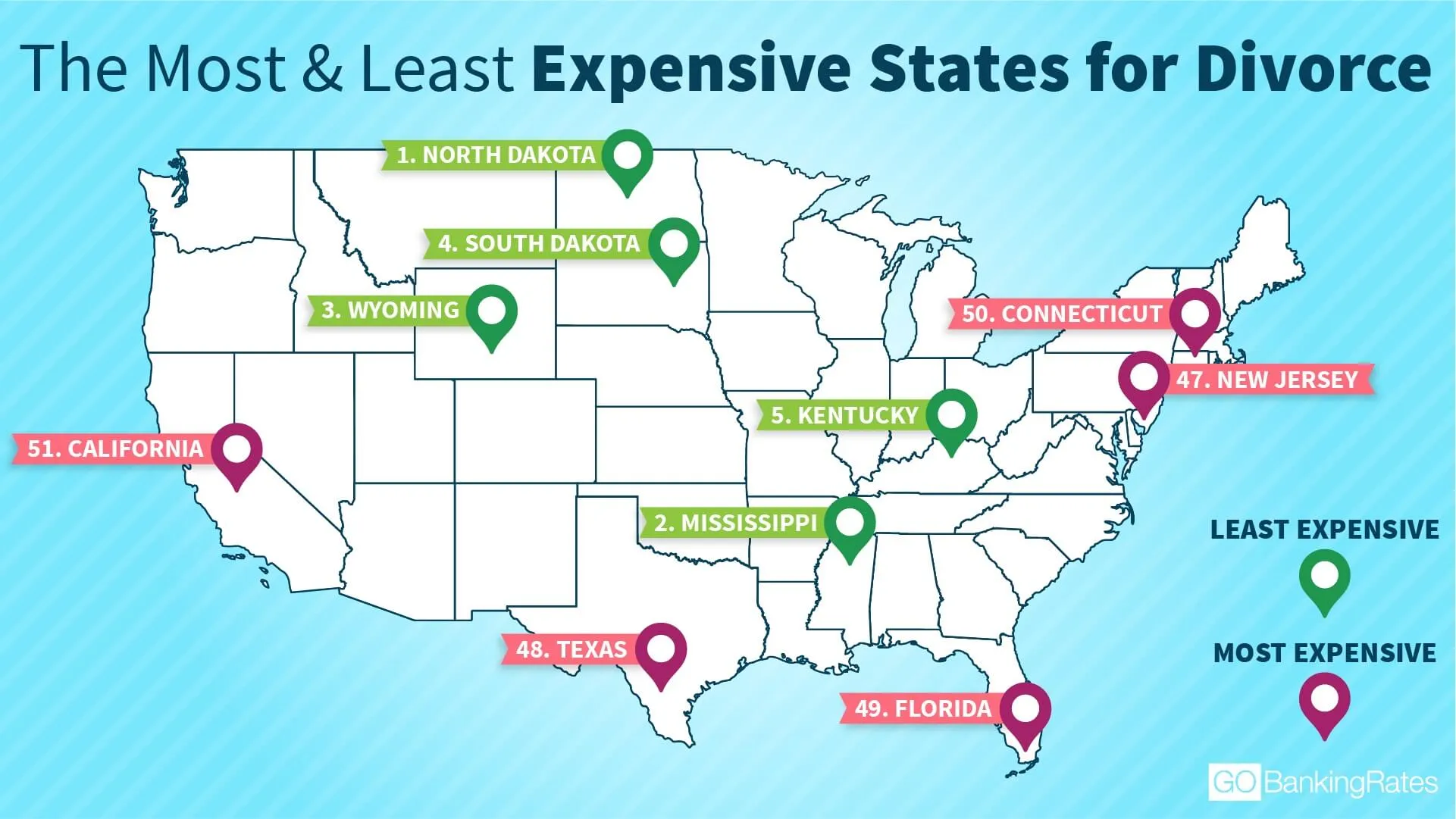 Here are the five states that ranked lowest in terms of their potential costs for getting a divorce:
– North Dakota ($80 filing fee, $8,200 average attorney's fees)– Mississippi ($50-$75 filing fee, $8,700 average attorney's fees)– Wyoming ($70 filing fee, $9,000 average attorney's fees)– South Dakota ($95 filing fee, $8,600 average attorney's fees)– Kentucky ($120-$180 filing fee, $8,100 average attorney's fees)
And here are the five states that ranked highest for how expensive it is to get a divorce:
– California ($435 filing fee, $13,800 average attorney's fees)– Connecticut ($360 filing fee, $12,200 average attorney's fees)– Florida ($350-$410 filing fee, $10,700 average attorney's fees)– Texas ($250-$350 filing fee, $12,400 average attorney's fees)– New Jersey ($300 filing fee, $12,300 average attorney's fees)
Make Your Money Work for You
Not Cheap in Any State: 22 of the Most Expensive Celebrity Divorces to Rock Hollywood
If you don't plan for the potential costs of a divorce, you could find yourself attempting to begin a new chapter in your life saddled with debt rather than ready for a fresh start. So, understanding what to expect for where you live could be very important.
Average attorney's fees in Montana, for instance, are still $6,600 even though the state was found to have the lowest expected bill. While that might seem like a major cost to be shouldering at such a difficult time, keep in mind that it's still less than half of what you should expect to pay in California, the state with the highest average fees at $13,800.
The regional spread in potential costs for the divorce filing fee, though, is even more pronounced. Montana has the lowest average attorney fees. But with filing fees between $225 and $250, you could be paying as much as five times what it would cost you to file in Mississippi, where filing fees are between $50 and $75.
However, Montana's rates are still pretty reasonable when compared to the $435 filing fee in California, where you could wind up shelling out almost nine times as much as a resident of Mississippi.
One clear trend in the data is that divorce filers in less dense, more rural states will likely be paying significantly less for their divorce than those occupying more urban states.
Make Your Money Work for You
North Dakota, South Dakota, Wyoming and Montana are among the 10 states with the lowest average divorce costs, and they all have low a population density. That same trend bears out when examining the most expensive states and districts, with New York, Florida, New Jersey, Connecticut and the District of Columbia falling in both the 10 most expensive states for divorce and the 10 most densely populated.
Up Next: The True Cost of Divorce in America