5 Financial Benefits and Other Perks of Having Significantly Older or Younger Roommates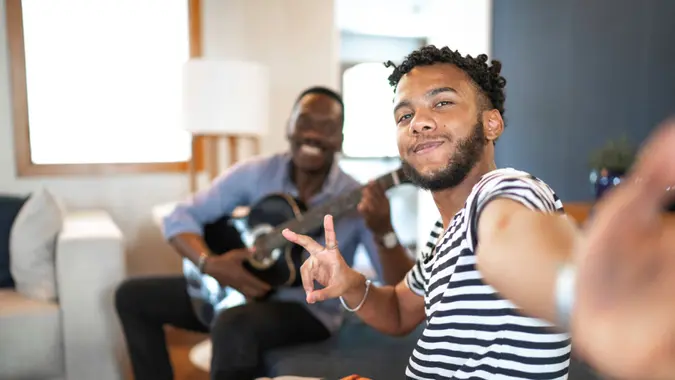 FG Trade / Getty Images
In the United States, 14.4 million people live with roommates they're not related to. If you're lucky, you'll also really like your roommate. Though typically, roommates tend to be in similar age groups, what would happen if they weren't? What are the benefits of having a roommate that's decades older or younger than you?
GOBankingRates spoke with financial experts to determine the benefits — both financial and otherwise — of intergenerational home-sharing.
Lower Housing Costs
One of the most common reasons to live with a roommate is to keep costs low. That's still the reason why many people with a large age difference decide to share a home together.
"Sharing a home with someone of a different generation can help to lower the cost of living," says Troy Shaffer, Founder of Blu Corporate Housing. "Both parties can benefit from splitting the cost of rent, utilities, groceries, and other household expenses," Shaffer says.
Make Your Money Work for You
Opportunities To Learn More About Finances
Those who have lived a little bit longer might have some sage financial wisdom to pass onto younger roommates, while younger roommates can offer new methods to manage money.
"Financially, older roommates may be more willing to lend their financial expertise and advice on budgeting, saving, and investing," says Shaun Martin, CEO of We Buy Houses In Denver. He continues, "Alternatively, a younger roommate could offer help with the latest technology or digital tools that are beneficial for managing finances, such as budgeting apps."
Take Our Poll: Would You Move for a Job That Paid You a $10,000 Signing Bonus?
New Perspectives
When you spend a lot of time with someone who has a vastly different life experience than you, you can learn a lot about how other people think and live. This can help you navigate the world better, and have more compassion for others.
Martin says. "Living with someone who is significantly older or younger than you can bring a unique perspective on life, culture, and the world in general. You can learn a lot by observing and listening to your roommate, which is invaluable for personal development. Additionally, living with someone who is significantly older or younger than you allows the opportunity to form meaningful bonds with another person that transcends age differences."
Make Your Money Work for You
Help Around the House
Amy Ford is the vice president of Silvernest, an online roommate-matching service that pairs boomers, empty nesters and other older adults with long-term roommates. Ford says sometimes older homeowners will offer cheap rent to younger potential roommates in exchange for help during the day.
"It's fairly common in intergenerational home-sharing situations for homeowners to trade discounted rent in exchange for errands, transportation, yard work, light maintenance, pet care and other assistance," she says.
Mentorship and Support
Ford says that some Silvernest users host AmeriCorps members, and this provides older homeowners with a fulfilling experience to host younger people looking to make a difference in their community.
"We have AmeriCorps initiatives in three states where members are given an opportunity to live affordably with local hosts and become integral parts of the communities and neighborhoods they serve. Plus, they benefit from the mentorship and social support that they need to thrive as they navigate through an often-formative time in their lives. For home-sharing hosts, it's often much less about the extra income and more about the satisfaction of supporting younger AmeriCorps members."
More From GOBankingRates
Make Your Money Work for You
Make Your Money Work for You