Financial Secrets Your Partner Might Be Keeping From You

8 min Read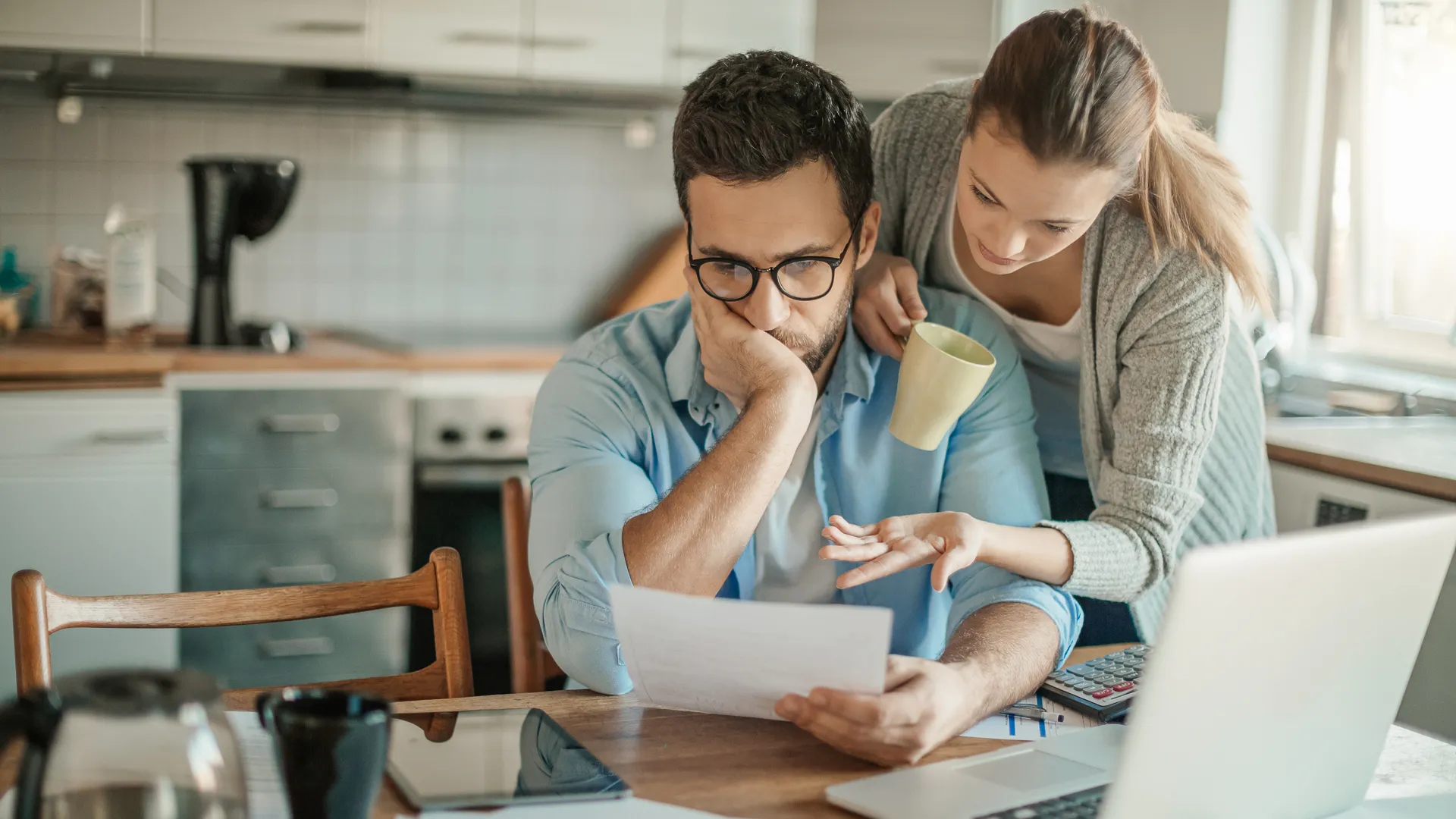 Open and honest communication is important for every aspect of your relationship — but it's especially crucial when talking about money. "Honesty truly is the best policy," said Jason Thacker, head of U.S. consumer deposits and payments at TD Bank." Any secret that destroys your partner's trust in you is a dangerous one."
However, that doesn't mean that honesty is easy — or that it always happens. According to a nationwide survey conducted by TD Bank, 13 percent of people in relationships reported keeping a secret from their partner. That figure jumped to 30 percent for millennials.
But just what financial secrets could your partner be hiding? Read on to learn what the survey found, then use these tips to start the conversation about money.
Make Your Money Work for You
A Secret Bank Account
The most common secret is potentially the most innocent — 35 percent of those who lied to their partner about their finances concealed the fact that they had a separate bank account.
Even if you split your bills and pay for common expenses from a joint bank account, having your own account can make sense — it can be a great way to keep an emergency fund that's in your name only, or to save for an upcoming trip that isn't a regular part of your budget.
But it's still important to be honest about your personal accounts. Hiding income in a second account might disrupt your budgeting, especially if you split your bills with your partner according to who earns what. If you're concerned your partner is hiding an account, sit down and offer some details about your own expenses — including a discussion of your own personal account, if you have one.
Did You Know? Surprising Ways Money Affects Your Love Life
Significant Credit Card Debt
Not all debts are created equal, and carrying a large balance on your credit cards can create financial risk. That might be why 23 percent of survey respondents who kept a financial secret reported lying about significant credit card debt.
No matter your financial goals — from making your finances as "emergency-proof" as possible to raising your credit score — managing credit card debt is crucial to financial success. Encourage an open dialogue about your debt levels by making debt repayment part of your monthly budget. If you struggle to make large enough payments to pay down the principal, talk to a debt counselor for help.
Unpaid Student Loans
The days when student loans could be paid back within a few years of graduating is all but gone, and research from Citizens Financial Group showed that 60 percent of millennials expect to be paying off their student loans well into their forties.
Given the high cost of education, lingering student loan debt is nothing to be ashamed of. But the TD Bank survey found that 8 percent of people who lied about their finances fibbed about carrying student loans.
If you're concerned your partner might have student loan debt, consider talking to a financial advisor, who can help you and your partner renegotiate or restructure the debt if needed.
Make Your Money Work for You
Poor Credit Score
When you're planning a financial future together, understanding your credit score upfront is essential for making realistic plans. Your score can affect your ability to get a mortgage or loan, impact your interest rates on credit and even influence whether or not you can rent a home.
Unfortunately, lying about a low credit score is among the most common financial secrets. According to the survey, 8 percent of the respondents who lied about their finances reported keeping their real credit score under wraps.
Credit can be a touchy subject, but a lie about your score will be exposed the second you apply for a loan together. Broach the subject with your partner by offering up a glimpse of your credit history and starting an honest conversation about your struggles maintaining your credit score.
Child Support Payments or Alimony
Sometimes a financial lie isn't just about money — it's about lifestyle. "Too often, disagreements about finances have less to do with money per se than with other emotional hot-button issues," said Dr. Terri Orbuch, Ph.D. and relationship expert, also known as The Love Doctor. "Money is a concrete aspect of all relationships, and it's common to use it as a smokescreen for emotional baggage."
Hiding child support payment or alimony definitely counts as a secret that's more than purely financial. And 7 percent of survey respondents who kept financial secrets said they were lying about it.
The financial impact of paying child support or alimony are not insignificant — after all, payments will affect how much money you have to cover your expenses — but hiding secrets about previous relationships is the greater concern. Consider getting relationship counseling to improve communication with your partner — related to finances and more.
Look Out: 8 Ways Your Money Habits Are Ruining Your Relationship
Make Your Money Work for You
Bankruptcy
Although it might not take more than a year or two to make major life changes, your credit score will reflect your financial past for much longer — a bankruptcy will stay on your credit report for 7 to 10 years. Bankruptcy in a credit report makes it much harder to access credit, and still more difficult to get credit on favorable terms and interest rates.
Like a low credit score, a prior bankruptcy will become obvious if you apply for credit with your partner, but it's still among the six most common lies on the survey. Two percent of respondents who lied about their finances said it was their top money secret.
Remember that, while knowing your partner's credit history is important, bankruptcy isn't necessarily a sign of financial troubles to come — it just requires some financial planning to build up good credit again.
Expensive Hobbies, Habits or Addictions
Most people have at least one hobby that takes up a notable part of their budget — whether it's a penchant for playing the latest video games or a quest to build the perfect personal library. And although any budget should include discretionary spending, it can be hard to determine if your partner spends more than average on hobbies and interests.
More seriously, compulsive buying behavior or "shopping addiction" might not be obvious at first glance, but can lead to soaring consumer debt and, in extreme cases, bankruptcy.
Discover what you and your partner consider reasonable recreational spending by creating a budget together. "As with any partnership, agree on some spending rules or limits," said Dr. Orbuch. "For instance, you can agree on a threshold amount … that you can spend without needing to report or consult one another." If you're concerned that your partner's spending might be more serious, or symptomatic of addiction, visit a relationship counselor for advice.
Make Your Money Work for You
"Unofficial" Loans and Support
Although society often encourages financial self-reliance, the truth is that many people receive some form of financial help. In fact, research from the Institute of Social Research at the University of Michigan found that as many as 40 percent of young people ages 22 to 24 receive help from their parents — an average of $3,000 a year.
Getting help from family is nothing to be ashamed of, especially if you're just starting out, but perceived embarrassment about being supported by your parents might drive you to hide exactly how you're paying the bills. However, it's important for your partner to know if some of your money comes from friends or family — especially if they're personal loans that need to be repaid someday, or come from financial support that might eventually dry up.
Spotty Payment History
A credit score can give insight into someone's payment history, but it doesn't necessarily tell the whole story. Your partner's credit report will only note when payments are significantly late — 30 days late or more — but might hide less serious delays, like being habitually a few days late paying bills.
Although late or unreliable payments might not have debt collectors calling you at all hours, they can still affect your financial health. If your partner is regularly a week late on rent, for example, you likely won't have the landlord reference you need to rent a place together. And if your partner already struggles to meet payment deadlines, new financial stress — like losing a job — makes it more likely you'll run into financial trouble faster.
Thankfully, slightly late payments might simply be a symptom of disorganization — a problem that can be fixed by working on your finances together. "Set up a budget together for shared expenses and agree on a premise of how and when money will come into and out of that budget," said Thacker. Take the lead on budgeting each month to ensure you're meeting your financial commitments on time to lay the basis for a great future together.
Dating Trouble? Experts Reveal Why It Might Be Easier to Get Rich Than Find Love
About the Author