Major Money Mistakes Real People Made in the Name of Love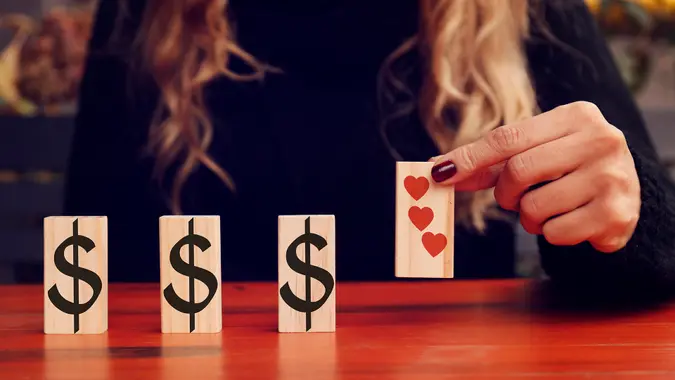 tolgart / Getty Images/iStockphoto
Love is blind, and sometimes it makes us blind to obvious financial red flags. These three people all made major money mistakes in relationships with their loved ones — or potential loved ones — and in some cases, it ended up seriously costing them.
Don't fall victim to these common money mistakes people make in the name of love.
She Spent $1,000 on a First Date
Celene Zavala skipped right past the classic dinner or drinks first date and ended up splurging on tickets to the 2018 World Series for a first date with a potential love interest.
"He seemed very enthusiastic about attending and he convinced me [to join him], so I decided to act in the name of love and just buy both of our tickets — so it was a good $2,000," she said. "He Venmo-ed me back for his half, so that was good — I got the credit card points — but I'm still paying off my credit card."
Things didn't work out with the guy, and Zavala said she would never splurge like that on a first date again.
"I would never spend that much on a date or take such a big leap of faith for the first time meeting someone," she said. "I will stick to simpler dates like dinner or a drink when I'm meeting someone for the first time."
However, there was a silver lining.
"I did have a great time at the game since it was the World Series," said Zavala.
Uh-Oh: 22% of Americans Lie to Their Partners About Money
She Didn't Discuss Finances Openly With Her Husband
Avoiding conversations about finances is one of the money habits that can ruin a relationship, and this is a lesson Erin Connolly* learned the hard way.
Make Your Money Work for You
"When my husband and I got married, we were really young," Connolly said. "We didn't really know how to 'adult' yet. We kind of just figured it out as we went. Looking back though, our biggest problem wasn't that we were clueless — being clueless is natural and totally fine, so long as you're trying to better yourself — it was that we didn't talk about our finances openly and often."
Connolly let her husband handle all the bill paying, and even though she fully trusted him, not knowing exactly how they were managing financially left her feeling really anxious.
"Not knowing how our money was being spent or how our bills were getting paid — I can't believe I was able to live like that honestly," she said. "It wasn't until years later that I realized that I'm a little bit of a micromanager — ok, maybe neurotic control freak is more like it — and knowing where every dollar goes makes me feel so much better. It alleviates so much stress for me."
Once Connolly realized how much better she felt with her marital finances out in the open, she and her husband made a conscious decision to make sure they are both equally involved in how they handle money matters.
"We have had numerous money discussions, and now we manage our finances equally," she said. "Now it's something that we are in together, and we get excited about saving, investing and paying down debt. Money conversations are good things — they're not scary or awkward at all."
Read: 6 Money Mistakes That Can Lead to Divorce
He Loaned His Father $25,000
Logan Allec, a CPA and owner of the personal finance website Money Done Right, felt obligated to lend his father money when his family got hit hard during the financial crisis.
"Apart from housing-related costs, one of my dad's largest expenses was gas because he commuted nearly 80 miles round-trip every day," said Allec. "To hold him over, he would often ask me for a little bit of help to cover this monthly expense."
Allec decided to make his father an authorized user on his credit card that earned cash back on gas so that he would earn the extra money from his father's gas purchases while doing a good deed. Allec's father agreed to pay Allec back the amount he owed for the gas every eight weeks. The arrangement worked well for a few months, but then his father began missing payments. Despite this, Allec let his father continue using his credit card.
"I paid off the credit card out of my own pocket while crossing my fingers that he would pay me back," he said. "This went on for the better part of two years. And we simply swept it under the rug. Eventually, he started charging non-gasoline expenses on the card, and the balance he owed me grew to over $25,000."
Allec was unable to put a down payment on a condo he had wanted to buy because of the credit card charges his father had made.
"Clearly, I had made a mistake," he said. "Fast forward to today. My dad's financial prospects are better now, but he still owes me money. At the end of the day, I learned a lot through this experience. One thing I learned was to never give a credit card to someone with money trouble because it will only make their situation worse and delay the inevitable. Another thing I learned is that you can still be a good son — or daughter or aunt or uncle or mother or father — and love your family while still putting up boundaries."
Make Your Money Work for You
Don't let finances ruin your next shot at love be it familial or romantic. Click through to find out the money mistakes to avoid in a relationship.
*Name has been changed.
More on Relationships
We make money easy. Get weekly email updates, including expert advice to help you Live Richer™.