Saving Money on Your Spring Wedding: Skip It and Plan for a Trump-Inspired Winter Ceremony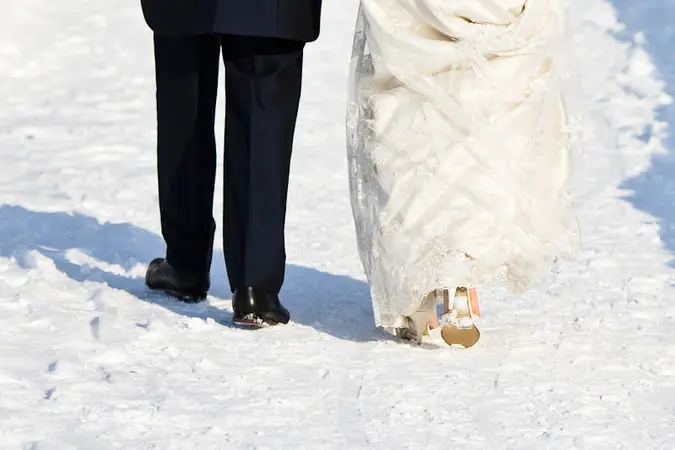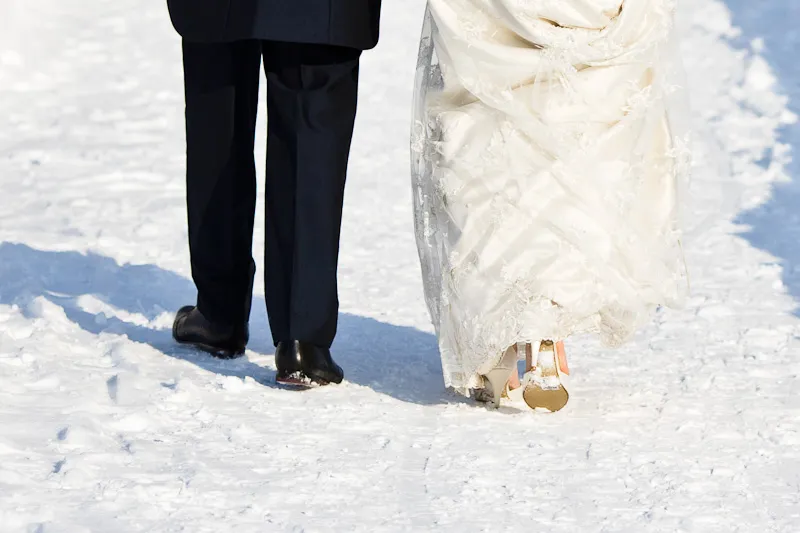 An idyllic spring wedding is what many young girls dream of, but with an estimated six million marriage proposals popped this past Valentine's Day alone, according to the American Express Spending and Saving Tracker consumer report, competition to book an ideal venue and coordinate the details may be a challenge for newly-engaged couples.
Buying into the wedding season rush isn't the most advantageous move when wedding planning on a budget. Instead of following the throngs of bridezillas scrambling to secure wedding arrangements during spring's high season, look to real estate mogul Donald Trump for an age-old tip for saving money on wedding plans: A winter wedding.
Spring Wedding Premium Vs. Winter Weddings
Sure, spending an estimated $1 million on a wedding isn't by any means frugal, but it's when the Donald Trump and now wife, Melania, held their wedding that's the secret sauce to saving money on a spring wedding.
The Knot released a survey revealing the average wedding cost in the U.S. is approximately $27,800. Unless a generous portion of this expense is gifted by close family and friends, a majority of couples simply do not have that much money locked up in a savings account to pay for a one-day affair upfront; this reality leads to a host of other financial hardships down the line, like paying down credit card balances, and delaying bigger marital decisions like buying a home or starting a family.
A spring wedding has a premium attached to virtually every detail, since the high demand of the season pushes prices up, and availability of services down, for competing brides-and grooms-to-be.
Make Your Money Work for You
Lynette Kittle of Colorado Springs, Colo. married her husband on January 3rd in Ohio in the middle of a blizzard. The weather may have been harsh, but Kittle recognized the financial benefits of a winter wedding during the planning process.
"Chapels and reception facilities are usually a reduced price, along with more options in dates available," recalls Kittle. She also shares that planning for a winter honeymoon is also cheaper. "Many resorts offer lower rates and special packages, due to lower occupancy with family's having children in school." Kittle
January winter weddings (like Lynette's and the Trumps' affair) represent only 5 percent of U.S. weddings held in a year, according to Richard Markel, association director of the Association for Wedding Professionals International, which leaves couples with more playing power when it comes to booking their dream wedding.
3 Ways to Save Money on a Wedding in Winter
While the potential savings on a winter wedding varies from city to city, couples planning for a winter ceremony and reception can expect these three ways to save money on a wedding that a spring wedding simply does not offer.
#1. Venue and Rental Mark-Offs
Since the peak season for weddings is typically spring, winter months are particularly slow for popular venues and wedding specialists who still need to keep business moving. For this reason, they're more likely to negotiate rates with couples to an extent that wouldn't be possible during warmer months.
Make Your Money Work for You
Robyn Bruns, owner and president of Red Letter Event Planning, confirms this theory. "Yes, [winter weddings] can be a good option. Many venues will offer off-season rates. Especially here in the Inland Northwest, the months of January through March are very slow wedding months, so some vendors will offer substantial discounts."
#2. Cut the Guest List
Can't seem to find an easy way to chip away at a huge guest list? Couples can save themselves the guilt of cutting down a guest list due to a restrictive budget by inadvertently having guests take themselves off the list.
Bruns reveals that a winter wedding can kill two birds with one stone when it comes to a crowded guest list and an unforgiving wedding budget. "This is not usually talked about, but is true — if you are looking to minimize how many guests RSVP 'yes,' have a winter wedding. Guests are less likely to travel, because of weather issues and holidays."
"However, if you are having a [winter] destination wedding to a warmer climate the opposite holds true," warns Bruns, "You may get more people than you expected would attend, thus raising your budget."
#3. Seasonal Decor
Flowers account for up to 10 percent of wedding costs, according to The Knot. Instead of committing such a substantial percentage of wedding funds to foliage, consider planning a winter wedding closer to holiday to get elegant, and free, floral arrangements and decorations included in your ceremony and reception.
"If you have a wedding during Christmas, a church or reception venue may already have décor up, so your floral and decoration budget could be minimal," notes Bruns. "Also, because winter evokes a cozy, warm feeling, a less expensive candle centerpiece without floral will work better in the atmosphere of a winter wedding."
A winter wedding does require a bit of flexibility when it comes to details like flowers and photo-ops (less opportunity for natural lighting), but can be just as aesthetically appealing as a spring wedding for a fraction of the cost.
(Photo courtesy of Fabrice Lambert via Wiki Commons)