I Spent Less Than $5K on My Wedding: Here's My Budget Breakdown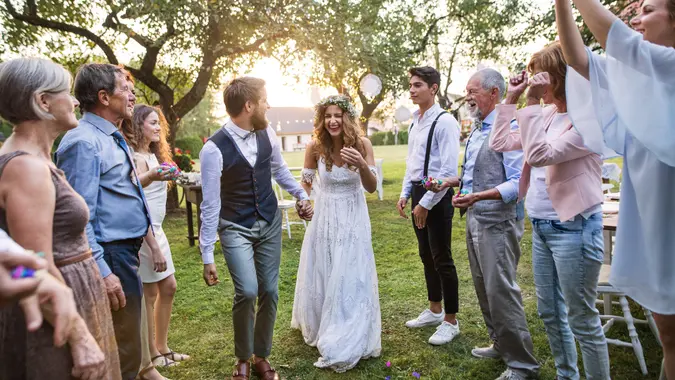 Halfpoint / Getty Images/iStockphoto
How much does the average wedding cost in 2023? While the answer to this question ultimately depends on costs related to the number of guests in attendance, the wedding's location, day of the week and seasonality of food served and flowers displayed, survey findings from Zola estimate $29,000 as the average wedding expenses for couples getting married. 
However, it is possible to spend much less than $29,000 when tying the knot. GOBankingRates spoke to two couples who were able to say "I do" for under $5,000 in total wedding costs. Here's a look at their respective wedding budget breakdowns. 
'I Bought My Wedding Dress on Poshmark for $18!'
Lifestyle blogger Gennifer Rose enjoyed an elopement wedding to her husband at San Francisco City Hall.
The couple chose to get married at city hall for two reasons. The first was it was a gorgeous venue and the second was it cost around $200 for the license and ceremony. 
"I did a lot of research on beautiful city halls in California because I knew I wanted an elopement wedding with our families and close friends," said Rose. "I wanted to keep the cost as low as possible." 
Rose was able to purchase her wedding dress on Poshmark for $18 — and bought her daughter's flower girl dress for $14 from Poshmark.
A friend did Rose's makeup and she paid full price for her updo hairstyle at a local San Francisco hair studio. For flowers, Rose paid for the bouquet, a flower crown for her daughter and for her husband's boutonnière. The wedding photos were complementary and shot by another close friend.
Make Your Money Work for You
"My best friend was the photographer and she photographed our wedding as a gift to us," said Rose.
'We Spent Approximately $825 on Our Wedding'
Elizabeth Raley, owner of Elope to Savannah, married her husband, Douglas Morse, at Pulaski Square in Savannah, Georgia, in 2018. The couple spent approximately $825 on their wedding because they chose to elope. 
One of the biggest savings the couple enjoyed was getting the venue for free. "In Savannah, if you are eloping in one of the downtown squares, you don't have to pay for anything since you have no guests or set-up," said Raley. 
Both the officiant and photographer were also free with both being friends of the couple — Raley said they gave the officiant a token gift, which cost about $100. Their wedding photographer was a friend and only needed for an hour to take photos.
For flowers, Raley said she spent $150 from the wholesaler for what she personally considered was an extravagant bouquet. Her dress was $100 and her husband's jacket was $75. Both spent $100 total on their shoes. Their rings totaled $400.
Dinner was free and a gift from their friends.
"Our friends surprised us and called the restaurant when we announced everything on Facebook during dinner and took care of our bill," said Raley. "If we had to pay for dinner, a photographer and an officiant, it would have added $520 to our total making it $1,345."
Make Your Money Work for You
More From GOBankingRates