Canadian Wildfire: New York Attorney General Warns Of Price Gouging Amidst Air Quality Alerts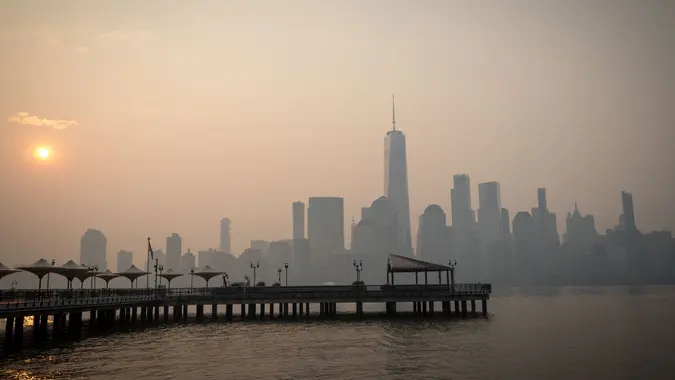 Vanessa Carvalho/Shutterstock / Vanessa Carvalho/Shutterstock
As unhealthy levels of smoke from ongoing wildfires in Canada continue to seriously affect air quality in the Northeastern United States, the New York Attorney General has issued a warning to residents to be on the lookout for price gouging on essential goods, such as masks, air filters and air purifiers.
In a statement issued yesterday, New York Attorney General Letitia James said, "The poor air quality impacting our state should not be an excuse for companies to increase profits on essential items."
"My office has zero tolerance for price gouging of any kind, and if New Yorkers notice abnormally high prices for essential items, I urge them to report it immediately, she added. "I also urge New Yorkers to follow local health guidance to protect their health and stay safe."
Most states have mandates against unfair or deceptive trade practices law. According to the National Conference of State Legislatures, 37 American states, Guam, Puerto Rico, the U.S. Virgin Islands and the District of Columbia have statutes or regulations that define price gouging during a time of disaster or emergency.
New York statute prohibits state vendors, retailers and suppliers from taking unfair advantage of consumers by "selling goods or services that are vital to their health, safety, or welfare for an unconscionably excessive price during emergencies," per Attorney General James' statement. This includes goods and services like food, water, gasoline, generators, batteries, flashlights, hotel lodging and related transportation services.
States that do not carry price gouging statutes include Alaska, Arizona, Maryland, Minnesota, Montana, Nebraska, Nevada, New Hampshire, New Mexico, North Dakota, South Dakota, Washington and Wyoming. Some states have provisions in statutes against specific product gouging (e.g., fuel and petroleum or rent).
Make Your Money Work for You
Widespread smoke from Canadian wildfires continues to bring hazardous air quality levels across the Northeast, Mid-Atlantic United States and Great Lakes/Ohio Valley area, including major metro areas along the I-95 corridor (main north-south land-based transportation corridor for the east coast of the United States), per the National Weather Service (NWS). The dangerous air quality levels should be decreasing over Alabama and Georgia on Thursday.
As USA Today reports, an air quality health advisory has been extended through Thursday night by New York City Mayor Eric Adams. The city's air quality index on Wednesday climbed up to 484 out of a scale of 500, doubling the index level reached Tuesday night.
New York Governor Kathy Hochul has announced that approximately one million high-quality N95-style masks will be made available to state residents as the smoke and haze from the Canadian wildfires continue to impact air quality.
Take Our Poll: Are You Concerned About the Safety of Your Money in Your Bank Accounts?

According to Attorney General James, victims of price gouging incidents should report the specific increased prices, dates, and places where they saw the increases, and provide copies of their sales receipts and photos of the advertised prices, if available, to the Office of the Attorney General (OAG).
New Yorkers can report potential concerns about price gouging to OAG by filling out a complaint online or calling 800-771-7755.
More From GOBankingRates
Make Your Money Work for You