How to Handle Being the Broke Friend
Lack of money should not prevent you from enjoying life's pleasures.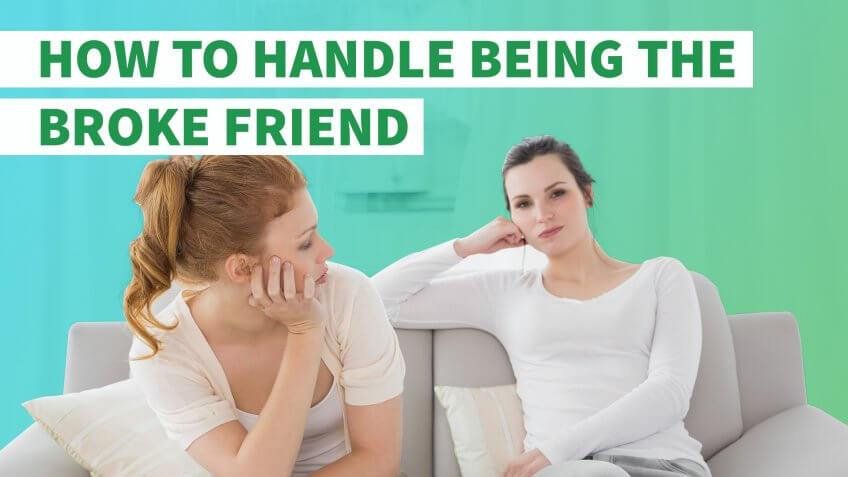 lightwavemedia / Shutterstock.com
No one likes being the broke friend. At least, I never liked being in that position. When I was living lean as an entry-level reporter in a big city, I sometimes dreaded doing things with friends because it would strain my budget. One incident stands out because it was so painfully apparent that I couldn't afford the outing.
A friend invited me to join her and some of her friends for lunch at an inexpensive sandwich shop. However, the cost of a sandwich didn't fit in my budget. So, I ate beforehand and told everyone I wasn't hungry. Their offers to buy me something, though, made it obvious they could tell I didn't have the cash to pay.
If this situation sounds familiar, you know how tough it can be. But you don't have to give up on going out with friends because you're low on cash. Use these tips to avoid feeling left out.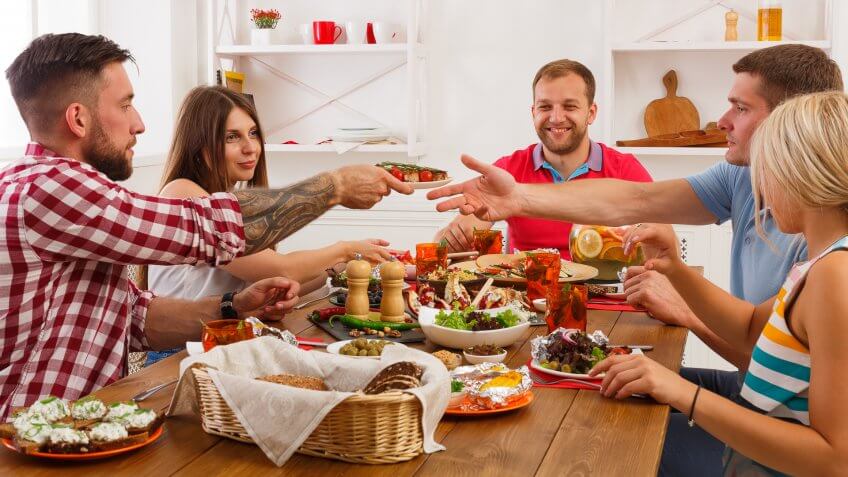 Prostock-studio / Shutterstock.com
Involve Yourself in the Planning
If your friends frequently want to go to upscale bars or clubs with expensive cover charges, you don't have to sit at home while they have fun. You also don't have to use your credit card to join them. Instead, make gatherings with friends more affordable, said millennial money author Stefanie O'Connell, who has written the book "The Broke and Beautiful Life."
"One of my favorite ways to manage costs as the 'broke' friend is to involve myself in the planning of whatever the event or social gathering is going to be," she said. "That way, you can offer budget-friendly suggestions from the outset."
For example, if your friends want to get together for dinner, suggest having a potluck at your place instead, she said. You can tout the benefit of not having to wait an hour for a table, or not having to worry about finding a place with food everyone will like.
You might find that others in your group secretly like having more budget-friendly options offered without having to look like the broke friend themselves.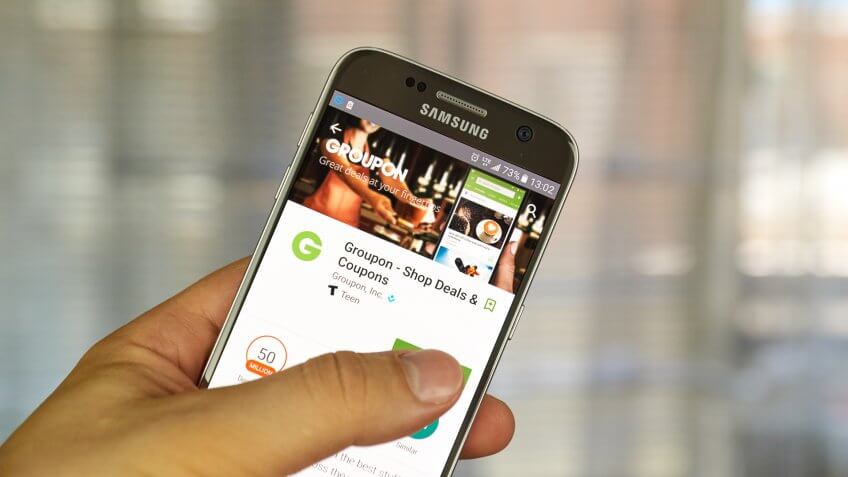 dennizn / Shutterstock.com
Be the Group Deal Finder
Offering to be the group deal finder is another way to plan budget-friendly get-togethers.
"For example, if you're planning a group outing, take it upon yourself to look for coupons or group discount rates," O'Connell said. "That way, everyone benefits, and you're not the cheapskate — you're the deal finder."
For example, search for food, drink and entertainment deals on sites such as Groupon and LivingSocial. Scour events calendars in community papers and online for free things to do. Or, look for travel deals if you want to take a group trip.
O'Connell said she did this when she and her best friends wanted to celebrate turning 30 in the Bahamas. "It sounds totally extravagant," she said. But her deal-finding strategies helped them score flights with miles earned through a rewards credit card. They also got an inexpensive vacation rental through Airbnb, the cost of which was split among eight people.
During the vacation, they stayed at the rental most nights and cooked their meals. "Four days in the Bahamas wound up costing as much as a night on the town," O'Connell said.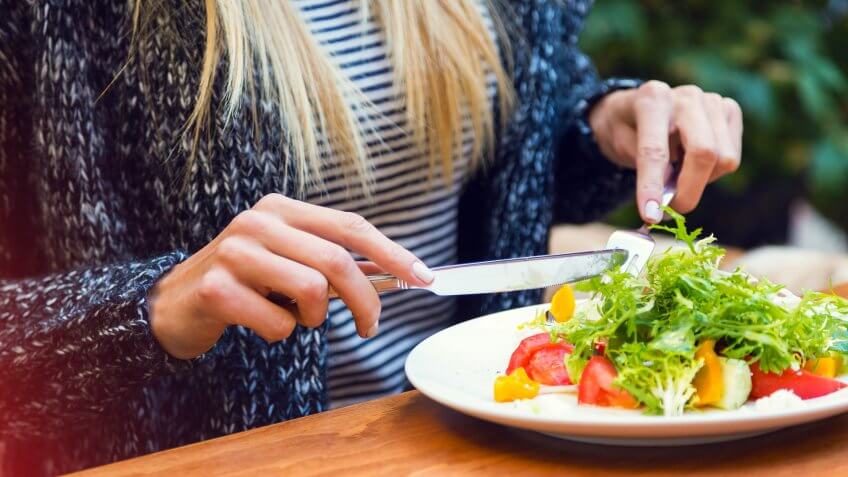 Ann Haritonenko / Shutterstock.com
Plan Ahead to Lower Costs
If you're invited to eat out with friends, make restaurant meals more affordable by planning ahead. Start by looking at the restaurant's menu online before you go and pinpoint items that are less expensive, said Alex Whitehouse, president of Whitehouse Wealth Management in Vancouver, Wash.
Then, eat a snack or small meal before going out to dinner. That way, you won't need to order a pricey entrée.
"You can order an appetizer or side for your meal to save money," Whitehouse said. Just let the waiter know you want a separate check so you don't get stuck splitting a large group bill.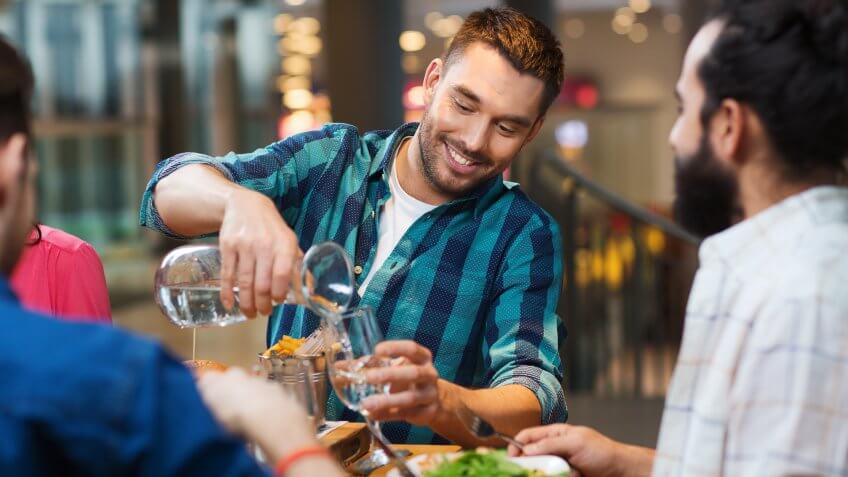 Syda Productions / Shutterstock.com
Use Creative Strategies to Spend Less
You can stretch your dollars further during outings with friends if you get creative — or are willing to compromise. This strategy can work particularly well when going to happy hour with friends.
When you get to the bar, order a glass of water along with your drink. "By switching off drinking water and your other drink, your drink will last longer and you will spend less," Whitehouse said.
Or, you can offer to be your friends' designated driver for a night out. No one will question why you aren't drinking, and you'll eliminate the high cost of alcohol from the outing.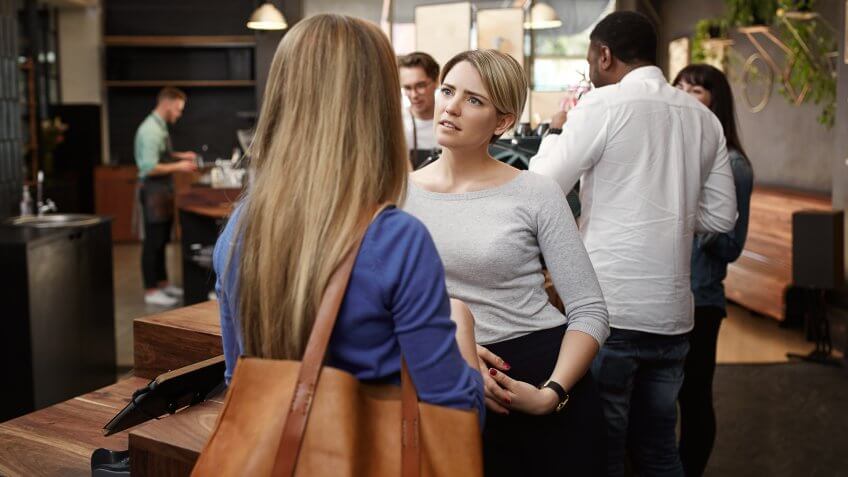 mavo / Shutterstock.com
Let Friends Know Your Budget
In some cases, the best way to deal with being the broke friend is to let friends know about your budget. This is especially true if you're asked to be a bridesmaid or groomsman and need to lower the cost of being in a wedding.
"Being asked to be in a friend's wedding party can be a great honor," said Whitehouse. "It can also cause a lot of financial stress. Bridesmaid dresses, bridal showers and destination weddings can put a major strain on finances and are awkward situations if you are the broke friend in the group."
Be upfront about your budget. "Let them know what your price range is and how much you can contribute to the activities," Whitehouse said. "If your range is extremely low, potentially offer to help out with writing invitations or running errands in exchange for reducing your portion."
Read More: How You Can Live Rich on a Budget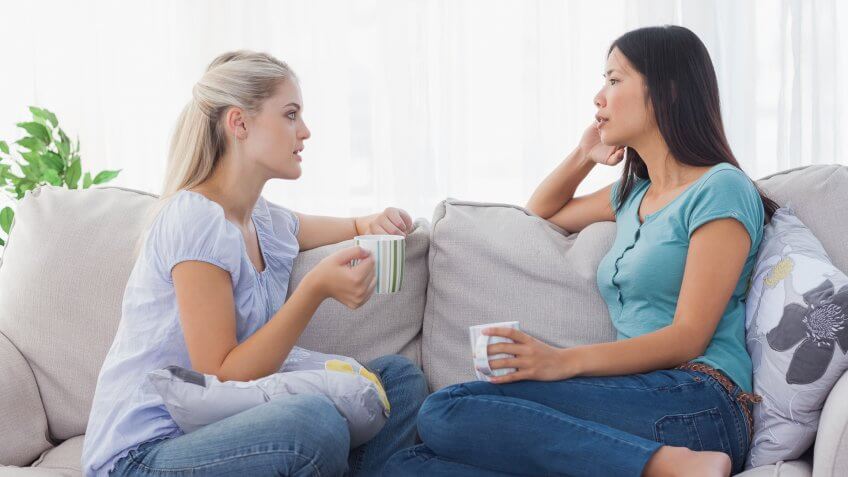 wavebreakmedia / Shutterstock.com
Don't Give a Lame Excuse for Not Joining Friends
Sometimes you have to turn down invitations to join friends because you can't afford to go. But you won't end up looking like the broke friend if you have a good excuse. Jim Wang, founder of the Wallet Hacks website, said he used this strategy whenever he was invited to do things that didn't fit in his budget.
"Politely decline the invitation and then provide a reason," he said. For example, tell your friends you can't go to happy hour because you're trying to fit into an old pair of jeans. Or, if you're saving for a house, decline dinner by telling them you're cobbling together money for a down payment.
"It's important that you provide a concrete, visual reason and not just 'lose weight' or 'save money,'" Wang said. He said this strategy worked for him because it strengthened his resolve to stick to his "no" answer and made it harder for the person who invited him to persuade him to change his mind.
"I did this when I was saving for a house," he said. "I'd be invited to happy hours, lunches, dinners, etc., that I was lukewarm about attending anyway. So I told the folks inviting me that I was saving for a house, and people understood."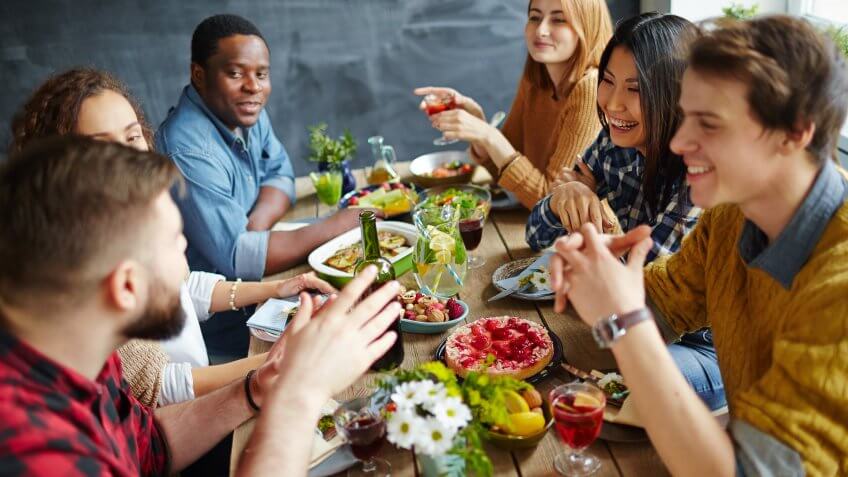 Pressmaster / Shutterstock.com
Don't Resent Friends for Wanting to Spend More
Despite your best efforts, you likely will end up in situations where you can't keep up with your friends' spending. In some cases, planning ahead or even offering alternative activities just doesn't pan out. Erin Lowry, author of "Broke Millennial: Stop Scraping By and Get Your Financial Life Together," discovered this when she was starting out in New York City and earning just $23,000.
Lowry was invited to a friend's birthday party at an upscale Mexican restaurant — "the kind of place that charges $16 for a quesadilla without any extras," she said. "I scoured the menu ahead of time, found the cheapest thing, planned to purchase just that and have an extra $10 to throw in to cover the birthday girl," she said. But other people at the party ordered several pitchers of sangria, then wanted to split the bill evenly.
"It really taught me a lesson about expectations at birthdays and similar functions," Lowry said. "Now, I go in with the mentality that the bill will be split. So if I'm not willing to be on the hook for that bill, I may decline the invite and then counter with a separate function — just the two of us at a later date."
She also learned that sometimes you have to accept that friends will want to spend more than you can afford, and you can't resent them for that. "Being honest with them about your budget and offering affordable ideas is a great step," Lowry said. "But if they want to do something that's out of your price range, that's OK."
If you try to keep up with your friends' spending, you'll hurt your finances and will always be poor. Surely, you don't want to be the broke friend forever, do you?