I Live Abroad: Here Are My Top 7 Tips for Saving Money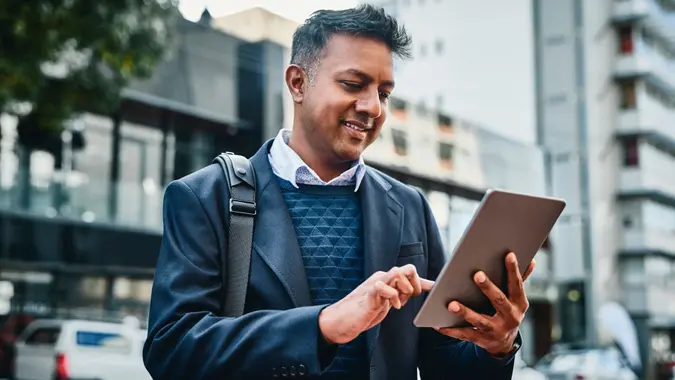 Vacationing overseas is stressful and expensive enough — but living abroad is a whole different animal. No matter how savvy of a traveler you think you are, uprooting your life to live in a foreign country for an extended period will bring surprises you can't plan for — and inevitably some of them will be expensive.
The key is to save money on the things you can foresee — and there's no better way to prepare than by learning from people who have been there before. The following tips are from experts who have lived abroad for at least one year — and you have the chance to learn from their mistakes.
Avoid Costly Short-Term Airbnb Rentals
Benjamin Jenks has lived abroad, mostly in India, since 2018. He shares tips and videos on his blog, Chai Nomad, and his YouTube channel, American in India. Along the way, he has managed to save more than 70% of his income. His top money-saving tip is to go for extended stays when booking peer-to-peer rentals.
"I book Airbnbs for 28 days or more to save more than 20%," Jenks said. "You can save more if you book Airbnb for the month. Some are up to 30% or 40%."
Open a Travel-Friendly Bank Account
If you hit the road with your money in the bank account you've been using in the States, chances are good that you'll have to pay to access your cash and make transactions when you get to where you're going. You don't have to close your current account, but you'd be wise to open a second one designed for international travelers.
Make Your Money Work for You
"I use Charles Schwab's Investor Debit Card to get reimbursed for all my ATM charges," Jenks said. "This adds up, as I originally was spending $5 per withdrawal."
Schwab consistently ranks among the best international travel-friendly accounts, but HSBC International is tops, too, as are Capital One 360 and Betterment Checking.
Move Around Like a Local
Before you arrive in your new home, learn the ropes of your destination's public transportation system. Same as in the States, taxis and rideshares always cost more.
"Public transportation is often much cheaper than renting a car, and it can be a great way to explore the local area," said Chris Watson, CEO of MyAdventureDiaries.com. "Additionally, many countries have discount cards or passes that can be used for public transportation, so make sure to look into those as well."
Talk to a Tax Pro Before You Go
Traveling abroad won't affect your taxes, but living abroad certainly can — especially if you're earning money. Talk to a tax professional who specializes in expat services to avoid the risk of double taxation and to ensure you're capitalizing on any breaks available to people in your situation.
"Be sure you understand the Foreign Earned Income Exclusion and use it if you are eligible," said Honeymoon Always founder Dan Bagby, who has been living in Portugal for two years and previously lived abroad for three years. "Also, check the tax laws in your resident country to be sure you are not overpaying on income earned in the U.S."
Make Your Money Work for You
Work the Exchange Rate to Your Advantage
The exchange rate determines how many dollars you need to buy the units of currency where you're going. The rate fluctuates throughout the day, and you can lose money by changing your money without a plan — but you can actually make money by understanding the rate and keeping tabs on it.
"Take advantage of the exchange rate when you can," said Southeast Travel Guide's Alex Evans, who is currently living in Japan. "Historically, the exchange rate has been around 100 yen to 1 U.S. dollar. Since I moved here, it's gone as high as around 150 to 1. If you have the savings, and there is a turbulent time for local currency, take advantage of that and get your exchange rate bonus."
Apps like Xe Currency Converter, Currency Converter Plus and Easy Currency Converter can keep you informed, updated and educated so you can get the most out of changing your money.
Learn the Language — or at Least Enough To Get By
Learning a new language is a long and exhaustive process. You don't need to become fluent before you travel, but investing the time to learn basic communication will enhance your experience and save you money.
"By learning the local language, Americans can avoid costly misunderstandings and avoid overpriced tourist fares," said wilderness mentor and Survival Kompass founder Martin Gebhardt, who has lived in Paris for two years. "These language skills also allow them to use local products and services effectively, which can result in significant savings, especially in countries with a lower cost of living."
Store Your Belongings Instead of Shipping Them — Or Better Yet, Downsize
Finally, there's the question of stuff: The more you bring, the more you'll spend.
"One way to save a lot of money is by not shipping all of your belongings when you move, especially if it is not a permanent move," said Make More Adventures founder Lanie van der Horst, who has been living in Australia with her family since 2020. "Get rid of anything you don't absolutely need and, if possible, store things at a family member's house. As a last resort, get a storage unit, but only if it makes sense financially. If the items in storage cost less to buy than it does to store them, just sell them."
Her family of four headed Down Under with three suitcases and a carry-on. 
"One of the bags was filled with toys and the other held our clothes," van der Horst said. "We brought enough to get by for a few months to a year. Even now, two and a half years later, we only buy what we need and do not have an excessive amount of things."
She also recommends renting a furnished apartment. 
"Yes, it may be more from month to month, but chances are it is less in the long run," said van der Horst. "Our furnished apartment included just about everything we needed, including kitchenware — pots, pans, plates, silverware, toaster, kettle, etc. — cleaning supplies, including a vacuum, brush and toilet brush, as well as a hairdryer and iron. There were even hangers in the closet."
More From GOBankingRates