A Love Letter to Gen Z, From a Concerned Millennial
Consider these helpful tips if you're an anxious Gen Zer.
Dear Generation Z,
Millennials have had it rough. The Great Recession of 2008 shattered our faith in the American dream. This came at a time when many millennials were just starting their careers, if not finishing school. However, millennials were also accepting jobs they were overqualified for while simultaneously coping with student loan debt. Most millennials had no choice but to return to school to compete for these entry-level jobs.
Although many millennials are struggling financially, those struggles pale in comparison to the obstacles the future — your generation — might face one day. Here's what you should know about financial expectations around Gen Z — and some advice from a millennial.
Don't Miss: What We Can All Learn From Millennials and Their Saving Habits
Millennials Are Anxious for Gen Z Finances, Survey Shows
A recent GOBankingRates survey highlighted the financial hardships of every generation. GOBankingRates asked 995 millennials (ages 22 to 38) questions regarding the financial future of the next generation — Generation Z: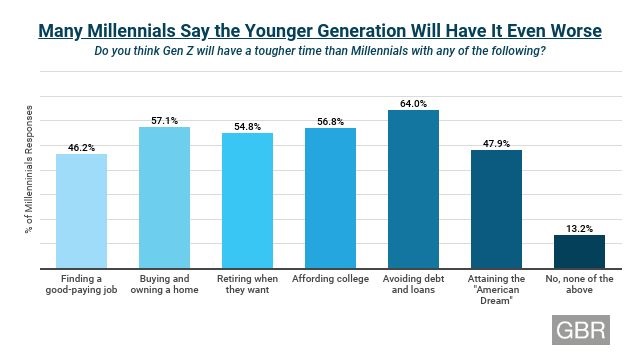 Millennial respondents seemed genuinely anxious across the board for what they thought was in store for Gen Z. Their major concerns included debt accumulation, homeownership, and affording college and retirement.
Related: Millennials Think They'll Have Their Student Debt Paid Off By 30
Gen Z Financial Advice From a Millennial
As a millennial, I know that the road ahead is an uphill battle. But that doesn't mean I can't offer some helpful tips along the way. Here are four pieces of advice I want to bestow upon Gen Z:
1. Ask Yourself If College Is Right For You
College has never been more expensive. In fact, the cost of college has jumped about 3,000% over the past 50 years. Just over 46% of respondents said they "strongly agree" that their generation has tougher financial obstacles, which included debt and higher rent prices. Over 10% of millennials said they have $20,000 to $49,999 in student loan debt, with 8.3% having $50,000 or more.
However, 13.8% of respondents said they didn't go to college — and you don't have to, either.
College and higher education are not the only options for you in terms of success. There are blue-collar jobs that pay six figures and alternatives to the traditional college education route. A 2016 survey from the U.S. Department of Education's Institue of Education Sciences that focused on adult training and education revealed that 27% of adults had a non-degree credential, which can include a postsecondary certificate, a certification or a license. The two most common occupational fields in which certification holders worked were in healthcare and business management and operations, at 17% and 14%, respectively. The most common occupational fields of license holders were healthcare at 25% and education and library occupations at 16%.
College is not the only option in terms of future success. Be realistic about your future goals and the particular field you are passionate about. Student loan debt is a heavy burden, and young adults deserve more diverse and unique options for their future careers.
Read: Is College Worth It? 42% of Americans Say No
2. Start Saving For Retirement Early
Nearly half of the survey's respondents said they had $0 — or close to it — saved for retirement. Only 10.1% said they had $1,000 to $4,999 saved.
A human resources representative at my first full-time job offered the best advice: Start saving early. I started my first full-time role in my early 20s, while I was in the process of getting my master's degree. The HR rep explained how important it is to start saving for retirement as soon as you start earning paychecks. The sooner you start saving, the more time you have for your money to grow. I have several thousand currently saved for retirement because of her advice.
It's important to be honest about how you want to live in retirement and how much it will cost. Make sure that a 401(k) plan is a benefit when applying for various jobs. Most employers will offer to match your 401(k) contribution up to a certain percentage. Take full advantage of this match, and factor your employer's contributions into your retirement plan.
See: Waiting Too Long To Save For Retirement Will Cost You $789,618
3. Consider Buying Over Renting
Three-quarters of millennials agree: Millennials will have the hardest time buying and owning a home. However, only about 26% of respondents said they currently owned a home, with 48% renting. Nearly 26% said they lived rent-free with friends or family.
But it looks like Gen Z might be looking to buy homes over renting. A new survey by Bank of America said more than half of young adults ages 18 to 23 say they are already saving to buy a home. About 60% plan to buy in the next five years. Perhaps Gen Z is motivated by past generations — or it could be the dramatic fall of mortgage rates.
Gen Z is acknowledging the hardships that come with buying their first home, according to the Bank of America survey. Sixty-six percent of Gen Zers said the top hardship was saving for a down payment. Fifty-eight percent said covering the monthly costs of owning, and 52% said they lacked knowledge of where to start.
Owning a home might require you to make significant sacrifices, including less dining out and travel opportunities. Before committing, ask yourself what you are willing to sacrifice to own your dream home.
Check Out: Best Places to Buy a Home for First-Time Homebuyers
4. Hang In There
What does success mean to you? Really think about it. Does owning a house with a white picket fence, climbing the corporate ladder or creating a family define success? You are the only one who can answer this.
I know that society often echoes this idea that young adults are lazy and self-absorbed. But, Gen Z, you're a diverse group of young adults. You are following in millennials' footsteps as a generation that is socially conscious, open to change, and demanding equality. Teens are talking almost twice as much about school, women's issues and the environment than past generations. This indicates Gen Z may be more politically progressive as well.
Keep fighting the good fight, Gen Zers. Millennials have your back.
Best,
A Concerned Millennial
Click through to see where millennials should consider moving.
More on Saving Money
Methodology: This survey was commissioned by GOBankingRates and conducted by Survata, an independent research firm in San Francisco. Survata interviewed 995 online respondents (between the ages of 25 and 34) between March 25, 2019, and April 16, 2019. Respondents were reached across the Survata publisher network. Respondents received no cash compensation for their participation. More information on Survata's methodology can be found at survata.com/methodology.