6 Hacks To Help You Afford Family Vacations as Costs Keep Rising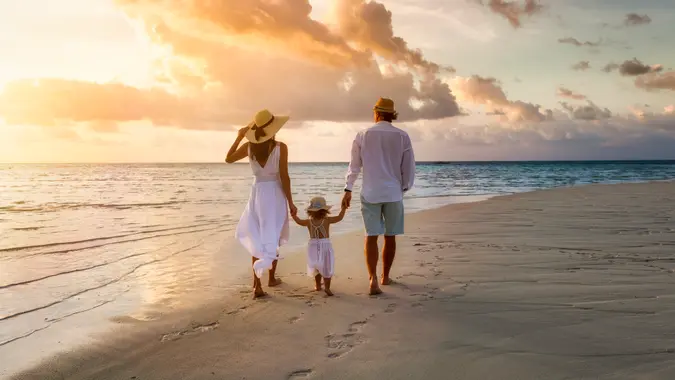 SHansche / Getty Images/iStockphoto
It's not just you — family vacations have steadily been increasing in price since last year. The latest GOBankingRates infographic breaks down the cost increase on virtually various family vacation expenses from the cost of a trip to Disney parks to holiday flights.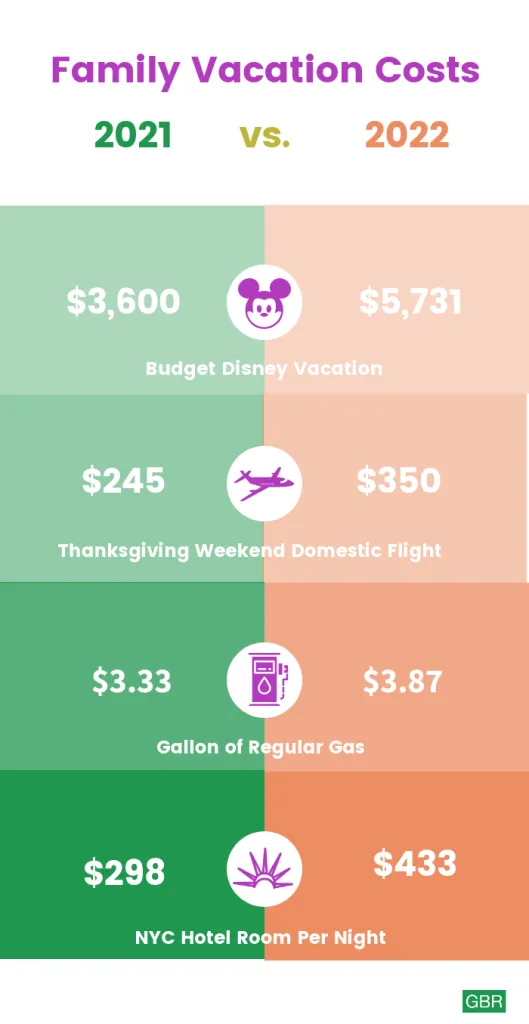 Explore: GOBankingRates' Best Credit Cards for 2023
Important: 3 Ways Smart People Save Money When Filing Their Taxes
Read: 3 Things You Must Do When Your Savings Reach $50,000
While traveling prices are up, travel itself has not increased to the point where it's not feasible for families to travel together. The dream family vacation is still alive and well. It just means travelers need to exercise their financial savvy en route to their destination. Use these financial hacks to afford a family vacation and stick to your budget.
Book All Flights and Hotels a Year in Advance
Generally, most families planning vacations are recommended to schedule travel in advance. How soon should you start to book your travel plans?
Consider booking all your flights and hotel reservations for the entire calendar year — now, said Tim Hentschel, co-founder and CEO of HotelPlanner. 
Doing so can more than help save money on travel costs and guarantee your reservation. Hentschel said it acts as a hedge against inflation and ongoing cost increases. Some families may decide to hold out and wait to book everything a few days prior in order to receive last-minute deals, but it's much safer to book as far out in advance as possible.
Make Your Money Work for You
Take Our Poll: How Do You Think the Economy Will Perform in 2023?
Reserve Flights and Hotels During Nonpeak Hours
If you're booking a year out, when's the best time to reserve a flight or hotel room? The fluidity of airline and hotel prices means changes in price by the minute and ideally, families want to snag during the affordable moments. 
Hentschel recommends booking flights and hotels during nonpeak hours of the day when there is less real-time competition. Set your alarm to 6 a.m. or stay up until midnight on Saturday or Sunday for extra savings. 
Be Flexible With Travel Dates and Times
Families willing to exercise flexibility with their travel dates will ultimately pay a lot less than those who make the choice not to budge on their dates. Hentschel recommends traveling on days of the week like Tuesday through Thursday. This is much cheaper than traveling over the weekend.
Additionally, families may decide to sign up for airline discount alerts for cities they want to visit. Consider looking into sites like Skyscanner or Cheapflights. If a discount rate pops up within your budget, Hentschel said to be prepared to book immediately.
Make Your Money Work for You
Families getting flexible with their travel dates are well advised to travel during less popular times of the year. If you're unable to travel for the December holidays, Hentschel said families can reschedule their vacation plans for January. This month is usually much cheaper and has fewer people traveling since it's right after the holidays.
Some Family Members May Qualify For a Discount
Families who are traveling with members who are active duty, military veterans, senior citizens or a AAA member may qualify for hotel discounts. Hentschel said many hotels will give qualifying guests a 10% to 20% discount. 
Even if the hotel doesn't have this applicable discount, it doesn't hurt to mention you're traveling with family. "Many friendly hotel managers will offer you their friends and family rate if you ask nicely," Hentschel said.
Ask About Unpublished Hotel Rates
A pro tip for traveling families who are hotel shopping on their family vacations. Hentschel recommends calling the hotel directly and speaking to a reservation agent. Ask for the unpublished rate. 
Make Your Money Work for You
"All hotels are subject to the industry's 'rate parity' protocol for published rates, but some online travel agencies can sometimes offer an unpublished discount rate," Hentschel said. "This is only available if you speak to a reservation agent by phone, where it's considered a private, closed sales environment."
Revise the Meaning of 'Dream Family Vacation'
How many of your family members really want to go to Disneyland? Would they be open to going to the Legoland California Resort instead? What about Knott's Berry Farm or Six Flags? 
These are just a handful of destinations available to California residents. Families residing in other states may reconsider spending all their money on a lavish vacation to a tourist-packed hotspot and opt for a destination that is less expensive and more rural or remote for a visit. 
For example, Hentschel recommends trading an expensive beach weekend in Key West or Miami for one spent in Destin, Florida, on the Gulf Coast.
"The beaches are just as nice and the cost will be cut in half," Hentschel said.
Families who choose to revise or edit the destination of their family vacation won't miss out on special memories made throughout the trip. And typically, these memories are rarely made because of an expensive hotel or restaurant.
"You don't need to spend an arm and a leg to have a memorable vacation with your family. The memories of the trip itself will become priceless, not how nice your hotel was."
More From GOBankingRates
Make Your Money Work for You