ChatGPT vs. Travel Agent: Which Can Save You More Money?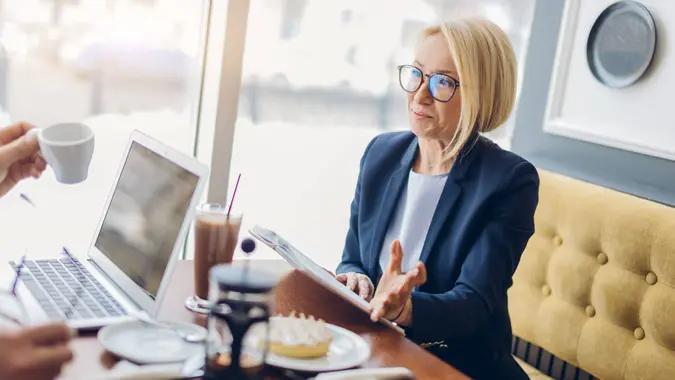 ©Shutterstock.com
Probably the most talked about and controversial technological advancement of this year has been the introduction of ChatGPT to the world. Love it or hate it, ChatGPT is here to stay. With its arrival, there is a lot of debate about if the AI tool is better than humans at doing … well, almost anything.
The travel industry is not immune from the reach of ChatGPT, nor are travel agents. As folks shake off the dust of the pandemic and start to book travel to destinations near and far, it begs the question: Which can save you more money when it comes to purchasing a trip — ChatGPT or a travel agent?
"Both ChatGPT and travel agents have their advantages, and the choice depends on the situation," said Justin Albertynas, a former travel agent turned CEO of Ratepunk.
GOBankingRates reached out to a few travel experts to get their take on ChatGPT versus travel agents and who can actually save you more money. Here's what they had to say.
For Ease and Convenience: ChatGPT
When it comes to the quick accessibility of being able to book travel and get the job done, tech might be the way to go.
"ChatGPT, as an AI-powered tool, is great for quick research and generating ideas, often available for free or at a low cost," said Albertynas. "For example, I've used ChatGPT to find multiple flight options for a family trip to Europe, saving up to $500 by comparing prices across different airlines and booking platforms. It is an easier choice, requiring less time and effort to get some potential discounts."
Make Your Money Work for You
As with many industries that are human-based, working with a travel agent takes more time and effort — not just on the part of the travel agent, but on the client as well. What might take hours or maybe days for a travel agent to do can be done within seconds by ChatGPT.
"[ChatGPT is also] a great, if not the best, way to find a plethora of apps and services that might provide you with huge discounts," said Albertynas.
For Personalization and Customization: Travel Agent
Quicker and faster might not always be better when it comes to travel. The reason why travel agents exist is because they have years of knowledge and experience from which to draw from, offering opinions and insights to help you figure out the best trip possible. ChatGPT just has aggregated data for answers.
"Travel agents can offer personalized assistance and exclusive deals that might not be readily available online," noted Albertynas. "Many deals require extensive knowledge of current trends, which AI doesn't have access to."
Plus, there's a treasure trove of partnerships and contacts that travel agents and agencies may have with airlines, hotels and so on, Albertynas pointed out.
For Pricing and Fees: Depends on What You Want
"The biggest downside to using a travel agent, of course, is the fee which could potentially level out the price difference between the deals found by ChatGPT and the travel agent," Albertynas said.
ChatGPT also comes at a price, though it is substantially lower than working with a travel agent, and free versions do exist.
Make Your Money Work for You
"ChatGPT goes for $20 for the premium version but cannot help with transportation tickets, and you will eventually need to find a travel agent to help with the bookings, making it more expensive," explained Alexandra Dubakova, a travel expert and the CMO at FreeTour.com.
"I would prefer a travel agent," Dubakova said. "Besides the ability to recommend the best air flight companies within your budget, they send an itinerary that contains specific flights based on your travel dates and can find accommodation that meets your needs. They are also more personalized and experienced to offer a full-service experience."
While echoing Albertynas' sentiments, Dubakova highlights that typically a "travel agent will charge between $25 to $50 for handling transportation tickets."
The Bottom Line
"Overall, at this particular time, I think that using a travel agent is still more beneficial as they personalize your trip way better than ChatGPT and can get you access to deals that simply don't exist out there on the internet," concluded Albertynas.
When it comes to saving money upfront, ChatGPT might be the clear winner, however, it's a pay-for-what-you-get experience. On the other hand, working with a travel agent and spending some money upfront might save you in the long run, plus get you everything you want when you hit the road, sail the open water or take to the sky.
"I think the value of a travel agent goes far beyond just booking travel," said Jake O'Neil, a travel agent with Magical Memories Worldwide, noting that combination of ChatGPT and a travel agent might be the best bet.
Make Your Money Work for You
"These days, anyone with an internet connection can book their travel components," said O'Neil. "The value of a travel agent is their firsthand knowledge and experience, and perhaps more importantly their connections within the industry to help solve any issues should they arise."
More From GOBankingRates