Cheap Romantic Getaways To Book Now for Valentine's Day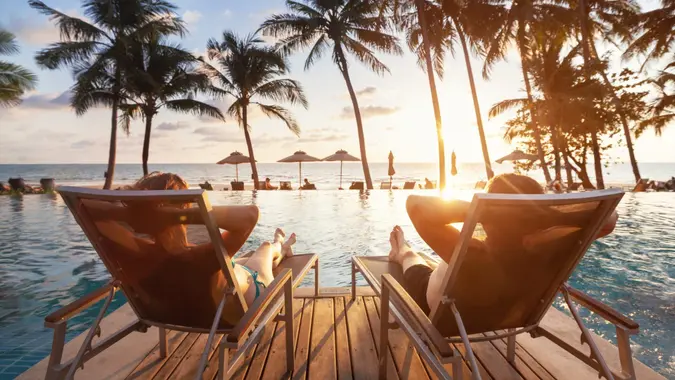 anyaberkut / Getty Images/iStockphoto
When the moon hits your eye, and you can only afford a pizza pie, that may be amore, but that's also the time you should consider more affordable romantic getaways. Prioritizing time with your partner away from the daily grind is important, but you shouldn't have to take out a loan to do so. Whisk the one you love away on a cheap and cheerful adventure. 
Read: 3 Ways Smart People Save Money When Filing Their Taxes
10 Cheap Romantic Getaways
Whether it is for Valentine's Day or another special occasion, getting away goes far as a romantic gesture. If you are planning a vacation, and want to stay within your budget, here are 10 cheap romantic getaway options to consider.
1. Asheville, North Carolina 
Key Features
Blue Ridge Parkway
Pisgah National Forest
Craggy Gardens
This quietly cool mountain town has been on the radar for travelers for many reasons. With scenic nature everywhere, a vibrant art scene and a hopping lot of local breweries, Asheville is perfect for a weekend getaway or longer. This city is great for the outdoorsy couple who want to hike during the day and then cap it off with an ice-cold craft beer at night.
Make Your Money Work for You
2. Cannon Beach, Oregon
 Key Features
Haystack Rock
North Coast Craft Beer Trail
Not only is Cannon Beach filled with white sandy beaches, nature trails and many cozy bed and breakfasts, but it will also speak to the heart of movie lovers as it is the same beach where many scenes from the film "The Goonies" were shot. The town is filled with quaint shops and art galleries and is perfect for misty morning strolls with someone you are smitten with. 
3. Glacier National Park, Montana
 Key Features
Going-to-the-sun Road
Trail of the Cedars
Red Bus Tours
Glacier National Park is not only a beautiful location but also a cheap destination. Nestled on the border between Montana and Canada, this gem is filled with waterfalls, hiking trails, lakes, mountain ranges and a variety of wildlife. You and your partner will have no shortage of choices of where to stay as it hosts many historic lodges, chalets and hotels built by the Great Northern Railway.
Make Your Money Work for You
4. Niagara Falls, New York
 Key Features
Niagara Parks Botanical Gardens
Old Fort Niagara
Maid of the Mist
Once considered the honeymoon destination capital of the world, Niagara Falls is still an affordable romantic getaway for many a couple. It is a mix of classic and cheesy romance with just a hint of kitschy. Niagara Falls is a top natural wonder attraction and it also boasts a slew of quickie wedding chapels in case your romantic getaway ends in a proposal.
5. Portland, Maine
 Key Features
Portland Museum of Art
Brewery Tours
Old Port
When you think of Portland, you may have a tendency to think of the other coast but Maine's biggest city is no sleepy coastal town. It has a variety of delicious restaurants and a thriving art scene juxtaposed with harbor views and island shorelines. It is the best mix of old world and new, accented with lighthouses. If you want a cheaper stay, go in winter. Snuggle in by a fire with your partner while you read a spooky Stephen King novel.
Make Your Money Work for You
6. Savannah, Georgia
 Key Features
Savannah City Market
History Tours
Forsyth Park
There is something about the southern charm that harkens to a different era. As you stroll beneath the Spanish moss, hand-in-hand with your partner and pass old theaters, new cafes and maybe an old graveyard or two, you'll see why Savannah can bring the romance without breaking your budget.
7. San Miguel de Allende, Mexico
 Key Features
El Jardin
Fabrica La Aurora
Parroquia de San Miguel Arcangel
This off-the-beaten-path Mexican city is lined with cobblestone streets and brightly colored baroque architecture. It is great for an affordable trip in winter and is filled with artisan craft shops, live music and delicious street food. This city is perfect for arts-driven couples to get away.
8. Sedona, Arizona 
 Key Features
Sedona Healing Vortexes
Jeep Trails
Hiking Trails
Often thought of as one of the most beautiful places in America, Sedona has no shortage of breathtaking and scenic views. The fiery red rocks are definitely worth seeing but Sedona also offers couples romantic and new-age features such as spiritual vortexes and pampering spas.
9. Tulum, Mexico
 Key Features
Tulum Archaeological Site
El Gran Cenote
Playa Paraiso
Tulum may have more luxury options now than it has in years past, but there are still budget-friendly bargains if you know where to look. It boasts a bumping nightlife with a strong mixology scene which is great for date nights. During the day you can explore gorgeous water-filled caverns and Mayan ruins.
10. Victoria and Vancouver Island, British Columbia
 Key Features
Inner Harbour
Parliament Buildings
The Butchart Gardens
This somewhat hidden gem is one of the best places to visit in Canada. Because of its British roots, it is packed with historical charm. You and your significant other can enjoy such features as high tea in the afternoon followed by a romantic dinner at night. 
Final Take
There are ways to have romantic getaways that won't break your bank. With just a little research you can find many spots just a short jaunt away that are filled with many economically-friendly things to do.
FAQ
Here are the answers to some common questions about vacation getaways.
What is the best vacation for couples on a budget?

Some of the best vacations for couples on a budget include the following destinations:

Asheville, North Carolina
Cannon Beach, Oregon
Glacier National Park, Montana
Niagara Falls, New York

What is the most romantic place for couples?

Some of the most popular romantic places for couples include the following locations:

Savannah, Georgia
San Miguel de Allende, Mexico
Sedona, Arizona
Tulum, Mexico
Make Your Money Work for You