Biggest Vacation Expenses and How To Get Them for Less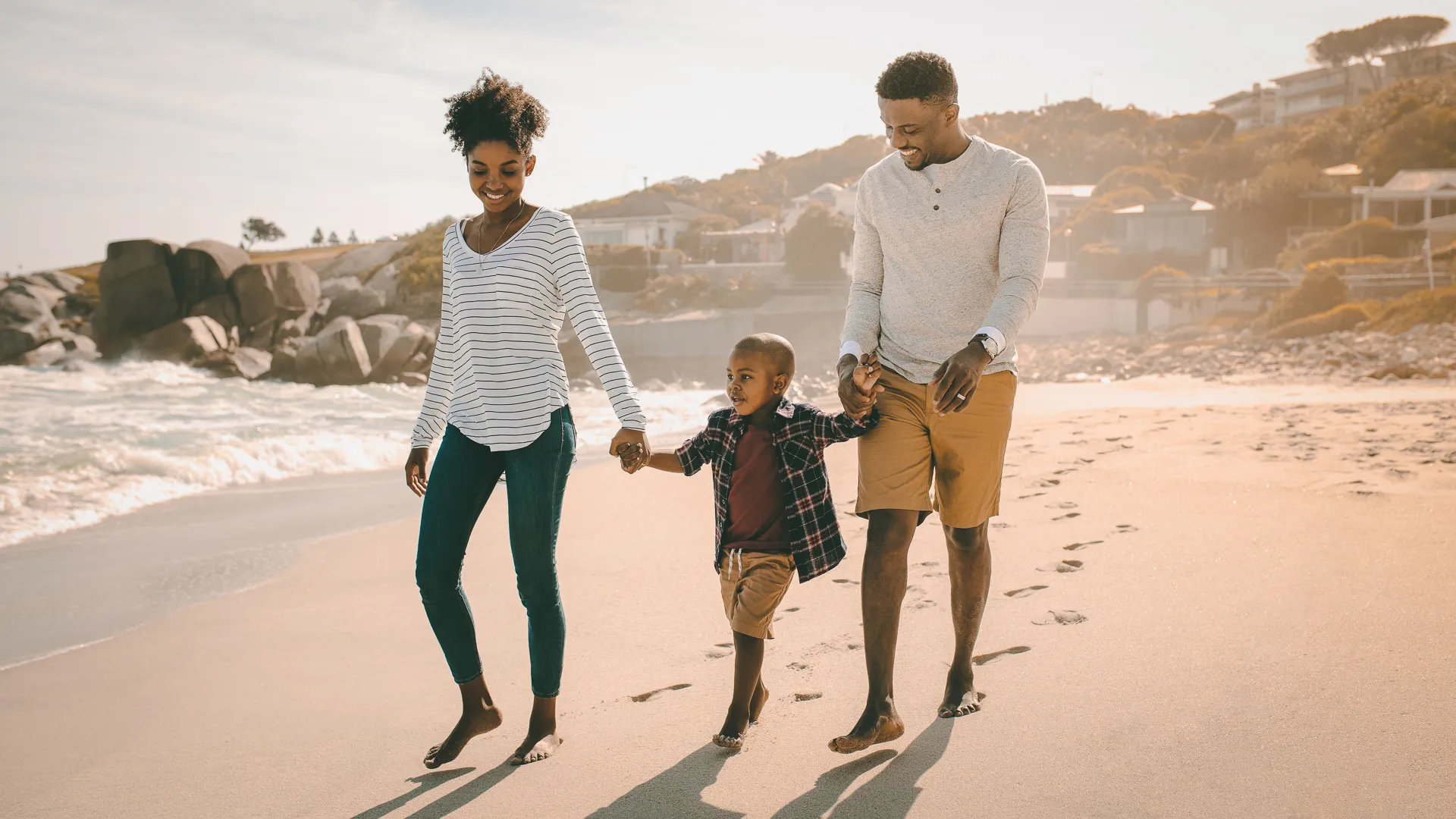 Vacation Expense No. 1: Airfare
After two brutal pandemic years, the airline industry is enjoying a huge resurgence in demand for air travel, according to NPR — and that means much pricier tickets. Still, there are some ways to cut down on the cost of travel without having to resort to a road trip. Here are some ways to get a good deal on your next flight.
Choose the Right Day To Fly
Flight prices are highest on Fridays, Sundays and Mondays, said consumer savings expert, Andrea Woroch. She advises families seeking budget travel opportunities to plan their departures for Tuesdays, Wednesdays or Saturdays.
Make Your Money Work for You
Book Early
According to Travel and Leisure, tickets go on sale about a year out from the flight, and while many variables affect pricing patterns, one thing doesn't change — it's best to book early.
"Make sure you're searching approximately six weeks before your desired departure date, or two months for international trips, to find the best rates," said Woroch.
Avoid Cookies
If you're a regular flier, you might have had the experience of seeing a ticket price rise dramatically in a few hours. According to Regina Conway, a consumer expert with deals site Slickdeals, the sophisticated computer technology used by airlines can utilize cookies to fiddle with the fare for a flight after "learning" that you're interested in it.
"Try opening an incognito window, which will sometimes allow you to access the original, lower price," said Conway.
Keep Checking Prices After You Book
If you already booked your flight, that doesn't mean you can't still save money on travel expenses, said Kendal Perez, a travel specialist who previously worked as a savings expert with Coupon Sherpa.
She recommends using sites like Coupa — formerly Yapta — to track the price of your itinerary and receive an email notification if it drops. She added that some airlines, like Southwest and Alaska Airlines, reimburse customers for the difference if the ticket price drops after they made the purchase.
Book Two One-Way Tickets
In some cases, buying two one-way tickets is less expensive than purchasing one round-trip fare.
"In addition to scoring a better-priced airfare, you can also use rewards points to cover the cost of one leg if you don't have enough accrued to finance a round-trip ticket," Perez said.
Make Your Money Work for You
Vacation Expense No. 2: Car Rentals
The pandemic sent the cost of car rentals skyward. First, rental companies had to sell off big chunks of their fleets to stay afloat in 2020. Then in 2021, a global chip shortage made cars expensive and hard to come by. As a result, according to Car and Driver, rental car prices nearly doubled from $46 in 2019 to $81 at the start of 2022.
Avoid Upsells
Many credit card companies and auto insurance providers offer rental car liability coverage that's comparable to what the rental agencies sell.
"When a car rental agent aggressively pitched me insurance in Kauai, I looked up my rental car and credit card insurance policies and found the coverage she was offering was identical to what I already paid for through my policy," said Perez.
Additionally, Perez advises that vacationers avoid upgrading to a sedan or SUV. These bigger vehicles often come with similarly big gas bills.
Don't Prepay for Gas
Rental car agencies often fail to tell you that you won't be credited for the gas left in your tank. So, essentially, you're paying for a full tank, plus any fuel left in the car when you return it.
Additionally, many credit cards offer generous cash back and rewards options on gas purchases, so paying for your own gas can actually make you money.
Look to Your Warehouse Club
Budget travel means not spending any more than you have to on vacation services. If you carry a membership to Costco, Sam's Club or another warehouse store, check for car rental deals, said Woroch.
For example, members of BJ's Wholesale Club can buy now and pay later with car rental savings of up to 35%.
Check Your Credit Card or Airline Points
You might think that your airline miles can only be used for airfare, but that's not always the case. According to Woroch, those miles can often be used for car rentals and hotels, as well.
For example, travelers can redeem American Airlines AAdvantage miles for car rentals and hotel stays at more than 10,000 locations in more than 320 destinations worldwide. Additionally, the Capital One VentureOne Rewards card lets users purchase car rental reservations with their rewards points.
Go Without
Going without a rental car can save you more than the price of the vehicle, said Lee Huffman, travel expert and founder of the travel and financial advice site, BaldThoughts. Along with the rental cost, you can save on gas and parking at your destinations. Opt for rideshare instead when you need a set of wheels and forego the fee when you don't.
Vacation Expense No. 3: ATM and Credit Card Fees
All you have to do is take out money a few times while traveling to start noticing dents in your vacation budgets. ATMs are overpriced in tourist hotspots — here's how to slow the fee bleed.
Withdraw More
If you can't avoid a bank or ATM fee, aim to withdraw larger chunks of money. After all, the bank will charge you the same flat fee for withdrawing $20 or $200, said Woroch.
Leave the Beaten Path
If you are exchanging money, Woroch suggests avoiding money exchangers in airports or popular tourist areas, where businesses often charge the highest exchange rates.
However, international travelers should do their homework with regard to the specific country they intend to visit. While it makes sense to withdraw money from an ATM in Australia, visitors to Belgium should exchange their cash at the airport.
Beware of Foreign Transaction Fees
Because credit card companies are increasingly competing for customers' business, foreign transaction fees are becoming less common, according to Huffman. However, those that do charge fees might bill you 1%-3%. For best results, check your cards before leaving home. If a card charges a fee, leave it behind.
Use Your Credit Card Abroad
If your credit card doesn't charge a foreign transaction fee, using a card overseas could actually save you money, said Kerry Sherin, formerly a saving expert with Offers.com.
"Equipped with a credit card, travelers won't have to worry about converting currency, which means no more worrying about how much to convert for your trip, and you automatically get one of the lowest conversion rates possible when you use your credit card," she said. "This rate is known as the interbank exchange rate."
Get Cash Back in Stores That Allow It
If your bank doesn't have ATMs where you are traveling, a quick fix might be found at the nearest drugstore.
"Instead of paying exorbitant ATM fees, request cash back from grocery and drugstore purchases during your trip," said Perez. "In most cases, these retailers will not charge you a fee to withdraw $20 to $100 in cash from your debit account."
Vacation Expense No. 4: Phone Fees
If you want to vacation on a budget, cutting phone costs is an essential step. You should start by talking to your phone service provider. Verizon, for example, offers a TravelPass, through which subscribers can use their phones overseas for $10 a day in more than 210 countries.
Monitor Your Data
While traveling, you might not have access to WiFi. If you don't have an unlimited data plan, you can quickly gobble up gigs. If you're using an iPhone, go to Settings > Mobile Data or Settings > Cellular to keep tabs on your usage. For Android, it's Settings > Connections > Data usage > Mobile data usage. Your data provider's app can tell you, too. With Mint, for example, all you have to do is open the app and your usage for the current billing period is the first thing you'll see. 
Stay in Airplane Mode
Using your phone when you travel can mean hefty data bills. Benjamin K. Glaser, formerly an editor at DealNews, suggests leaving your phone in airplane mode for the length of the trip, so you can't use data accidentally.
"Free messaging apps like WhatsApp can keep you connected [without data], and you can even make calls with Skype. Otherwise, all of the major carriers have international plans," he said.
Vacation Expense No. 5: Food, Drinks and Entertainment
Food, drinks and entertainment are essential parts of just about every vacation. Spending your days and nights in restaurants, however, can add up quickly. Here's how to cut the cost of eating and drinking while you're away.
Download Meal Apps
There are many apps that can help you find deals on meals in different cities, according to Woroch. She recommended searching for discount dining certificates through Restaurant.com, but apps like Hooch and Groupon are helpful, too.
Bring an Empty Water Bottle
Water is expensive, especially in airports and hotels.
"Avoid paying $4 to $5 for bottled water at the airport by bringing an empty water bottle through security and filling up at a water fountain before you board," said Perez.
Look for Free Entertainment
It's easy to load up on costly outings during your vacation. However, many getaway destinations feature free entertainment. Perez advises travelers to enjoy complimentary excursions, such as walks on the beach and local festivals.
Dine Out for Only One Meal Per Day
Try to limit your dining-out meals to just one per day, and supplement the rest of your needs with food from the local grocer, said Perez. You can also save money by dining at local street vendors instead of restaurants.
Choose a Hotel With Complimentary Breakfast
When shopping around for accommodations, consider booking a hotel that offers a continental breakfast — and other free perks.
"You can grab extra boxes of cereal and whole fruits for snacks throughout the day, and fill up your water bottle with juice or top off your travel mug with coffee for free," said Perez.
Look for Deals
If you want to travel on a budget, search for city-specific food and entertainment deals on Groupon, LivingSocial, Goldstar and other similar sites, said Huffman.
Additionally, budget travel fans can join AAA to qualify for discounts on restaurant bills, activities, movie tickets and more at their destinations.
Get Happy for an Hour
Happy hours can make your vacation budget even happier, said Woroch, who advises inquiring at the hotel's front desk about any nearby happy hour specials.
"During a trip to Hawaii, I found a restaurant offering Wine Wednesday, and we received 50% off a bottle of wine," she said.
Vacation Expense No. 6: Hotels Rates and Fees
Depending on where you travel, hotels can easily break your budget in the post-pandemic world. For instance, the average nightly rate for a New York City hotel room in 2019 was less than $230, according to Statista, but the average rate was closer to $385 by the end of 2021. Here are some tips for scoring a room for less.
Use Apps To Get Luxury For Less
The HotelTonight app amasses unsold rooms at high-end hotels and provides cut-rate pricing to users, said Woroch, who has seen last-minute luxury accommodations for up to 70% off.
Buy Cancellations
Another traveler's loss could be your gain, thanks to Roomer, which lets you buy unwanted hotel room reservations at a reduced rate.
"The site connects you with travelers who are stuck with a reservation they can't cancel, but who are willing to sell and transfer the reservation at a discount," said Woroch.
Ask for a Price Match
Don't expect them to advertise this fact, but many hotels will match a competitor's lower price if you ask, Woroch said. Many third-party sites, like Hotels.com, will also price match.
Avoid Weekends
If you can travel during the week, you might be able to save a bundle on lodging. According to Woroch, most hotels offer significant discounts for stays Sunday through Thursday. If you must stay during the weekend, try to book a business hotel, which tends to be busier during the week.
Vacation Expense No. 7: Travel Insurance
Travel insurance can cost from 4% to 8% of the total price of your vacation, according to Travel Insurance Review. Here are some ways to cut travel insurance costs without sacrificing your peace of mind.
Don't Insure Your Hotel or Rental Car
Hotels and rental car agencies often allow customers to cancel and get a full refund, so there's no reason to pay a higher premium to insure these portions of the trip, said Damian Tysdal, founder of Travel Insurance Review and CoverTrip.com. However, travelers should review their specific policies before making decisions.
Don't 'Click Here'
Additionally, Tysdal recommends avoiding "Just Click Here" buttons when buying travel insurance. In most cases, consumers who utilize these options give up the right to select plans or companies and often wind up with stripped-down coverage. Instead, use a third-party site for comparisons.
Bundle Trips Into One Policy
If you're planning to travel more than once in the next 12 months, consider covering your entire year of travel by paying an annual premium rather than a trip-by-trip rate. According to Huffman, bundling multiple trips often costs just slightly more than paying for one policy.
More From GOBankingRates
Andrew Lisa contributed to the reporting for this article.

BEFORE YOU GO
See Today's Best
Banking Offers