12 Countries That Charge Fees To Visit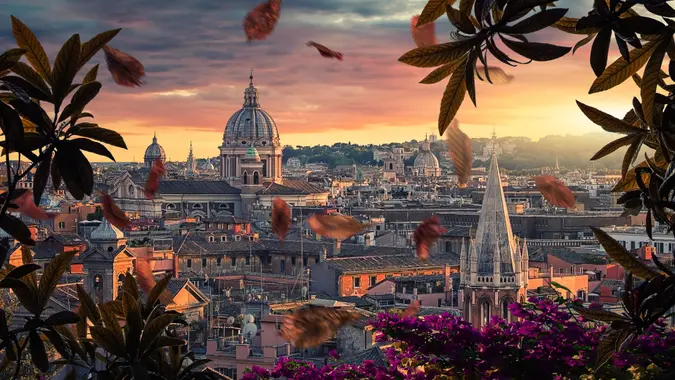 manjik / Getty Images/iStockphoto
Those who have traveled abroad aren't likely to tell you that their trip was cheap. Best case scenario is usually when the trip ends up being "not as expensive" as they might have thought.
On top of this, the next time you are planning to visit a foreign country, you might be hit with a tourist fee. That's because many countries, and some cities within them, are levying taxes and fees on visitors, starting either in 2023 or at the beginning of 2024.
"Behind every tourist fee lies a compelling narrative — a unique blend of financial investment and experiential return," said Sam Perio, a destination expert at Trek Fun Trek. "These charges not only shape the destination's revenue but intricately color the psychological canvas of a traveler's perceived value, enriching their journey with a deeper understanding of the destination's worth beyond its scenic landscapes."
Perio explained that "these charges cover various aspects like accommodation, conservation, infrastructure, administration, and tourism development, adding value and supporting different facets of the travel experience in each respective country." If you are planning a trip in the near future, take a look at these countries that charge fees for you to visit and plan according to your travel budget.
Thailand
Originally set to start at the end of 2022, Thailand's fees were pushed to September 2023 and are now in full effect.
"An entry fee of up to 300 baht will be charged for air travelers, while those arriving by bus, train, or boat will pay an additional 150 baht," said Sam Charlton, CEO of Fast Passports & Visas.
Make Your Money Work for You
"Part of this fee will be allocated to cater to tourists' needs, especially when their health insurance might not cover certain aspects," added Lukasz Koszyk, head of business development at Visafly. "Additionally, it will support the development of popular tourist attractions."
Spain
There are two places in Spain that have added a tax for visitors: Valencia, where you can expect to pay a tax ranging from 50 cents to €2 per night, and Barcelona, where the local government hiked up its tourist tax in 2023, requiring a €5 per night fee for rented accommodation within its limits.
"The revenue from this tax is directed towards enhancing the city's infrastructure, including roads and public transportation," explained Koszyk of Barcelona, while breaking down that Valencia's tax is to "support the sustainable development of the region's tourism sector and provide affordable housing in tourist hotspots."
Italy
"Italy is one of the most popular and expensive tourist destinations and it too has levied tourist fees for specific cities," said Shreya Patel, marketing manager at Lowest Flight Fares, adding that where you are visiting determines the amount. 
For example, text time you are going to Venice, expect to pay a fee of roughly €3 during the off-season and up to €10 during peak times. While Rome, Patel explained, has a fee that may "vary between $3.40 to $7.94 per night, depending on the type of accommodation you choose."
The Netherlands
It is estimated that Amsterdam will become the European country to enforce the highest tourist tax starting in 2024.
Make Your Money Work for You
"Tourists visiting the Netherlands pay land and water tourist tax and its capital Amsterdam is planning to add a new fee for cruise ship visitors," Patel said. "Visitors to the city will have to pay $22.91 per night based on the room rate of $183.90. It can go up, depending on the price of your hotel room. Cruise passengers will have to incur $11.56 per person per day."
New Zealand
The island country boomed with popularity after the award winning "The Lord Of The Rings" movies were filmed there and brought droves of fans to the trilogy's locations. In the years since, New Zealand established an International Visitor Conservation and Tourism Levy (IVL) to sustain natural environments and infrastructure, so tourists are expected to pay about $35 NZ during their trip.
Croatia
Another example of where fantasy came to life recently in Hollywood fashion and has since cashed in on the popularity is Croatia, better known visually to fans of the HBO series "Game of Thrones," which used the country for many of its mythical locations.
"After 'Game of Thrones' brought Croatia into the radar of the Gen Z and millennials, it increased the tourist tax fee by 25%," Patel described. "However, the increased amount is applicable for only peak tourist season, which is in summer. Tourists pay $1.53 per person per night now, if they are staying in a hotel. Those who are staying in a campsite can pay $1.22."
Japan
It's not getting into Japan that will cost you money, it's getting out. Expect to pay a 1,000 yen departure tax, sometimes called the "sayonara tax," upon departure. That may sound like a lot, but do not worry — the exchange rate comes out to roughly $8 USD.
Germany
This fee is $5.65 per person a day or 5% of the total hotel bill if you are staying in tourist destinations such as Berlin, Hamburg or Frankfurt. Patel explained that this type of fee can sometimes be referred to as a "Culture Tax" or a "Bed Tax."
The Maldives
The Maldives charges an environmental green tax for tourists who decide to stay in resorts. This fee usually comes out to about $6 per person per day and contributes to the preservation of the country's stunning natural beauty.
The Caribbean
For the title of "The Caribbean," it must be noted that it is used to include the following countries: Antigua and Barbuda, The Bahamas, Aruba, The British Virgin Islands, Barbados, Bermuda, Dominica, The Dominican Republic, Jamaica, Haiti, Trinidad & Tobago, The U.S. Virgin Islands, Bonaire, The Cayman Islands, Grenada, St. Lucia, St. Kitts & Nevis, St. Maarten, St. Vincent & Grenadines. All of them levy tourist taxes, particularly among American and European backpackers who have made the region a popular destination to explore.
"Tourists in some Caribbean countries are required to pay an extra amount additional to the hotel cost or a departure fee," explained Patel. "The departure fee is always included on the flight or cruise ticket and ranges between $15 to $51, based on where you are traveling."
Indonesia
Another highly popular destination in Asia is Indonesia, with cities like Bali and Jakarta experiencing an ever-growing amount of tourists. Therefore, the local government has levied a tourist tax of $10. Patel noted that the country instituted a departure fee as well, which "depends on the Indonesian airport you are departing from."
Bhutan
The Sustainable Development Fee of $200 USD was introduced by Bhutan to try to reduce the harmful effects of over-tourism, many of which only increased after the pandemic subsided, according to Patel. This fee, however, does not cover the cost of food, accommodation and transport, all of which you'll have to pay for by yourself.
More From GOBankingRates