Don't Buy Airline Tickets Less Than a Month in Advance for These 7 Holidays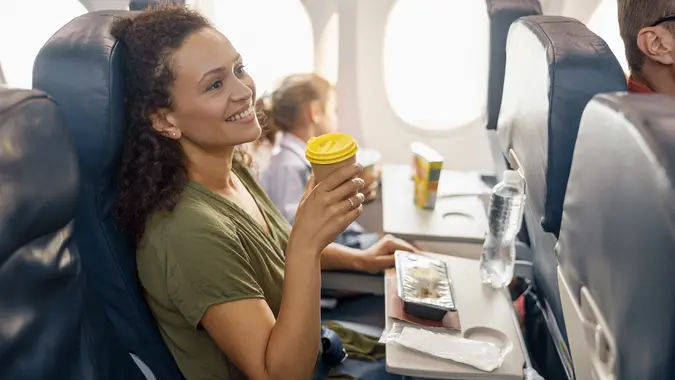 Yaroslav Astakhov / iStock.com
As anyone who's ever traveled by plane knows, airline ticket prices can fluctuate significantly depending on when you buy them. Purchasing tickets around certain holidays or special events can lead to higher prices, though you might be surprised to find that some holidays are cheaper to fly around than others.
If you're planning your next trip and have some flexibility in your schedule, you may want to consider booking your airplane tickets at least a month before or after these dates.
Christmas Eve or Christmas Day
Thinking about visiting family this Christmas? Book your airline tickets in October or November to potentially score some great deals.
"Keep an eye on those Christmas bookings again in early October… who knows what amazing discounts might pop up," said Raj Yadav, co-founder at Lowest Flight Fares.
Of course, you might also get cheaper tickets if you book slightly less than a month out of Christmas. Mac Steer, owner and director at Simify, recommended purchasing airline tickets within a month of the holiday you want to travel on.
"In my experience, the holidays that are traditionally cheaper to fly around are not necessarily the ones you'd expect," said Steer. "For example, Christmas is usually a very expensive time of year to fly — but Thanksgiving is actually a much better time to book flights. You can usually find some great deals on flights if you're willing to travel during off-peak hours — like late night or early morning."
Make Your Money Work for You
"Airlines often offer sales and promotions around holidays, especially during the week leading up to them," added Steer. "For example, there are usually lots of sales on Black Friday and Cyber Monday, so if you're planning on traveling around those dates, it can be worth waiting to purchase your ticket until then."
Valentine's Day
For those who want to meet with their loved ones for Valentine's Day, it might be wise to book tickets around the winter holidays.
"One relevant period when flights are cheaper is the shoulder seasons: September to October — yes, this one is just around the corner — and March to April," said Justin Albertynas, CEO at RatePunk. "Keep an eye on the periods between major holidays or peak travel seasons. These 'shoulder seasons' often offer more reasonable prices due to lower demand. For instance, the time between Thanksgiving and Christmas or just after New Year's can be favorable for cheaper fares."
Thanksgiving Day
You may not want to travel on Thanksgiving Day, but the days leading up to it could be cheaper to fly on.
"If you're planning a Thanksgiving getaway, booking between Halloween and mid-November might score you some sweet deals, too," said Yadav. On the other hand, you could potentially save even more money on airfare if you book even sooner than that.
You might also get better deals if you keep your travel dates flexible and avoid traveling around the busy summer season or national holidays to cut airfare costs. However, you could get some surprisingly cheap airline tickets if you fly on certain holidays.
"There are days around specific holidays when you can get the best deal," said Yadav. "For example, if you are visiting your family on Thanksgiving Day, well, you may consider Turkey Day to travel, as Turkey Day itself tends to be the least expensive day for flying around Thanksgiving. The average airfare drops by 10% to 12% on Turkey Day, generally."
Make Your Money Work for You
4th of July
The 4th of July is another big date for many travelers,  but it can be pricey if you book too close to the day itself.
"You should never expect to get a good last-minute deal around the big holidays like Christmas, Thanksgiving or the 4th of July — unless you look for tickets on the actual day of the holiday itself," said Brittany Mendez, CMO of FloridaPanhandle.com. "Most holiday travel is done in the weeks/days leading up to and following the holiday, not on the day, so you may be able to score a decent deal that way."
Memorial Day
Memorial Day, which falls on the last Monday of May, is another expensive date to buy airline tickets around. In fact, trying to book tickets around a weekend holiday in general tends to result in more expensive tickets than other days of the year. So, if you're thinking about traveling around this time, be sure to book your flights early.
Columbus Day/Indigenous Peoples' Day
Booking tickets on Columbus Day — also called Indigenous Peoples' Day — which is observed in October, could be a cost-effective option if you're planning to fly around Thanksgiving or Christmas.
"Flying around less busy holidays like Labor Day or Columbus Day offer more affordable options. Avoid peak travel times for the best deals," said Katherine Fleischman, publicist, travel expert and CEO of Do Tell PR.
But if you want to reach your destination before Columbus Day itself, you may want to book at least a month in advance. This is because, just like with Memorial Day, this holiday falls on a Monday and is a peak time for many travelers looking for a long weekend getaway.
Make Your Money Work for You
Halloween
Similar to other major holidays like Thanksgiving or Christmas, you might save money by flying on Halloween itself. But waiting to book your tickets until the holiday's less than a month away could result in higher airfare costs.
More From GOBankingRates