7 Items To Always Request When Flying First Class

4 min Read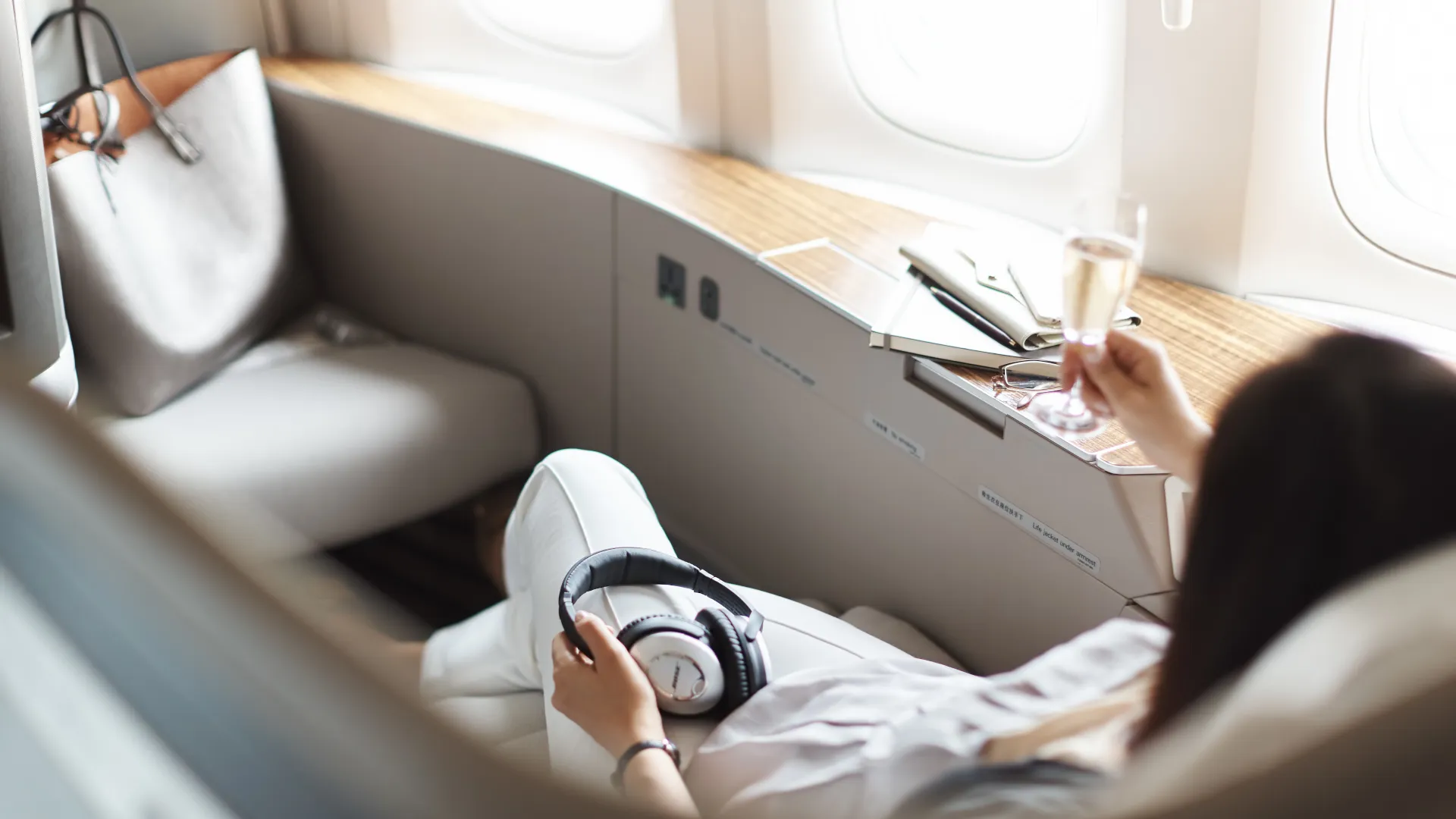 Make Your Money Work for You
Alcoholic Beverages
Would you like a drink? Yes, please! Many airlines, including United Airlines and Delta Airlines, provide passengers flying first class with a beverage service that includes alcohol. For those on international flights, Virgin Atlantic welcomes its first-class passengers with a glass of bubbly.
The difference between enjoying an alcoholic beverage in a first-class cabin versus economy class is that most airlines offer first-class passengers complimentary wine, beer and spirits. Please note that these drinks are only for those 21 and older and must be consumed responsibly.
Live Richer Podcast: Tips To Stay on Budget This Christmas
Premium Dining and Snacks
Your dining experience just got a little more delicious in first class. Depending on the length of your flight, passengers may receive anything from a meal box to fine dining options available for breakfast, lunch and dinner. Delta Airlines, for example, offers first-class meal boxes on flights with 900+ miles. Flights up to 2,299 miles include a chef-curated breakfast on departures for 5 AM to 9:45 AM flights, lunch on 9:46 AM to 3:59 PM flights, and dinner on 4 PM to 8:59 PM flights along with a selection of snacks.
Many airlines also partner with world-renowned chefs to ensure your dining experience feels less like you're on an airplane and more like you're actually in a restaurant. United Airlines has partnered with The Trotter Project to offer first-class passengers restaurant-quality dining while they fly. This includes premium snacks, fresh fruit, refreshments or a full meal service with two entrée choices.
International flights with Virgin Atlantic offer first-class passengers their choice in several delicious meals. Ask about the extra bites on demand for day flights and breakfast in bed during night flights.
Custom Playlists While You Eat
Available on select flights, first-class passengers that fly Mint with JetBlue receive more than just delicious dining. They can listen to a custom playlist that goes with every meal, including rotating small plates and desserts. Bon appetit!
Make Your Money Work for You
Pillows and Blankets
You've been wined, you've been dined, and now it's time to gently doze off in the skies. Most domestic first-class airlines will supply passengers with complimentary, high-quality pillows and blankets. Mint with JetBlue offers a snooze pack designed by Tuft & Needle that includes a pillow, convertible blanket and snooze kit.
How about international flights? Those traveling on United Polaris business class service may rest and rejuvenate in custom luxury Saks Fifth Avenue bedding. Additional mattress cushions are available upon request for your onboard bed for added comfort.
Pajamas
Ask and you shall receive pajamas to change into for extra coziness. United Polaris offers pajamas to first-class passengers on flights longer than 12 hours. Check in with your first-class airline to see if pajamas, or slippers, are available during your flight.
Headphones
Did you forget your headphones or earbuds? That's not a problem in first class. Delta offers complimentary ergonomically-designed earbuds by Billboard for first-class customers (available on select flights). Those traveling on Mint with JetBlue will enjoy a custom version of Master & Dynamic's MH40 noise-isolating headphones.
Amenity Kits
First-class passengers should always inquire about any amenity kits offered during domestic and international travel. 
Mint with JetBlue offers wellness kits from Wanderfuel with a unique assortment of travel essentials to its passengers. Amenity kits on long-haul international flights, like United Polaris, include sleep-themed amenities like Sunday Riley skincare items for extra relaxation and moisturization, ear plugs and an ergonomic eye mask.
More From GOBankingRates
About the Author