Gen Z: Here's How You Can Save on Travel on a Tight Budget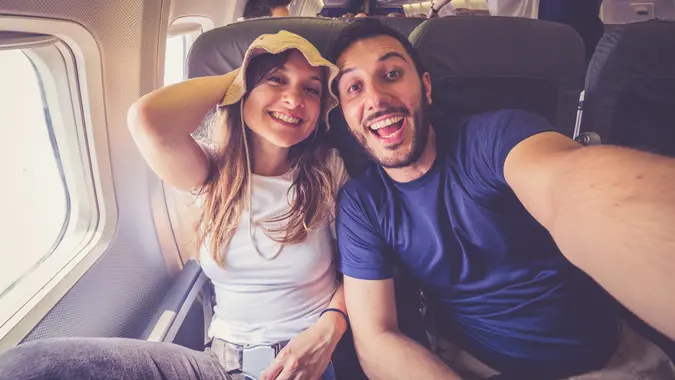 illpax / Shutterstock.com
There is no one more eager to find a deal on flights and travel than teenagers, college students and young adults just entering the workforce. Gen Z travelers might have tight budgets, but they are tech-savvy planners and excellent candidates for traveling inexpensively in today's climate. As this newer generation makes up anyone between 9 and 24 years old, 67 million people in the U.S. fall into this category, according to Statista.
Gen Z travelers are looking to book spring break trips, family vacations and flights to and from their home base. For our Gen Z readers and anyone looking to save some money on travel, keep reading for expert input on the best ways to have extraordinary travel adventures while on a budget.
How To Save on Flights
In order to get the best savings on flights, Gen Z purchasers should take advantage of growing up in the technology age and spend a few minutes exploring sites that allow them to compare flight costs across airlines.
"Websites like Orbitz and Expedia allow you to easily compare rates to find the best deals," said Erica Seppala, financial analyst and reviewer at Merchant Maverick. "For the biggest savings, try to schedule flights on the least busy days, which are typically Tuesday, Wednesday and Saturday." Travelers should also consider picking flights with longer layovers at less popular times; these inconveniences add up to major savings.
It's also important to note that a flight might look like the cheapest option at first, but then additional fees might make the flight more expensive than other options.
Make Your Money Work for You
"While one flight may have cheaper tickets, checked bag fees, seating assignments and other fees may drive up your cost of travel," Seppala said. "This is why it's important to take the time to plan and carefully explore your travel options."
Choose Wisely When Deciding When To Travel
With hectic school and work schedules, Gen Z travelers often find themselves traveling during holidays and breaks. These times are often the least budget-friendly and the most crowded times to travel. While Gen Z vacationers might not have the most flexible travel schedule, they are looking for the best deals. Here are a few great travel times to keep in mind when picking when to go on your next excursion.
"The best time of year to travel is during non-peak seasons," said Annette Harris, founder of Harris Financial Coaching. "During these months, travel decreases, and the fall season is synonymous with having rain or thunderstorms. During these decreased travel times, resorts and hotels drop their rates to attract tourists to visit their destination." 
Opt for Inexpensive Destinations
It is also helpful for younger travelers to be aware of the most inexpensive places to visit.
"Some of the cheapest places to fly to in the United States are New York City and New Orleans," Harris said. "You can find multiple sites to see and find many things to do in either location." 
For those looking to plan a trip outside of the U.S., some economical options are Mexico, Colombia and the Dominican Republic, according to Seppala. 
Make Your Money Work for You
How To Save on Hotels
Often, younger travelers focus their travel budget on the costs of flights. However, motels, hotels and Airbnb costs can add up quickly and are important factors to consider in your travel budget. 
"To save on money and hotel prices, searching hotels and flights on Google.com/travel can help you compare rates for your destination travel," Harris said. "You can find hotels in various destinations and build your vacation based on a preset budget that you've established."
In order to stay within budget when picking a travel home base, you might consider looking outside of the standard hotel options for a more memorable and economical experience. 
"Sites like Airbnb and VRBO allow you to rent everything from condos and apartments to beach houses and RVs, which could be cheaper than booking a hotel," Seppala said. "If you're traveling with a group, consider sharing a vacation home or condo and splitting the costs among you for an inexpensive vacation."
How To Rent a Car If You Are Under 25
Renting cars can get expensive quickly, especially if renters are under 25. A great car rental company for younger renters is Hertz. At most Hertz locations in the U.S. and Canada, the minimum age for renters is 20; however, in Michigan, New York and the providence of Quebec, the minimum age is 18. Additionally, in Alabama and Nebraska, the minimum age to rent is 19. Hertz charges a young renter fee of $19 per day for renters under 25, according to Hertz. Thrifty offers similar young renter offerings as Hertz with the renter age being 20 in most locations; however, the underage charge is higher at about $27 per day, according to Thrifty.
Make Your Money Work for You
If you're a younger traveler looking to avoid the expensive car rental process, you might consider alternative transportation methods. If you're not planning on driving a lot, using Uber or Lyft will allow you to save on parking costs and avoid the process of waiting in sluggish rental car counter lines. You could also consider taking a train, bus or renting electric bikes to get around. 
More From GOBankingRates