How I Do It: Hawaii on a $1,000 Budget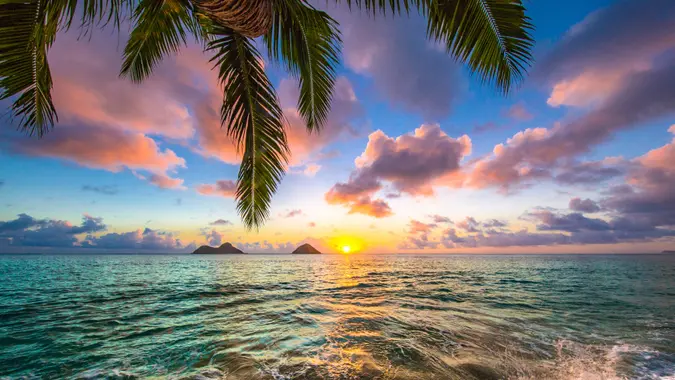 ©Shutterstock.com
The only state in the tropics, Hawaii is an island paradise 2,000 miles away from the U.S. mainland — and unsurprisingly, a tropical utopia built on lava is at the top of many travel lists.
A new GOBankingRates survey of more than 1,000 adults found that Americans would rather travel to Hawaii — Honolulu, specifically — than any other U.S. location if money weren't a consideration. For context as to just how deeply Americans covet a trip to Hawaii, more than 40% chose the Aloha State compared to No. 2 New York City, which came in under 12%.
The trouble is that most people who plan to travel this summer intend to spend $1,000 or less — and three-figure budgets don't get you far in the most expensive state in America.
But with the right plan, a trip to Hawaii on a $1,000 budget is within reach. Here's how.
Not All Islands Are Created Equal — Do Your Homework
Hawaii is America's only archipelago state. Get to know the different islands, their attractions and their costs before you book.
Make Your Money Work for You
"To start, consider staying on a different island than the popular tourist destinations like Maui," said Jason Eckhoff, CEO of BusinessClass.com. "For example, the island of Molokai is less crowded and has affordable accommodations."
Lower-cost alternatives can be less expensive without being less appealing.
"Oahu is the most affordable Hawaiian island," said Siera Duiser of Destinations to Explore.
The Hawaii Vacation Guide backs up that assertion, as well as Eckhoff's regarding Maui's higher prices.
"One of the best ways to visit Hawaii on a budget of $1,000 is to plan a visit to Waikiki Beach, but plan to stay a block or two off of the beach," Duiser said. "[It] can be a significant cost-saver to take a short walk to the beach."
Take Our Poll: Do You Think AI Will Replace Your Job?
Let Your Island Pay For Itself
Once you zero in on your island of choice, remember that money can't buy the things that make Hawaii the United States' most sought-after vacation spot.
"The great thing about any Hawaiian island is that they all offer some incredible and free activities like rigorous hikes and secluded sandy beaches," said Nick Mueller, director of operations at Hawaiian Islands.
For example, if you do choose Oahu, you can watch surfers ride the Banzai Pipeline, observe sea turtles at Laniakea Beach, hike the Lanikai Pillbox or swim at Kailua Beach Park without spending a dime.
Make Your Money Work for You
"After you enjoy the cheap and free activities, make sure that you also partake in some of the cheaper, local eateries," said Mueller. "From street tacos to food trucks, some of the best food on the island is on the more inexpensive side."
Get Close to Nature for a Night or Two
Maps Over Coffee editor Steve Warren and his wife spent their 10th anniversary on Maui on a very tight budget, even though that's the most expensive island.
The trick is camping for a few nights. If you don't mind roughing it between in-room stays, you'll get the full tropical experience while cutting the cost of accommodations.
"If you are resourceful, there are some incredible campgrounds all over the island, both state parks and private land," said Warren. "You can camp above the cliffs of Hana, or even at the top of Haleakala. It's very crowded, but you will feel like you are swimming in the stars. That would give you a lodging budget of about $210 for a week. A $1,000 budget might be tight, but you will see a part of Hawaii that few people ever do."
Make Your Money Work for You
Warren's examples deal with Maui, specifically, but every island offers similar versions. 
Think Hard About Both the Month and Day You Book
After accommodations, airfare will be your biggest expense. Booking during the right time of year and the right day of the week can make all the difference.
"To start off the cost-cutting, plan on visiting during shoulder season," said Besa Sumovic, founder of the Beaches and Babies travel blog. "For Hawaii, that's from March to the beginning of May and September to mid-November."
Just make sure not to book too far in advance for a trip this fall.
"Late summer is the best time to get better airfare to Hawaii, so we recommend booking in August over June or July," said travel expert and CheapAir CEO Jeff Klee. "Tuesdays are typically the least expensive days to travel. In June, travelers can save $256 on average by flying on a Tuesday instead of a Friday. To save big on flights to Hawaii, flying mid-week is the most budget-friendly option."
Make Your Money Work for You
And set alerts to stay current while you're waiting for your moment to pounce.
"Sign up for flight deal notifications so you'll know when a deal comes out and book it as soon as you can," said Sumovic. "I got a $188 direct flight from Oakland to Kauai this way."
More From GOBankingRates
Make Your Money Work for You