How Much Are Disneyland Tickets?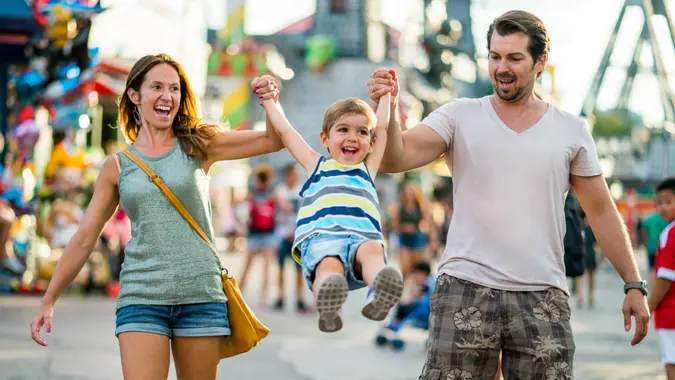 amriphoto / iStock.com
Disney theme parks are known for their many attractions — including rides, parades, fireworks and shows. With many different activities and things to see, Disneyland is a hit for many families looking to have fun in California. Before heading out to see Mickey and the crew, visitors should find out how much Disneyland tickets cost and what the wonderful world of Disney has to offer parkgoers in 2022.
Features and Attractions
Disneyland Resort in Anaheim, California has two exciting theme parks: Disneyland Park and Disney California Adventure Park. Here are some examples of what Disneyland visitors have to look forward to when purchasing tickets.
Disneyland Park
This year, Disneyland Park added two new magical attractions — Disneyland Forever and Star Wars: Rise of the Resistance. Star Wars is an exciting new addition where visitors can be a part of the Resistance and join in the battle against the epic First Order, just like in the iconic movie. Guests can also enjoy Disneyland Park's extraordinary fireworks display and immerse themselves in Disney stories in the enchanting world.
Classic Disneyland Park attractions such as the Haunted Mansion, Pirates of the Caribbean and It's a Small World are still popular in 2022. Visitors shouldn't forget to stop by and savor the always delicious treats at the Cafe Orleans, Plaza Inn and Red Rose Taverne eateries.
Disney California Adventure Park
Family fun begins at Disney California Adventure Park, where stories are brought to life. At this park, there are three new attractions visitors can enjoy. Inside Out Emotional Whirlwind is a colorful, whimsical ride and Jessie's Critter Carousel features cowgirl Jessie and her animal friends from "Toy Story 2." Avengers Campus is staged to recruit superheroes of the next generation.
Adventure Park dining choices include Carthay Circle Restaurant, Flo's V8 Cafe and Lamplight Lounge, where diners delight in high-end fare, comfort food and pub-style cuisine and drinks.
Make Your Money Work for You
Reservations and Tickets
Disneyland theme parks now manage park attendance through a new park reservation system. Each park attendee over the age of three is required to make a park reservation and have a valid ticket for the same park on the same date of the planned visit.
Guests can make reservations up to 120 days or more in advance, subject to park availability.
To make a Disneyland theme park reservation and purchase tickets, visitors should:
Decide their date preferences to visit Disneyland theme parks.
Check park reservation availability on the website.
Purchase tickets and make park reservations online or on the Disneyland mobile app.
Guests who already have valid Disneyland theme park tickets can sign in to their Disney account at Disneyland.com or on the Disneyland app and link their tickets to their reservation. Theme park reservations may be made for up to the number of admission days on each ticket. Other valid tickets can be linked to an account to make group reservations.
How Much Are Disneyland Tickets?
Disneyland theme park guests can now purchase tickets and make select reservations at the same time. Multi-day tickets are highly recommended for guests to enjoy the fun that both parks have to offer. Here are the various types of park tickets and what they cost for each number of days.
Standard Theme Park Tickets
With Disneyland's standard theme park ticket, the longer the stay, the lower the daily price.
1 day: from $104
2 days: from $128
3 days: from $110
4 days: from $90
5 days: from $76
Disneyland offers reduced ticket prices for children between 3 and 9 years old, and the park does not require tickets for children younger than three years old. Visitors over the age of 10 pay full price.
Make Your Money Work for You
California Resident Tickets
California residents have the privilege of enjoying three-day park tickets every day of the week. A three-day, one-park-per-day California Resident ticket begins at $83 per day and can be used Monday through Thursday. For greater flexibility, California residents can enjoy a Monday through Sunday three-day, one-park-per-day ticket starting at $100 per day.
Special Event Tickets
Disneyland Resort in California periodically hosts special events for which guests can purchase tickets. For example, the Oogie Boogie Bash: A Disney Halloween Party takes place on select nights in September and October. It's a family-friendly Halloween party featuring Mickey's Trick and Treat show and a parade. To attend this and similar events, guests must purchase a separate event admission ticket. Ticket prices range from $129 to $179 per person.
Genie+ Tickets
Disneyland guests can unleash more fun and adventure using Disney Genie and Disney Genie+ services on the Disneyland app. The Disney Genie+ service is available for an additional $20 per ticket, per day. When combined with a new ticket or vacation package purchase, this add-on comes with exciting features to create the best experience based on guests' top interests.
Personalized Genie+ services include:
Park itinerary creator
Continued updates night and day
Attraction and dining recommendations
Live chat with a Disneyland Cast Member
Lightning Lane entrances
View of estimated wait times for top attractions — can join a virtual queue
Ability to mobile order food, join a dining walk-up list, check into a restaurant and make dining reservations.
Make Your Money Work for You
Using the Disney Genie+ mobile app is simple. After downloading the latest version of the Disneyland app, guests can link park tickets to their Disneyland app account, confirm a valid park reservation and enjoy all of the Genie+ features.
Park Hopper Tickets
For an additional $60, Disneyland guests can have the flexibility to experience both theme parks on the same day with a Park Hopper ticket. After 1 p.m., guests can enter the second park and alternately visit Disneyland Park and Disney California Adventure Park at their leisure.
Parking Prices
Due to potential crowds, guests should consider arriving at the Disneyland Resort when the parks open. Parking locations typically open 30 minutes before the earliest theme park opening time. Guests can pay for parking at the time of entry or purchase parking vouchers online. Each parking voucher is valid for one day of parking for one standard-size vehicle or motorcycle and costs $30.
Magic Key Passes
All Magic Key passes feature a variety of discounts, prices and reservation days. These passes include the Dream Key Pass, Believe Key Pass, Enchant Key Pass and Imagine Key Pass. Guests can check the Disneyland website for Magic Key pass blockout dates, including holidays and peak days.
The Fine Print
Guests should be aware of the following details before purchasing tickets and planning a visit to the Disneyland Anaheim theme parks:
Single-day tickets purchased in 2022 are valid through Dec. 30, 2023.
Multi-day tickets purchased in 2022 must be used by Jan. 12, 2024, or within 13 days of first use, whichever comes first.
The price of a completely unused ticket can be applied to the purchase of a new park ticket with an equal or higher value after a ticket has expired.
Disneyland tickets may not be used commercially, transferred or sold. Separately priced events and activities are excluded from the price of standard guest tickets.
Disneyland Park Hopper tickets may not be redeemed for cash, and are revocable, nonrefundable and nontransferable.
Make Your Money Work for You
Final Take
Tickets to Disneyland are easy to purchase and vary in price according to the length of stay and age of guests. Per-day ticket prices get cheaper with longer stays. Visitors can make the most of their stay by downloading the Disneyland app to view park maps and restaurant menus. It's quick and easy to buy tickets and order meals from any mobile device or on the web.
Park admission and access to all attractions are not guaranteed. Some offerings such as restaurants, parks and experiences may be unavailable or modified, closed, subject to limited availability or limited in capacity at any time. Guests should be sure to check the Disneyland website for important updates before planning a visit.
Information is accurate as of July 29, 2022.
Editorial Note: This content is not provided by Disneyland. Any opinions, analyses, reviews, ratings or recommendations expressed in this article are those of the author alone and have not been reviewed, approved or otherwise endorsed by Disneyland.