Disneyland vs. Disney World: Where Can You Get More for Your Money in 2021?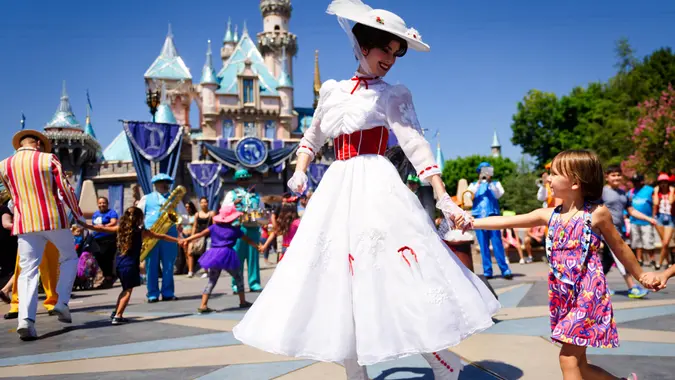 smckenzie / iStock.com
Amusement parks around the country have reopened, including the most popular of all: the Walt Disney World Resort in Florida and Disneyland in California. Both parks have implemented COVID-19 safety protocols such as physical distancing, guest limits, mask mandates and even shortened hours. Disney World reopened in July (controversially given the COVID-19 spikes in the state at the time), following 116 days of being closed, while Disneyland waited until April 30 — 13 months after it shut down — to reopen its castle gates.
Don't Miss: It's Not Too Late To Nominate Your Favorite Small Business To Be Featured on GOBankingRates — Extended to June 5
After more than a year of sheltering in place (or doing some version thereof), families are eager to travel, with 48% of globe trotters planning a summer vacation, according to TripAdvisor. Legendary tourist hotspots Disneyland and Disney World Resort are popular destinations that are already seeing their fair share of traffic, with tickets selling out — especially at Disneyland, which stayed closed for much longer than its sister resort in Florida. As millions of travelers map out their long-awaited summer trips to the happiest place(s) on earth, they may be wondering where they can get the biggest bang for their Disney-fated buck. Aside from factors like travel fare (which depends on where you live), there's a lot to consider when making this decision.  
Tips: How To Get Back in the Habit of Budgeting for Travel
One thing that you don't have to worry about is surging prices due to the pandemic — at least, not where park entries are concerned. Experts say that for general admission, both parks are charging roughly the same as they were pre-pandemic. The issue, as Amber Delashaw, owner of the Disney World travel blog Resorts Gal sees it, is that guests are getting less for the same prices paid before COVID-19, largely because of the pandemic restrictions.  
"Unfortunately, there are a vast amount of offerings that have not returned to Walt Disney World to date," Delashaw said. "For instance, the daily Festival of Fantasy parade offered at Magic Kingdom is not available. Disney does provide mini pop-up parades called cavalcades for guests; however, they are not near as extravagant as the traditional daily parade." 
Make Your Money Work for You
Read: Major Financial Risks Walt Disney Took in His Career
Here's a look at some top pros of either, courtesy of Disney, theme park and travel experts. 
Pros of Disneyland
You don't need to stay as long to experience everything:

Because Disneyland is considerably smaller than Disney World (even if you attend its partner park, California Adventure), there's less ground to cover, which could do your wallet some serious good. "

Disneyland has historically been less expensive just because the length of stay is generally shorter," said Kaleigh Kirkpatrick, founder of

The Shameless Tourist

. "My recommendation for length of stay at Disneyland is usually 3 nights versus 5-7 at Disney World."

You can walk instead of drive or Uber:

"Almost everything is in walking distance, whereas at Walt Disney World transportation is a huge factor (both in terms of logistics and cost) for your vacation," said Luke Dunsmore, editor of

Theme Park Portal.com

. "There's plenty to see in the surrounding area as well (including nearby Knott's Berry Farm), with state parks and beaches just a few miles away, helping families to spread the cost of their vacation whilst still having a fun time."

You have a variety of dining — which means you could save more: "Disney World is the size of San Francisco, so just with the sheer size there have always been more options in terms of food," Kirkpatrick said. "With Disneyland just reopening, there is less percentage of the restaurants that have reopened there than at Disney World, but both have plenty of options for guests and from my experience pricing is quite comparable."
See: How Much It Costs To Run Disneyland for Just One Day
Pros of Walt Disney World
More attractions have reopened at Disney World: "

Disney World has had more time to re-open things, hire back cast members, etc., and most of the attractions at Disney World are open and entertainment is slowly coming back," said Becky Ginther, a travel agent with Castle Dreams Travel and the owner of the blog

Disney in your Day

. "Disneyland does not have all their attractions open (many of their indoor attractions are still closed). Prices in both locations are high and availability is low because people are ready to travel again."

 
There are cheaper hotel options: "On average, rooms in Anaheim will cost the average traveler approximately $23.00 more per night compared to Orlando, or $135 vs. $112 a night," said

Alex Miller, founder and CEO of

UpgradedPoints.com

. "That said, both Anaheim and Orlando's average nightly hotel room rate are both down about 20% compared to the same time last year."



There are less restrictions in Florida (*note, this could also be a "con"): "

Right now, there are little to no pandemic restrictions in Florida," Miller said. "More options are open, allowing you to plan your day with nearly every eatery option being open. With more open, you're able to select how you want to vacation — from cheaper 'quick service' establishments to more fine dining, as there are more options, you'll have more to choose from as to where you should spend your money."
Make Your Money Work for You
Find Out: How Much It Cost To Go To Disney World the Year You Were Born
And the Winner Is… Disney World
"You get more for your money at Disney World," said Amy Morrison, a travel advisor with Dehoney Travel, a member of Ensemble Travel Group. "Disney World is able to offer more parks (Magic Kingdom, Epcot, Hollywood Studios and Animal Kingdom) as well as two water parks. This means more rides along with more shows and parades."
 Miller concurs, adding: "Disney World offers park hopper tickets where you can bounce around parks, and the hours, depending on the day and if you're staying at one of the property resorts, are extended for additional park time."
More: How Much Is Disney Worth?
Ultimately though, this is a personal and family choice. Some allures of Disneyland may trump those of Disneyworld. For instance, although Phil Gramlich, owner of Ear To There Travel, an EarMarked Authorized Disney Travel Planning Agency and the host of the Disney-focused podcast Turkey Leg Talk (formerly the Ear To There Disney Podcast), thinks Disney World offers the bigger bang for your buck, he prefers Disneyland.   
"Disneyland Park is honestly my favorite park in existence due to the fact that I'm a huge Walt Disney fan/expert and you can literally walk where he walked there and touch what he touched," Gramlich said. "But please use hand sanitizer after all that touching." 
Make Your Money Work for You
Last updated: June 3, 2021