5 Things You Can Buy for the New Price of a Disneyland Ticket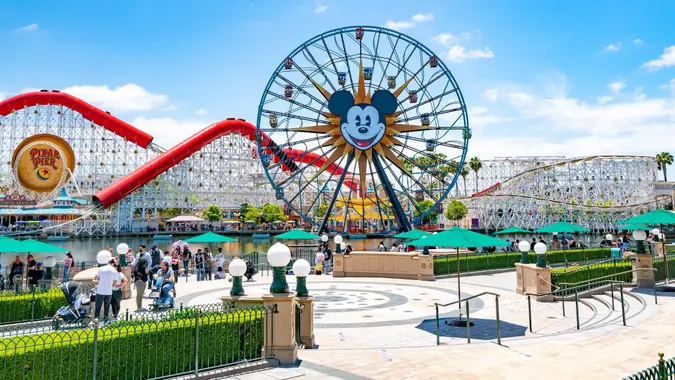 ©Shutterstock.com
With Disneyland announcing yet another park-wide price hike precisely one year to the day after its last increase, even the most loyal House of Mouse fans are wondering if the kingdom's real magic is making your money disappear.
"With news that Disneyland pass prices are increasing by 10%, there has been a lot of debate among visitors and theme park enthusiasts," said Scott Poniewaz, who has spent 15 years as an executive in the travel and deals space and currently leads EXEC, a travel and lifestyle benefits solution for individuals and organizations.
"While the Happiest Place on Earth is still a beloved destination for millions worldwide, the seemingly continuous hikes on tickets, park hopper passes, parking and hotel services have raised concerns."
Here's a look at whether the experience is still worth the cost — and what else you could get for the same amount of money.
The Ever-Rising Price of Happiness
Disneyland increased prices for its single-day tickets nearly across the board. Its tiered system offers cheaper entry during its least crowded days (Tier 0) and scales up to its most crowded days (Tier 6).
"The price increase took effect on Oct. 11, with Tier 1 tickets costing $5 more than previously," said Poniewaz. "The good news is that Tier 0 tickets remain the same at $104."
Here's the full breakdown:
Tier 0: $104 (no increase)
Tier 1: $119 ($5 increase)
Tier 2: $134 ($5 increase)
Tier 3: $154 ($10 increase)
Tier 4: $169 ($10 increase)
Tier 5: $184 ($15 increase)
Tier 6: $194 ($15 increase)
Disneyland also raised the price of multi-day passes, which are not on a tiered system and cost the same no matter when you visit:
Two-day ticket: $310, up from $285
Three-day ticket: $390, up from $360
Four-day ticket: $445, up from $395
Five-day ticket: $480, up from $415
Make Your Money Work for You
The park also increased the cost of Park Hopper add-ons, annual passes, the line-skipping Genie+ service, hotel valet service and parking.
What Else Could You Get for the Price of Admission?
Disney argues that inflation is pushing up the cost of everything and that the company is only keeping pace with rising prices. That might be true, but you might be able to get more bang for your Disneyland buck elsewhere.
A Year of Disney+ Premium
One year of the Disney+ Premium streaming service costs $139.99, a discount from the monthly $13.99 fee. An upgrade from the $7.99 monthly basic service, Premium is ad-free and lets you download content to watch offline — all for just $5 more than a lowly Tier 2 single-day pass to Disneyland.
8 Tickets to Disney On Ice
Disneyland is in Anaheim, the same Southern California city where Disney on Ice will perform its Frozen & Encanto show at the Honda Center on Dec. 14-18. Tickets start at $25, which means a family of four can partake for less than the price of the cheapest Tier 0 day pass to the theme park. Eight people can see the show for just $5 more than the price of a single Tier 6 one-day ticket to Disneyland. By contrast, eight Tier 6 one-day tickets to Disneyland would cost $1,552.
4 Tickets to Sesame Place
Disney isn't the only franchise with iconic characters that are instantly recognizable to just about every kid in America. If a family of four went to Sesame Place instead of Disneyland, they'd pay just $44.99 per ticket, or $180 — $4 less than a single Tier 5 day pass to the House of Mouse.
Make Your Money Work for You
2 Days at Universal Studios
When Disney announced its most recent price hikes, the New York Post reported that fans were furious, particularly considering the park's notoriously long lines.
The publication quoted one fan as saying, "Disneyland doesn't really offer things that other amusement parks don't offer anymore. Their ride technology and themed areas are on par with places like Universal Studios, which is less than half the cost."
Poniewaz agrees.
"Universal Studios offers competitive pricing, thrilling rides and immersive experiences," he said.
Like Disney, Universal has an Orlando option, but if you have your heart set on SoCal, a two-day general admission pass is $149, $5 less than a single-day Tier 3 pass and less than half the price of a two-day pass to nearby Disneyland.
2 Days at Legoland
Disney was once the only game in town, but families today have plenty of other comparable options to choose from.
"Legoland is a place that targets families with younger children, often at a lower cost," said Poniewaz.
Tickets to the California resort — there are also locations in Florida, New York and abroad — start at $79 for a day pass, which includes park-hopper passes to SEA LIFE and the resort water park. A two-day pass is just $114 — $5 less than a single-day Tier 1 pass to Disneyland.
So, Is Disneyland Still Worth the Price of Entry?
A trip to a Disney theme park has been a rite of passage for countless children for generations, but mouse-based inflation has made that an impossibility for many. So, if you can afford it, is it even still worth it?
"Whether Disneyland remains worth the money depends on your personal preferences and financial circumstances," said Poniewaz. "Many loyal Disney fans argue that the experience is still worth the added expense. Yes, other theme parks offer some great alternatives, but Disneyland's unique charm and legendary status in the world of theme parks continue to draw visitors, even in the face of ongoing price increases.
"The price hikes may be around $40 in some cases, but Disneyland continues to offer a unique blend of nostalgia, iconic attractions and fun storytelling that is hard to match elsewhere. It's important to remember that the magic of Disney is more than just its rides. It's about the magical atmosphere, beloved characters and the sense of wonder. Many say you can't put a price on those — although there obviously is!"
More From GOBankingRates