Experts: How Much Money You Need To Travel the World for a Year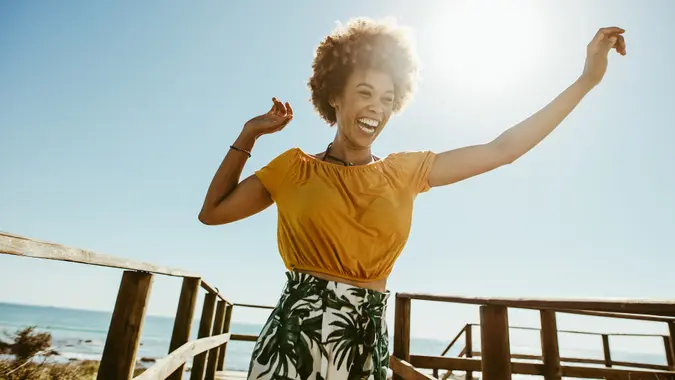 jacoblund / iStock.com
Have you ever dreamed about taking a year off work to travel? If you want to make that dream a reality, it's time to buckle down and start saving. How much you will actually need will depend on a few variables, but to give you a general idea, GOBankingRates spoke to a few travel experts who have actually done it.
Here's how much money you need to travel the world for a year, plus, tips for doing it on the cheap.
How Much Do You Need To Travel the World for a Year?
Josh Band, founder of A Backpacker's World, spent a year traveling for $15,000.
"In my year of travel, I visited 13 countries, spending roughly one month in each," he said. "I visited Thailand, Vietnam, Cambodia, Laos, The Philippines, Indonesia, Taiwan, Singapore, Malaysia, Nepal, Australia and New Zealand. As you can tell, I was pretty focused in Asia and ended in Oceania."
Band traveled as cheaply as possible and stuck to a strict budget to keep his costs to $15,000.
"The cost of traveling for a year depends on two key things: how you travel and where you travel," he said. "For example, traveling in Asia is a lot cheaper than traveling in Europe. On top of this, if you are staying in four-star hotels every night, your expenses are going to be a lot higher than someone staying in a hostel, like I did. You can find hostels for as cheap as $2 a night in Asia."
Make Your Money Work for You
Mark and Kristen Morgan, creators of the travel blog WhereAreThoseMorgans.com, spent $45,000 for an 18-month honeymoon around the world.
"With this amount, we were able to interrail Europe, backpack through Asia, explore South America and drive a bucket list three-month road trip through the entire United States," they said. "We were on a VERY tight budget, but we were able to accomplish a few incredible experiences like hiking the Inca Trail to Machu Picchu, experiencing fall in the Japanese Alps and watching the World Cup in the summer of 2018 from various places in Europe."
Of course, things get pricier the more people you are traveling with. Cynthia Matthews von Berg, founder of the travel blog Sharing the Wander who is currently traveling the world, recommends saving $100,000 to travel the year as a family of four.
"This should be more than you need if you are careful, but it allows you a cushion," she said. "This allows you to eat out one to two meals a day (we aim to keep it to one meal out when we have an apartment or other way to cook for ourselves), and all of the major tourist sites. On a daily basis, we aim for $150 per day or less, excluding travel transportation. We don't always make that number — it's harder than you think! — but it gives us a goal."
How To Travel Affordably
If you're traveling for an extended period of time, it's important to look for ways to save in some areas.
Make Your Money Work for You
"I would recommend adopting the mindset of a budget traveler or backpacker," Band said. "Sacrifice the luxuries of normal vacations for experiences. For example, take a 24-hour bus instead of a two-hour flight. The bus will be a nightmare and it won't be pleasant, but remind yourself that the destination will make the journey worth it.
"Also, choosing to stay in a hostel is one of the best decisions anyone can make," he continued. "Not only do they save you tons, but they are a great avenue for meeting new and like-minded people. I have met some of my best friends through hostels, and the best bit is they are from all around the world. Now whenever I visit a new country, sometimes I already have a friend waiting to host me for a few days."
In addition to opting for budget transportation and accommodations, be smart about where you are choosing to travel in the first place.
"Think about how to balance out higher cost of living countries with lower cost of living countries," said Charles Breitbart, founder of the travel site TripTins.com, who spent a year traveling the world from March 2019 to March 2020 and spent $30,000. "Spending a year traveling just to places like Switzerland, Iceland, Norway and Japan will be much more expensive than visiting places like India, Nepal, Vietnam and Cambodia. Finding a middle ground between the two will be key."
Food and drink costs are another area where you should be mindful of spending.
"If you cook your own food, costs will be much lower than if you are eating out all the time," Breitbart said. "If you decide to always go out at night and purchase drinks, that can also greatly affect your budget."
Make Your Money Work for You
He also recommends being very selective about the excursions and activities you pay for.
"Scuba diving, bungee jumping, safaris, boat trips, guided tours — these all sound like fun and exciting things to add to an around-the-world itinerary. However, all of these cost money — and sometimes a lot of it," Breitbart said. "You will need to decide which activities are most important to you when considering how to fit everything into a budget."
One more variable to consider is when you'll travel to each destination.
"Each country you visit will have a peak, off-peak and shoulder season," Breitbart said. "If you continuously visit countries during their peak seasons, costs are surely going to be more expensive. But if you can visit during off-peak or shoulder seasons, that is where savings can begin to happen."
More From GOBankingRates