How To Find the Best Deals on Hotels Using ChatGPT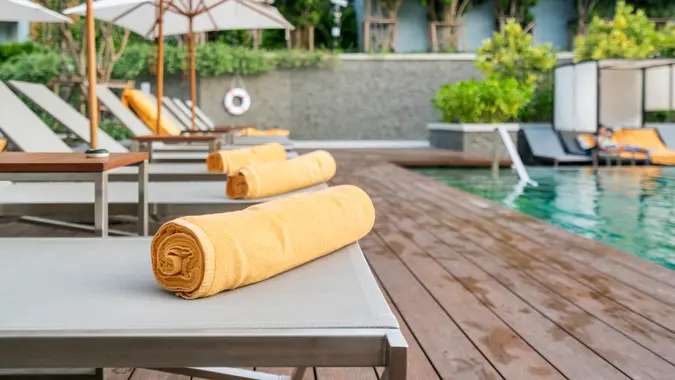 ake1150sb / Getty Images/iStockphoto
Whether you're planning a last-minute summer getaway, you're booking a business trip or you're an avid traveler looking for ways to save money, ChatGPT may be able to help. This generative artificial intelligence tool is designed to parse through and process information found online. It's quick and efficient. Plus, it can help you find flights and accommodations and plan your itinerary — all within a set budget.
But ChatGPT does have its limitations, and not everything it puts out is accurate. That's why it may be better to use it as an assist rather than as your sole guide when planning your next trip.
Can ChatGPT Help You Find the Best Hotel Deals?
"As an AI language model, ChatGPT can indeed be a helpful tool for finding and choosing accommodations when it comes to travel," said Thomas M. Villalpando, founder at IPetGuides.com. "While it may not directly search for hotel deals like a dedicated travel website or booking platform, it can assist you in several ways."
For example, ChatGPT can help you find the top-rated hotels at your travel destination. All you need to do is give it a clear idea of what you want — and your budget — and it can give you back several options based on your preferences. It can even choose hotels with your preferred amenities.
Make Your Money Work for You
Understand ChatGPT's Limits
But while the tool can help you find accommodations, the information you receive may be out of date. "From my experience, ChatGPT can help save time when initially researching where to stay abroad," said Ryan Walker, CEO of travel and education platform Beyond Academy. "I haven't found that it can help provide latest deals as the data is only from 2021, and so you can't access current offers and prices."
Although you can't yet rely on ChatGPT to find you current deals on accommodation, you can use it as a guide. Simply take the information you receive and cross-reference it with each hotel's website to see if it matches. This could save you time, especially if the alternative is to search for hotels at your destination individually.
Using ChatGPT-4 for Your Hotel Accommodations
If you want to find the best deals on hotels, you may have better luck with ChatGPT-4. This model may be more accurate and up to date. However, it's not readily available to everyone yet. And it does cost money.
"ChatGPT-4's newer model is now proactively communicating with travel companies such as Expedia to help users find and book hotels," said Scott Poniewaz, CEO of EXEC. "It'll be integrated with the Expedia app to give a streamlined booking process when using ChatGPT's recommendations." This should make it easier for people to find the best deals.
"While this is promising, it's still in the process of being developed," added Poniewaz. "Many users are apprehensive about how accurate it'll be, so I'd expect most new users to manually double-check the accuracy of each hotel listing for themselves."
Make Your Money Work for You
Other Considerations When Using ChatGPT for Hotel Deals
ChatGPT is still in development, meaning there are quite a few limitations — and potential negatives — to consider when using it.
"Pricing is changed very frequently based on demand and other things going on in the destination and ChatGPT will not have any of that information," said Phil Siegel, AI expert and founder of CAPTRS. "And if you ask in a leading way, you may get it to give you pricing misinformation."
In addition, the information may be more subjective than what most people might be looking for. Siegel notes that ChatGPT has likely been trained on public reviews, "but [it] is not likely to have any information on reviews from the travel sites unless they have made it available. Therefore, its views of quality can be skewed by what it's been trained on."
Ross Borden, CEO of Matador Network, added, "AI 'hallucinations' — in which the technology simply makes up a fictional response when the user is expecting a factual answer — [are] another known challenge for everyone using generative AI."
These types of "hallucinations" can be particularly problematic if you're looking for hotels and you get back information about one that doesn't actually exist. This tends to be more common in lesser known destinations.
"In one amusing example, a member of our team was testing GuideGeek's knowledge of her native Pittsburgh," said Borden. "When she switched gears to plan her honeymoon in Greece, it caught the AI off guard. She meant to ask for information about Crete, Greece, but accidentally typed 'Crete Freeze.' Without hesitation, the AI provided detailed information about a popular Pittsburgh ice cream parlor called 'Crete Freeze' that, in fact, does not exist."
Make Your Money Work for You
Bottom Line
Ultimately, you can use ChatGPT to help find some great accommodations at your travel destination. However, the information may be a few years old and certain details may not be accurate. You can use the tool for valuable insight and recommendations, but you'll need to double-check the information you receive with reputable sources.
"Double-checking the details, such as hotel availability, prices and reviews on dedicated travel websites or platforms, can ensure you have the most accurate and current information before making any reservations," said Villalpando.
More From GOBankingRates