I Always Do These 5 Things To Book the Cheapest Vacation Possible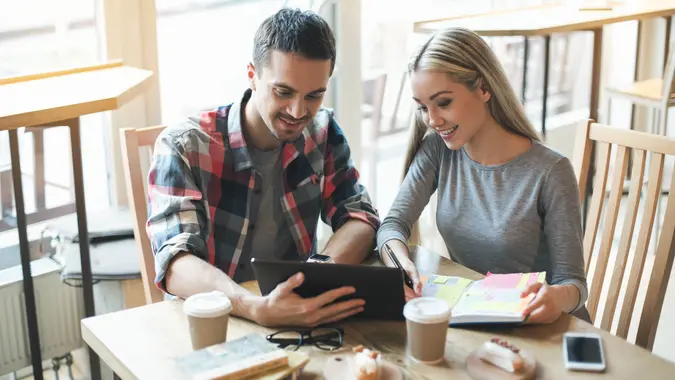 Dima Sidelnikov / Shutterstock.com
Summer might be almost over, but autumn and winter are just as worthy for vacationing — and may still be warm and sunny somewhere else! What you don't want to do is splurge on last-minute or ill-planned travel. However, with careful planning and smart booking strategies, you can fit in quality travel experiences without hurting your bank account.
GOBankingRates spoke to Giovanni Hashimoto, a digital nomad who spends most of his time traveling. He also runs the website TravelSpill.com and has useful insight and experience in getting the most out of your travel budget. Here are five of Hashimoto's best suggestions.
Set Up Fare Alerts and Keep Your Travel Dates Flexible
"Set up fare alerts on travel booking websites and be flexible with your travel dates," Hashimoto said. Fare alerts enable you to get notifications when prices drop on your desired travel dates. To get the best deals, though, don't be afraid to change your plans.
According to Hashimoto, "Being open to travelling a day earlier or later can unlock significant savings, and waiting just a day or two to travel mid-week instead of leaving during the weekend sometimes saves me hundreds!"
Use Alternative Flight Options
Using alternative flight options not only helps you save a few dollars, it also widens your travel experience. A good example is picking a flight that has a layover.
Make Your Money Work for You
"For some, this can be an inconvenience, but if you pick a layover that's long enough you can turn it into an advantage and get out and explore a city you otherwise wouldn't have gone to," Hashimoto said. "I have gotten lots of great one-day visits out of this in the past while saving money. Just be cautious of checked luggage, as it may end up at the final destination."
Other alternative flight options that can help you save include:
Multi-city flights: These flights allow you to book multiple destinations on one ticket, which can be cheaper than booking separate flights.
Stopover flights: These flights allow you to stop for a few days in a city between your origin and destination, which can be a great way to see more of the world.
Low-cost carriers: These airlines offer lower fares than traditional airlines, but they may have fewer amenities or charge extra for things like checked bags or seat assignments.
Budget airlines: These airlines offer even lower fares than low-cost carriers, but they may have even fewer amenities or extra charges.
Consider Airline and Hotel Loyalty Programs and Credit Cards
"Join airline and hotel loyalty programs and consider credit cards that offer travel rewards," Hashimoto recommended. By signing up for these programs, you'll earn points or miles that can be redeemed for rewards such as free flights, hotel stays and upgrades. You can also get access to special perks, such as priority boarding and early check-in.
However, it is important to read the terms and conditions carefully before signing up for any loyalty program or credit card. Some have blackout dates or other restrictions on when you can use your rewards; and others charge steep annual fees that may not be worth it if you don't travel often.
Make Your Money Work for You
Research on Local Blogs and Forums
Travel blogs and forums are a great way to connect with other travelers and get tips on where to go, what to see and how to get around.
"Research your destination on local blogs and forums to discover hidden gems, affordable eateries and budget-friendly activities that may not be in guidebooks," Hashimoto said. "For some of the more uncommon destinations I have gone to (such as Algeria), this method has helped me find local guides and car leases for very good prices, as well as meet people who are extremely passionate and enthusiastic about showing me around their country."
Choose Off-Peak and Shoulder Seasons for Your Trips
Many people book their vacations during the holidays, but if you want to save money while still having a great time, you should reconsider the timing of your trip.
"Plan your trips during off-peak or shoulder seasons to avoid crowds and score better deals on accommodations and activities. This is perhaps a no-brainer, but if you have the liberty to plan your holidays outside of peak season, it can be a great way to save money," Hashimoto said. "You'll also be able to avoid the tourist tsunami that some popular tourist destinations see during the peak season, and avoid unbearable heat waves."
More From GOBankingRates
Make Your Money Work for You