Is It Still Cheaper To Stay in an Airbnb vs. a Hotel?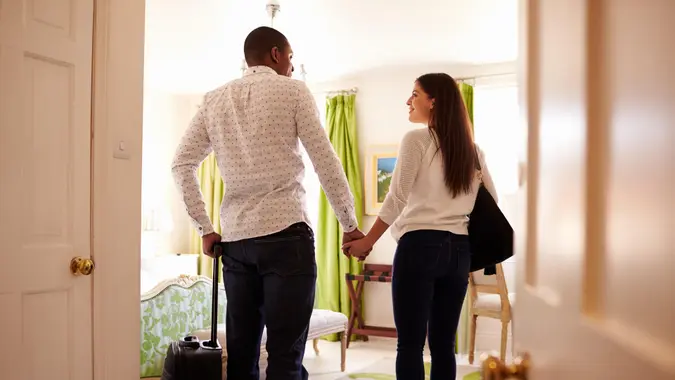 Monkey Business Images / Shutterstock.com
When it comes to determining whether an Airbnb or hotel offers a better value for money, the answer is: It depends. Traveling accommodation costs vary greatly across the world, and depending on who you're traveling with, where you're going and the amenities you want, the answer may vary.
GOBankingRates turned to travel experts to share their insights on where to stay in popular travel locations, as well as the secret money traps of Airbnbs that travelers should be aware of. Read on to learn the best ways to save at Airbnbs and hotels, and which option will be the best for your budget on your next adventure.
Before Looking at Accommodations, Evaluate What You're Looking For
Before committing to a hotel or Airbnb, a good first step is to take a holistic look at where you want to travel, what amenities are important to you and what your budget is. Based on this insight, you can determine the accommodation style that will best meet your needs.
"I think it's important to remember your intent with your hotel or Airbnb stay," said Nina Ragusa of Where in the World Is Nina, a travel blog and guide to living around the world. "Do you plan to eat out every single meal, stay out all day and literally just need a place to sleep and store your items? A hotel could better serve you if this is the case."
Make Your Money Work for You
In other cases, booking an Airbnb might be the better option.
"If you're on a budget, want to travel a bit slower and are trying to just hang out a few days here and there, then an Airbnb would better suit you," Ragusa said. "You'll have a kitchen to cook in, a living area to chill in, and something beyond a simple bed and an uncomfortable chair in a 300-square-foot space."
Now that you have a general idea of the offerings these living spaces can provide, let's get into the nitty-gritty details.
Be Aware of Airbnb Risks
Airbnb has seen tremendous success due to the appeal of staying in a home while traveling — this gives you access to a kitchen, plenty of space, privacy and a more comfortable feel. However, while the company has undoubtedly experienced tremendous success, many individuals have experienced some less-than-ideal conditions when booking these stays. Be aware of these risks in order to avoid being taken advantage of when booking your next trip.
"Airbnb pricing has become quite frustrating and a bad user experience to deal with," said Hilary Matson, founder and CEO of sustainable travel company Yugen Earthside. "It's never just the room price, but also the service fee, the cleaning fee, fees are per person or per group, and sometimes other fees."
According to Matson, the quality of the stay you get for the Airbnb prices isn't adding up, and she isn't the only one concerned that guests are being exploited for money.
"In my recent Airbnb stays, I have noticed that Airbnb hosts are charging higher cleaning fees than ever before," said Kirstin Lee, travel expert and author of the travel bog Global Travel Escapades. "Sometimes they'll even leave you with a long list of cleaning tasks to complete before you leave, essentially preparing the Airbnb ready for the next guest. This definitely takes away from the experience and makes you wonder why the cleaning fees are so high if you're the one cleaning."
Make Your Money Work for You
If You're Looking for a Risk-Free Guarantee, Opt for a Hotel
If the gamble of booking with Airbnb and having a terrible experience isn't sitting right with you, consider opting for a hotel stay where you can relax with the guarantee of fixed pricing and no surprises payments.
Airbnb Positives: Fantastic for Group Travel and Longer Stays
Since Airbnb launched in August 2007, the company has seen massive growth. In fact, in the second quarter of 2022 alone, the company had 103.7 million bookings by guests according to Property Management. Additionally, Airbnb's year-over-year booking growth was up 27% in the second quarter of 2022. Not only has the company made an incredible comeback from the losses it suffered during the global pandemic, but this vacation rental site is likely here to stay.
There are certain circumstances where experts recommend an Airbnb instead of a hotel.
"Where I think Airbnb still excels: unique properties for group travel," Matson said. "But if you're just a solo traveler or traveling as a couple or with a small family, hotels are a better option for value, convenience and location in most cases."
Airbnbs Offer the Cost Flexibility That Hotels Lack
Airbnbs can be cost-effective for larger groups of 10 or more travelers. Trying to get hotels for large groups typically requires separate reservations, and Airbnb offers more flexibility and space to gather. It can also be ideal for longer trips due to a more flexible rate.
"If you book a long-term stay on Airbnb, one month or more, it's wildly cheaper than if you were to book a multi-day or multi-week trip [at a hotel]," said Katie Caf, travel expert and owner of Katie Caf Travel, a travel blog that creates travel guides for locations around the world. "I've seen some rentals on Airbnb be cheaper to rent for a month than for a week! When I was staying in Tulum, Mexico, for two months, one rental I looked at was $1,100 for a week, and then only $900 for the entire month."
How To Save on Your Airbnb, According to Experts
Traveling is expensive — here's how to save when booking through this travel site.
"There are a number of ways to save on Airbnb, including using discounts and promo codes, searching for accommodations with lower prices and avoiding peak tourist seasons," said Matt James, founder of the travel blog Visitingly.
Additionally, look out for new Airbnbs that are willing to offer their first few visitors a discounted rate. You should also make sure to always book your place early. Many hosts use pricing tools to keep track of nearby Airbnb's availability. As nearby locations begin filling up, hosts raise their prices to meet the growing demand. Book early to avoid the price hike.
Comparing Airbnb and Hotel Prices by City
Depending on where you're staying, you might want to opt for one place to stay over the other, based on price alone. Here are some popular travel locations and the varying accommodation data to help you get an idea of what's going to be the best deal. Busbud, an online travel website that specializes in intercity bus tickets, analyzed 220,000 Airbnb locations around the world as well as hotel rates from the hotel booking website Hotels.com to find out how prices compared across major cities worldwide.
The verdict from hotel and Airbnb pricing data from 2020 made it very clear that in most North American cities, it is much cheaper to stay in an Airbnb instead of a hotel. In New York City, the average hotel price is $245 per night versus the Airbnb price of $164. Additionally, in Toronto, the average hotel price is $148 per night versus the Airbnb price of $89.
In Europe, the same holds true, as the many Airbnb properties across the European countries allow for less competitive rates and lower costs compared to hotels.
According to the data, the average hotel price in Paris falls at $214 per night while the average Airbnb price is $110. A similar pattern can be seen in the cities of Berlin, Madrid and Vienna, where the average hotel price falls nearly twice as high as an Airbnb. However, this pattern is broken in Barcelona, as the average hotel price is $172 per night while Airbnbs are over 80% higher at $312 per night.
More From GOBankingRates