Lyft Will Pay You If They Make You Late to the Airport — With The Exception of This Major City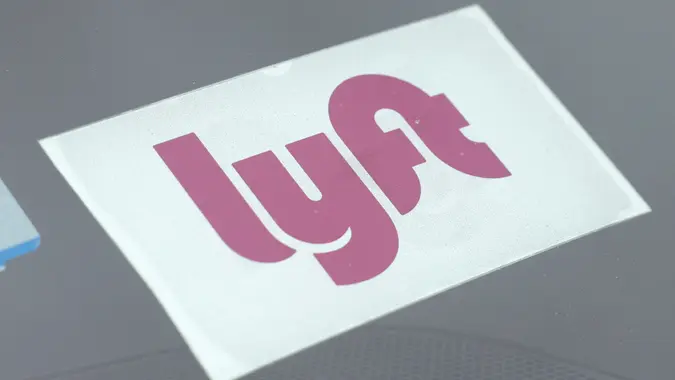 John Angelillo/UPI/Shutterstock / John Angelillo/UPI/Shutterstock
To help reduce holiday travel stress, the ride-booking service Lyft announced an "on-time pickup promise" for qualifying airport rides through Jan. 7, 2024. If you arrange your ride in advance, you can receive Lyft Cash if your driver is late by more than 10 minutes or if Lyft can't find a driver by that time. The catch is that both your airport and pickup location must be in these 17 eligible markets, which exclude New York City:
Los Angeles
Chicago
Atlanta
Boston
San Francisco Bay
Salt Lake City
Phoenix
Orlando
Philadelphia
Denver
Washington, D.C.
San Diego
Portland
Orange County
Miami
Houston
Las Vegas
How To Qualify and Book Your Lyft Ride
To qualify for the offer, you'll need to have already taken one Lyft ride. The ride-booking service also limits this promotion to one ride per week and a maximum of two every 30 days.
You'll need to schedule your airport trip through the Lyft app. You can do this as early as 30 days before the trip. Make sure the app shows that the ride qualifies for the "on-time pickup promise" before you confirm it. Additionally, know that you can make changes as late as an hour before your ride time without losing this benefit.
How To Claim Your Lyft Cash
When your pickup time comes, expect the company to give you $20 in Lyft cash once your ride is more than 10 minutes late. If you don't have a scheduled driver by that point, you'll receive $50. You won't need to do anything for these credits.
Since a no-show will leave you looking for another way to the airport, Lyft offers an additional credit if your alternate transportation costs over $50. You'll get paid the excess of that threshold, with $50 being the maximum Lyft Cash awarded. So, if your Uber or taxi ride is $60, Lyft will credit you $10 in Lyft Cash. You get seven days to upload your receipt through Lyft's "help" option.
Make Your Money Work for You
When you qualify for both credits, you can get as much as $100 in Lyft Cash to apply toward any future ride.
Watch Out for Updates
If you plan to use Lyft for an airport ride in a currently excluded area, keep an eye on the promotion's page for updates. The company currently mentions plans to offer this promise in other locations. And if want to save money, you can check for Lyft promo codes for new and existing riders.
More From GOBankingRates