Looking for a Perfect Winter Getaway? 5 Affordable Trips Trending Right Now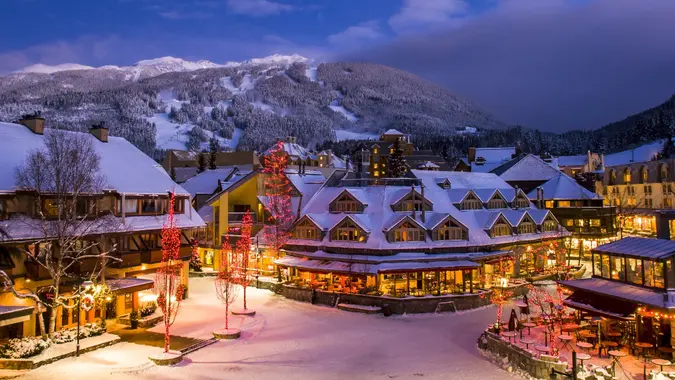 VisualCommunications / iStock.com
Winter is the season many folks hole up at home and wait for the world to thaw out — which makes it a great time to travel. You'll find smaller crowds at popular destinations than during the summer and also score good deals on lodging. That's especially important now, with inflation running at its highest point in decades.
Holiday Travel Savings: Airbnb Now Lets You Search by Total Cost and Cracks Down on 'Unreasonable' Demands
Explore: GOBankingRates' Best Credit Cards for 2023
More than half of U.S. residents plan to travel during the upcoming winter season, according to a new survey from vacation rental management company Vacasa. That's about the same percentage as last year.
The survey of 1,000 American adults, conducted in conjunction with Allison+Partners, found that the vast majority of winter travelers (91%) said rising travel costs have impacted their upcoming winter and/or holiday travel plans. That might mean booking well in advance to save money (33% of respondents), adjusting travel days to get the lowest price (27%) or meeting family/friends at a half-way point (22%).
Make Your Money Work for You
About seven in 10 winter travelers have already booked their holiday or winter trips. Roughly the same number of respondents said they are planning two weekend trips on average (67%) and/or taking trips that will last a week or longer (71%). For those planning longer trips, about three in five (59%) plan to work remotely during their trips to extend the amount of time they can vacation.
In terms of destinations that are trending right now, Vacasa spotlighted five in North America — four in the U.S. and one in Canada. Travelers looking for a bargain will also find affordable options at all five destinations. Here's a quick look (average prices current as of Nov. 11, 2022):
A separate analysis from Forbes found that domestic trips are the most popular choice for holiday/winter travelers this season. For those planning to travel internationally, four out of the 10 most popular are known for their beaches, including Mexico and the Bahamas.
Learn: New and Unexpected Travel Costs To Prepare For This Thanksgiving
See: The Best Airlines for Booking Holiday Travel With Reward Miles
Similarly, the Vacasa survey found that 75% of travelers plan to stay within the United States this winter. Of these travelers, 31% are traveling more than 1,000 miles away from home.
Make Your Money Work for You
More From GOBankingRates
Make Your Money Work for You