How To Visit 30 Beautiful Places Before They Disappear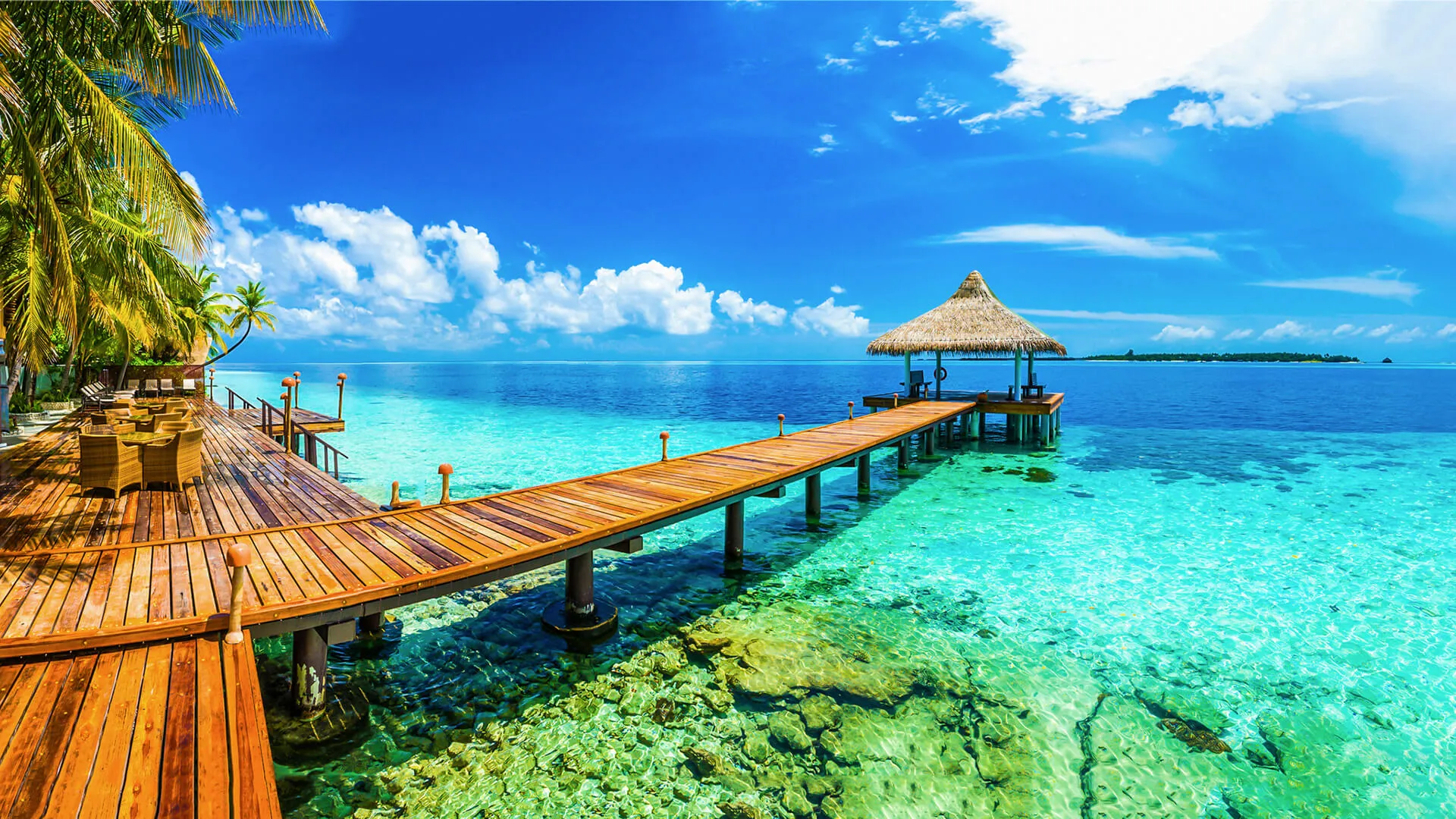 Angkor Wat
Location: Cambodia
Average Daily Cost: $34
Considered the seventh Wonder of the World, Angkor Wat is one of the most mesmerizing places to visit — and it's unfortunately among the spots that are disappearing. Conservationists say the temple is at risk of damage and loss due to tourists climbing the ruins. Nearby hotels and restaurants are also draining the region's aquifer, causing the temple's towers to sink.
Machu Picchu
Location: Peru
Average Daily Cost: $46
Out of all the ancient ruins in the world, Machu Picchu is one you definitely have to visit. It stands 7,972 feet above sea level on the slopes of the Andes and is considered one of the greatest architectural achievements of the Inca Empire. Heavy foot traffic and tourists climbing on walls are harming the site, though.
The Galapagos Islands
Location: Ecuador
Average Daily Cost: $42
Located 620 miles off the coast of Ecuador, the Galapagos Islands are known for white sandy beaches and volcanic rock. Many environmental threats are endangering the islands, however — notably pollution, deforestation, overfishing and invasive species. So, take an educational tour of the islands or just explore its beauty while you still can.
Make Your Money Work for You
Venice, Italy
Location: Italy
Average Daily Cost: $137
This Northern Italian city has a romantic feel, thanks to its gondolas and canals, and is undoubtedly picturesque. But the city is also sinking and sees regular flooding.
Still, Italy remains a popular vacation destination. And, one you can visit on the cheap — if you know how to do it.
Stay Close to Home: The Best and Worst US Vacation Spots for Your Wallet
Bandelier National Monument
Location: New Mexico
Average Daily Cost: $93
The Bandelier National Monument spans more than 33,000 acres in New Mexico. Warmer temperatures increase the risk of wildfires in this region, though, and the area is prone to flooding.
The Great Wall of China
Location: Beijing
Average Daily Cost: $57
The Great Wall of China stretches more than 13,000 miles, and the site is a prime target for thieves. Bricks from the Great Wall are stolen as souvenirs and used to build houses and maintain agriculture. Though China is cracking down on thievery, it will likely become more commonplace as erosion worsens.
Stonehenge
Location: United Kingdom
Average Daily Cost: $165
The iconic circle of standing stones is highly recognizable — and though still mysterious, a recent study from the University of Gothenburg in Sweden indicated that an ancient French culture inspired its designs. Built between 4,000 and 5,000 years ago, Stonehenge faces continued erosion. So if you want to visit, you should book your trip sooner rather than later.
That said, if you're strapped for cash, know that some people think this attraction isn't worth the cost to visit.
The Statue of Liberty
Location: New York City
Average Daily Cost: $238
The Statue of Liberty is a symbol of freedom in the U.S., but rising sea levels and fiercer storms put the monument at risk of severe damage. If you're vacation planning this year, consider a trip to see this beautiful lady before it's too late — but visit New York during its cheapest times to save money.
Make Your Money Work for You
The Great Barrier Reef
Location: Australia
Average Daily Cost: $137
A life-changing trip that's worth the cost, the Great Barrier Reef is the largest reef system in the world and has long been a hot spot for tourists to explore. Increasing environmental challenges are hurting this underwater treasure, however, including warmer ocean temperatures and pollution from pesticides. The reef has already experienced devastating, wide-spread coral bleaching.
The Dead Sea
Location: Israel, Jordan, and Palestine
Average Daily Cost: $95
Considered one of the wonders of the world, The Dead Sea is so dense with salt and other minerals that humans can float on its surface. But the sea is shrinking, and sinkholes are cropping up along the coast due to poor management of water resources.
Seychelles
Location: Northeast of Madagascar
Average Daily Cost: $85 in Madagascar
Boasting 115 islands off the coast of Madagascar, Seychelles has long been a popular destination for beachgoers and honeymooners. Researchers say rising sea levels and erosion are threatening the islands, though, so aspiring travelers should book their trips before it's too late. If you want to experience a luxury vacation, consider visiting the Fregate Island, which offers beautiful views.
Glacier National Park
Location: Montana
Average Daily Cost: $102
One of the best low-cost camping spots in the U.S., Montana's national park had more than 150 glaciers in 1910. But, as of 2017, there were only 25. Researchers predict the glaciers will continue to disappear over the coming decades as a result of climate change. By 2030, even the largest glaciers could be melted.
Kivalina, Alaska
Location: Alaska
Average Daily Cost: $198
Kivalina is not your typical travel destination. The village is home to just 470 people, and residents subsist primarily on game they've hunted or fished. You won't find any restaurants or coffee shops there. Still, the area is sparking several climate change conversations. According to the Los Angeles Times, the Army Corps of Engineers predicted that Kivalina will be underwater within the next decade.
Since global warming has all but assured its residents' displacement, organization Re-Locate Kivalina has been working to find a home for the community and preserve its way of life. If you can't visit the disappearing location in time, you could consider making a tax-deductible donation to their cause.
Make Your Money Work for You
The Congo
Location: Africa
Average Daily Cost: N/A
The Congo boasts the second-largest tropical rainforest in the world. But unsustainable hunting and the extraction of resources such as diamonds are threatening the region.
Maldives
Location: South Asia
Average Daily Cost: $60
The South Asian country is a group of islands famous for its stunning beaches and exclusive resorts. Unfortunately, as sea levels rise, the future of low-lying islands — and Maldives' developed cities — remains uncertain.
Glaciers of the Alps
Location: Switzerland
Average Daily Cost: $196
As unimaginable as it seems, in the near future, the Swiss Alps might no longer be covered in ice. According to Yale Environment 360, if greenhouse gas emissions continue the way they have, "glaciers in the Alps could lose nearly all their ice by 2100."
Take a Look: Cheapest Places To Travel on $100 a Day or Less
Madagascar
Location: Southeast of Mozambique
Average Daily Cost: $196
Madagascar, the fourth-largest island in the world, is the only home to native lemurs. Sadly, deforestation is threatening the lemur species, as well as the health and beauty of the island as a whole.
Everglades National Park
Location: South Florida
Average Daily Cost: $117
The Everglades is home to unique species of animals and plants. Although it might not disappear entirely, the landscape is facing drastic changes in the coming years. According to the Florida Museum, the Everglades is known as "the most threatened park in the U.S." due to water control and drainage issues, the introduction of non-native species and agricultural, industrial and urban development.
Taj Mahal
Location: India
Average Daily Cost: $30
India's white marble mausoleum is one of the New Seven Wonders of the World. Unfortunately, pollution is turning the once-pristine exterior a muddied yellow and black. The nearby Yamuma River, overfilling with sewage, has also attracted insects that expel a green substance onto the building's walls during mating season. Experts have debated the best way to clean it, as too-frequent cleaning, along with harsh cleaning agents, can cause damage to the murals and marble surfaces. In January 2018, The New York Times wrote that the Indian government had decided to employ a mud bath of sorts to clean the surface, but the process is extremely lengthy and won't solve the poor air quality or cleanliness of the area.
So, while it might not be going away completely, it would be wise to see the Taj Mahal now — post-mud bath — before it loses its shine again.
Make Your Money Work for You
Magdalen Islands
Location: Quebec, Canada
Average Daily Cost: $136
Home to sandy beaches and sandstone cliffs, these islands in the Gulf of St. Lawrence offer a scenic getaway spot. Unfortunately, they are also at risk of disappearing. Climate change is causing intense erosion to the islands' coastlines.
According to the CBC, a particularly bad storm in November 2018 caused record-breaking coastal erosion and policy change: "An estimated 4,000 people gathered at Montreal's Place des Festivals, demanding that climate policies respect the targets set by the Intergovernmental Panel on Climate Change (IPCC), a 45% drop in greenhouse gas emissions by 2030, compared to 2010 levels."
Petra, Jordan
Location: Jordan
Average Daily Cost: $82
Visitors from all over flock to the "lost city," famous for being carved from rock. Rockfalls, erosion and flooding have put the ancient city of Petra at risk, though.
Antarctica
Location: Antarctica
Average Daily Cost: N/A
Antarctica is known for its stunning isolation, glaciers and wildlife, but global warming is affecting the continent. The air temperature has increased nearly 37.5 degrees Fahrenheit over the last 50 years — more than five times the mean rate of global warming. It's no secret that traveling to Antarctica is expensive, but if you're planning a vacation this year, you might want to consider going while it's still around.
The Grand Canyon
Location: Arizona
Average Daily Cost: $130
The Grand Canyon is a popular U.S. travel destination, especially for family vacations. Unfortunately, its popularity is harming the site's natural beauty. The National Trust for Historic Preservation included the Grand Canyon on its list of the most endangered historic places in the country, due to resort development and uranium mining.
Pavlopetri, Greece
Location: Greece
Average Daily Cost: $122
The world's oldest underwater city, this unique travel destination offers views of submerged buildings, streets, and burial grounds but is at risk of vanishing for good. Pollution from large ships threatens Pavlopetri, but efforts are underway to preserve the site. According to Sport Diver, the city is a UNESCO site, meaning it is protected, but you can view it at a respectful distance by snorkeling.
Denali National Park
Location: Alaska
Average Daily Cost: $175
Denali National Park is home to the highest mountain peak in the U.S. and is one of the most beautiful places to visit in Alaska. Its landscape and wildlife are at risk due to climate change, which is causing glaciers to retreat. This phenomenon can disrupt the area's ecosystem, as well.
Travel Prep: 10 Financial To-Dos Before Going On a Trip
Make Your Money Work for You
Río Plátano Biosphere Reserve
Location: Honduras
Average Daily Cost: $29
The Río Plátano Biosphere Reserve is one of the last tropical rainforests in Central America. The reserve has been added to UNESCO's world heritage danger list, however. The organization says logging, agricultural encroachment and illegal resource extraction are depleting the region.
Pictured Rocks National Lakeshore
Location: Michigan
Average Daily Cost: $79
Pictured Rocks National Lakeshore is located along the southern edge of Lake Superior and boasts waterfalls, beaches and wildlife. According to the National Park Service, climate change, diminishing air and water quality, the introduction of non-native species and other factors have put the natural ecosystem at risk.
Old City of Jerusalem, Israel
Location: Jerusalem
Average Daily Cost: $79
This holy city has deep religious significance to Judaism, Christianity, and Islam. But the Old City likely won't be around forever. A lack of proper protection and development endangers this site.
Central Italy
Location: Italy
Average Daily Cost: $137
The Colosseum, Trevi Fountain and more gorgeous landmarks make Italy one of the must-see places in the world. Sadly, a series of deadly earthquakes struck Italy in 2016, damaging historic buildings and sites. Worse, seismologists say a number of fault lines run under the region, putting it at a higher risk for future earthquakes.
Amazon Rainforest
Location: Brazil
Average Daily Cost: $74
The Amazon rainforest is one of the most beautiful places in the world, yet deforestation is shrinking it and putting its biodiversity and the indigenous population at risk. Developmental projects for roads and pipelines open the region up to pollution, poaching and loss of resources, as well.
More From GOBankingRates
Erica Corbin contributed to the reporting for this article.
Average daily cost rates were taken from the site Budget Your Trip. Pricing is current as of April 16, 2019.
About the Author