How To Save on Your Destination Wedding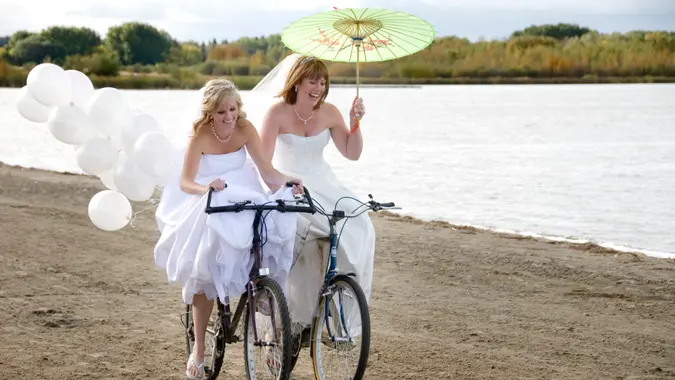 LivingImages / iStock.com
Having a destination wedding is often thought to be one of the most luxurious ceremonies a couple can opt for. However, there are a few shrewd tips to save money that can still preserve the glamour of an away-from-home soirée. GOBankingRates talked with financial experts to get the best advice for keeping costs low and the quality high. 
Find Out: The Average Cost of a Wedding: How Much Should You Spend?
Learn More: Do You Still Have To Buy a Gift for a Destination Wedding?
Keep the Guest List Short
If you're already spending money for travel, food, and drinks for your out-of-town guests, consider keeping the ceremony intimate. A small guest list also opens up your options for where you can have the wedding. Instead of having to secure a large, costly venue, you can opt for an economical, yet beautiful Airbnb or similar.
Wedding planner Olivia Tan further explained how destination weddings might be hard for some people to travel to, which can work to your advantage. "Traveling for your ceremony won't be possible for everyone you know, so that takes away the pressure–and expense–of including hundreds of people."
Make Your Money Work for You
Wedding Etiquette: How Much To Give (and Spend)
Seek Out All-Inclusive Packages
A great way to cut costs is to look for travel bundle opportunities your destination offers. Many resorts and hotels offer package deals that can help save money on flights, lodging, and ground transportation for you and other members of your wedding party.
Tan also suggests looking into an all-inclusive resort that helps cover your travel expenses as well as wedding costs."Getting married at an all-inclusive resort avoids the hassle and expense of buying food and drinks, going to different bars and restaurants every night, and even renting venue spaces or buying decorations for the wedding itself," Tan said.
Offerings from all-inclusive resorts can range from a wedding cake and beach ceremony setup, to hair, makeup and spa services for you and your guests.
Whose Day Is It? If Your Parents Help Pay for Your Wedding, How Much Say Do They Get With Plans?
Focus Less on Decor
When the setting is one of the main attractions at your wedding, the decor doesn't need to be. If you can make the centerpieces yourself, or simply want to go without them, it can drastically reduce expenses. If you're getting married somewhere picturesque, floral arrangements don't have to be top priority.
Make Your Money Work for You
Ginger Lowe, an Event Manager at Hyatt Regency Aruba Resort Spa & Casino, said guests won't be looking for flowers anyway. "When having a destination wedding, you and your guests are anticipating the beautiful scenery of your destination. Rely on the gorgeous backdrop and limit your decor." 
This also means you can forego some of the more traditional wedding favors and trinkets as well. "When expensive gifts are given as party favors, oftentimes the guests forget them," Lowe said. "Additionally, if it is a destination wedding, guests may not have enough room in their suitcases to bring the gifts home."
Check Out: 45 Expensive Services You Really Should DIY
Pick a Date Carefully
In the United States, most weddings are planned for Saturdays so more people can make them, but if you're already taking a week's vacation for the wedding, you have more flexibility on what day of the week you get married — as long as you're aware what months tourists flock to your dream wedding locale (both nationally and internationally).
George Hammerton, Director of Hammerton Barbados, said that planning around a city's slow season can save you up to 70% on venues and accommodations. "The truth of vacation destinations is that they have seasons as to when properties for weddings and guest accommodations are low and when they are high," Hammerton explained. "Speak with a local expert before setting your wedding date."
Make Your Money Work for You
If you're staying in the United States, opting for a Friday or Sunday ceremony may also save you quite a bit of cash. 
More From GOBankingRates
Make Your Money Work for You